15 Romantic Bedroom Ideas – Sensual Bedroom Design Tips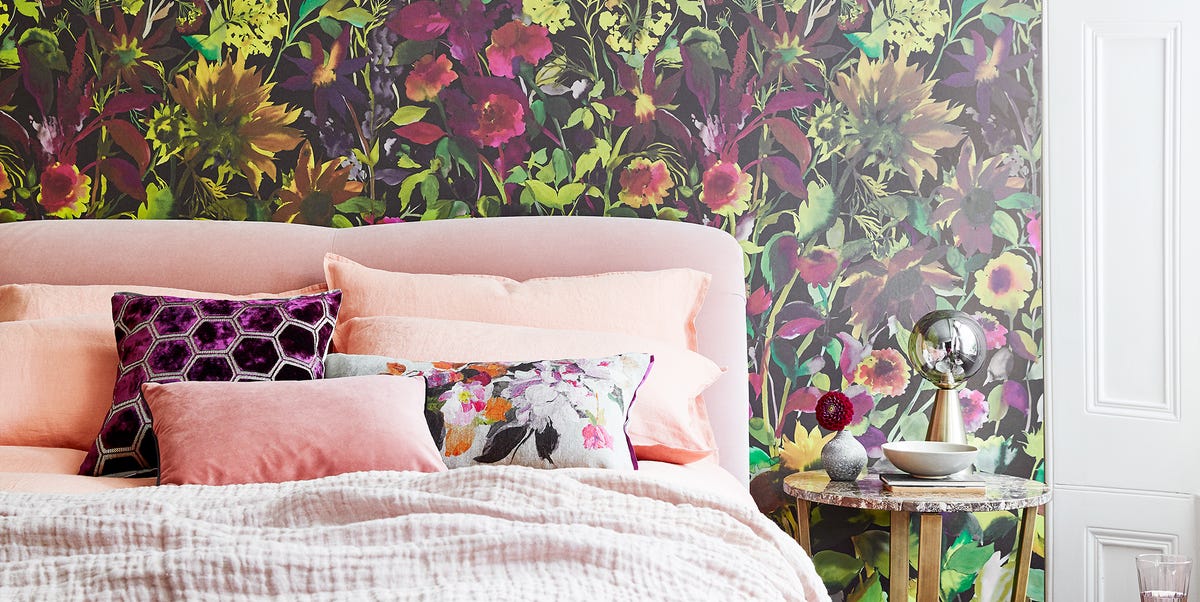 Mark Scott
Whether it's long, flowy curtains, luxurious bedding, or a soothing color palette, designing a bedroom around the concept of romance doesn't have to be a challenge. Here, we've rounded up 15 romantic bedroom ideas, including inspiring decorating tips that are easy to pull off without the help of a design pro. Click through if you're ready to spice up your bedroom, regardless of your current relationship status.
1 of 15
Feminine Touches
Along with this nightstand's elegant tassel hardware, subdued beige hues, paired with pops of soft pink, add to this bedroom's relaxing vibe.
2 of 15
Canopy Bed
For an instant romantic touch, drape sheer fabric across the upper portion of a canopy bed.
3 of 15
Moody Tones
Lean into a moody palette along with pillows, throws, and lampshades in lighter hues for contrast.
4 of 15
Orange Hues
A terracotta-colored accent wall and pillows warm up this bedroom, while soft peach and white tones offer just enough balance.
5 of 15
Glam Look
When paired with versatile neutrals, glam decorative pieces like a statement rug, a crystal chandelier, and mirrored nightstands can really shine.
6 of 15
Flowy Window Treatments
Long, lightweight window treatments — perfect for maximizing natural light — play up this bedroom's romantic flair.
7 of 15
Statement Wall
A peel-and-stick wall covering, like this stunning floral design, is all you need to transform your bedroom into an inviting retreat.
8 of 15
Rustic Shiplap
All-white shiplap walls and petite sconces bring charm to this light-filled bedroom.
9 of 15
Ocean Vibe
For an ocean-inspired look, dress up your bedroom with plush pillows and throws, large-scale art, and statement greenery.
10 of 15
Floral Headboard
Introduce a dose of pattern (a floral headboard is the perfect option) for a polished-looking master bedroom.
11 of 15
Vintage Style
A vintage bar cart, which can easily double as a nightstand, can benefit from a small floral arrangement and dainty decorative accents.
12 of 15
Purple Delight
Sticking to one color doesn't have to be boring. Layer different shades of a hue, like lavender, to create visual interest in a bedroom.
13 of 15
Pattern Play
Take a cue from top designers and have fun layering patterns. Here, a vibrant floral accent wall and complementary pillows, in addition to a striped area rug, steal the show.
14 of 15
Red, White, and Blue
From a bold red area rug to eye-catching window treatments, there's no shortage of romantic details in this bedroom.
15 of 15
Sunny Yellow
Crisp white and cheery yellow tones unite in this bedroom—an instant mood-booster.
Advertisement – Continue Reading Below
This content is created and maintained by a third party, and imported onto this page to help users provide their email addresses. You may be able to find more information about this and similar content at piano.io