29 Stylish Bathroom Shelf Ideas To Organize All Your Essentials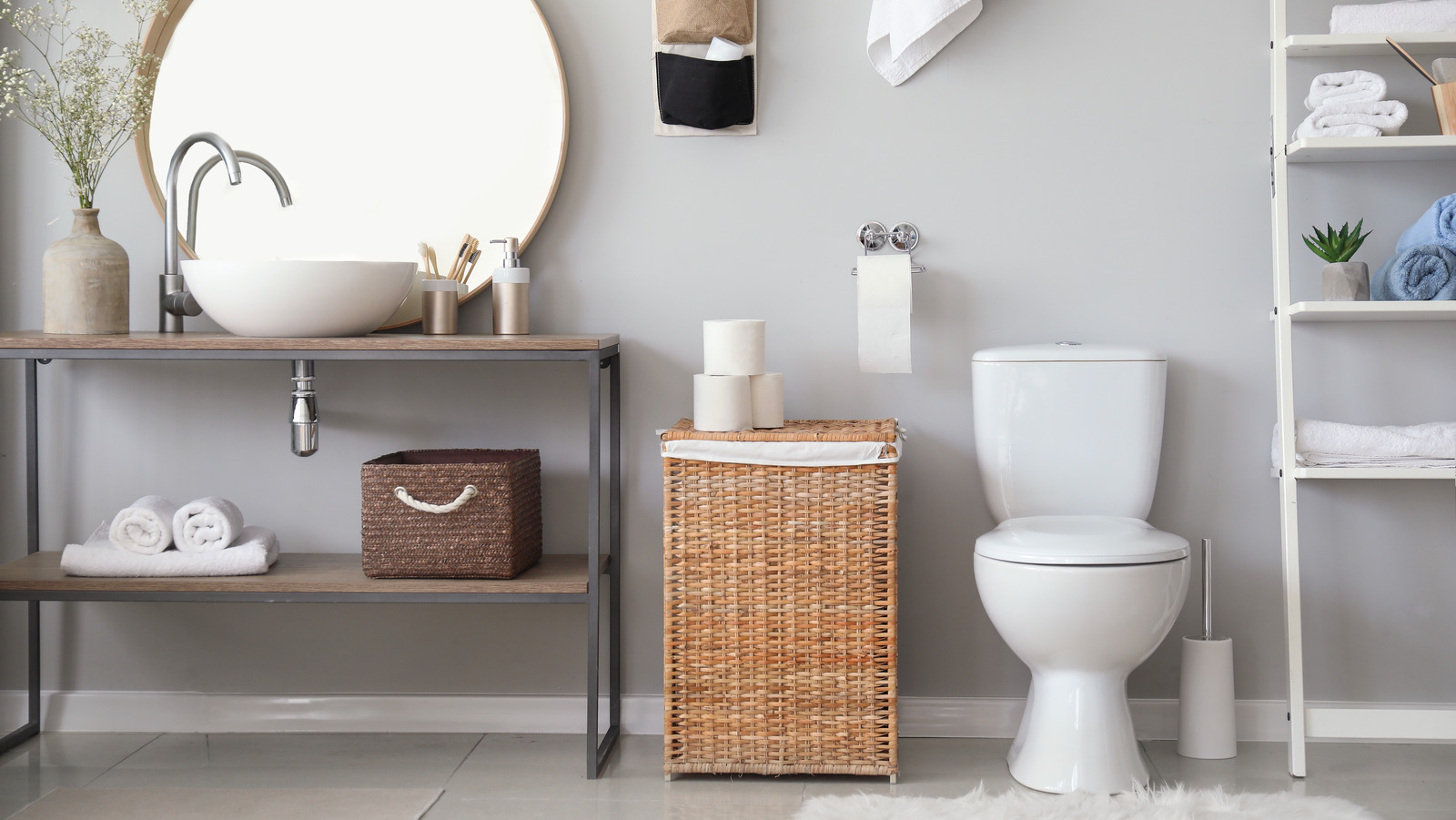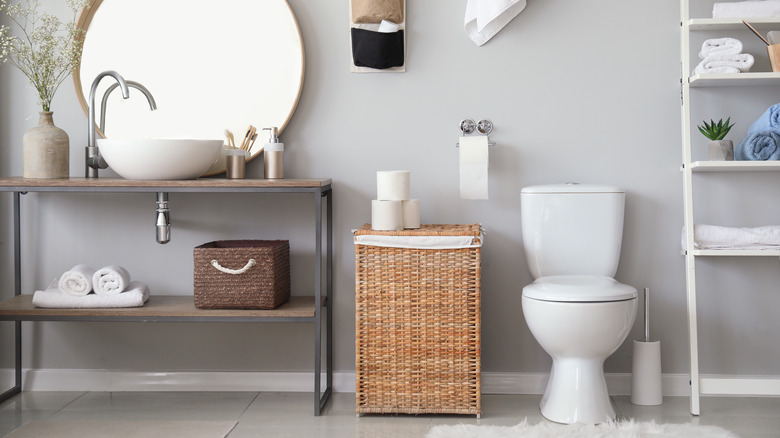 Pixel-Shot/Shutterstock
Bathrooms can easily become cluttered for several reasons. Perhaps yours is messy because you have so many toiletries, or maybe you haven't invested in the right tools, like baskets and bins, to organize all your items. At the same time, your bathroom may look disheveled because it doesn't have enough storage space. Like when used in the kitchen, open shelving can be a great space-saving solution but may be challenging to maintain, as dust will gather on the surfaces. 
However, there are several scenarios where shelves may work better than closed cabinets, such as in spaces with cramped or awkward designs, per Lang's Kitchen & Bath. Other reasons you may want to choose shelves include that they provide a more open look, make items readily accessible, and are great for displaying decorative pieces. If you're thinking about adding stylish shelves to your bathroom, below are 29 ideas you could choose. While some options are freestanding, others are installed onto the wall to save floor space.
1. Stack floating shelves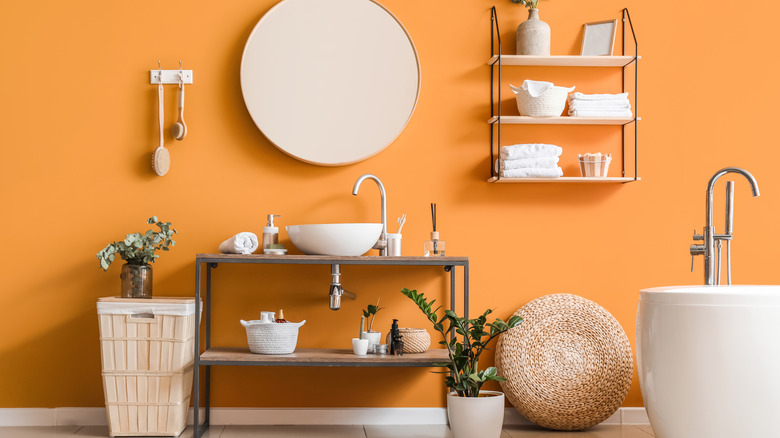 Pixel-Shot/Shutterstock
An easy way to include more surface area for decorations or small toiletries is to stack multiple floating shelves along a wall. Typically, shelves are added above the toilet, but they could be installed on any wall.
2. Fit in a narrow space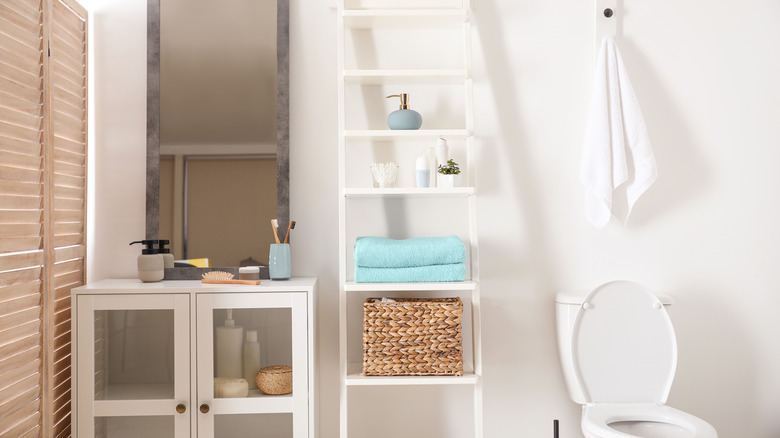 New Africa/Shutterstock
If you're limited on space, tuck a skinny unit between two fixtures, such as the vanity and the toilet. 
3. Close in the bathtub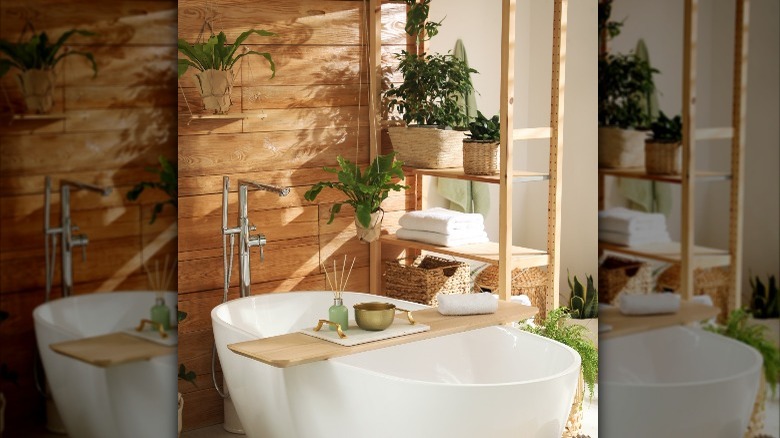 New Africa/Shutterstock
To create a cozier feel, close in the bathtub by installing a shelf along the side of it. This could be a great place to store towels and display plants.
4. Consider your style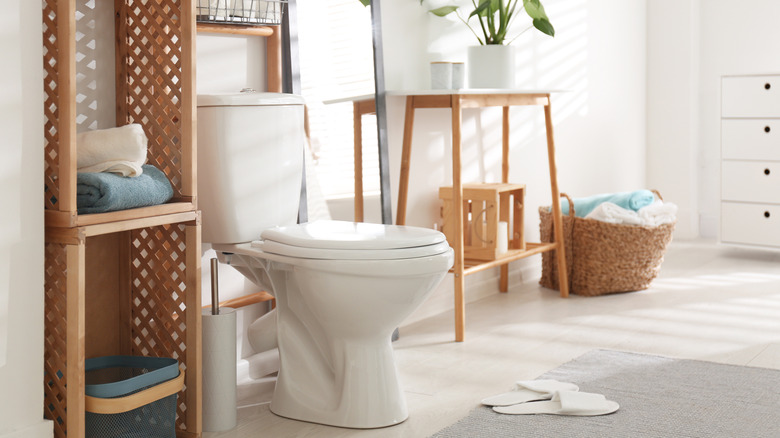 New Africa/Shutterstock
When choosing the right shelves for your bathroom, consider your style. The above wooden and woven pieces will work if you're going for a bohemian look. 
5. Upgrade the vanity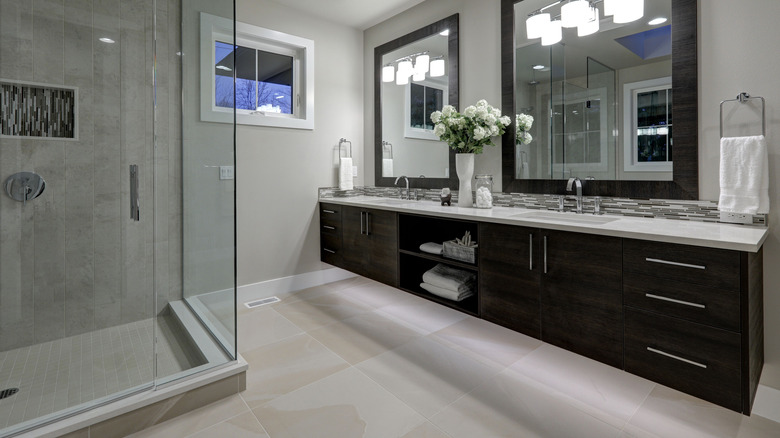 Artazum/Shutterstock
While most vanities have completely closed cabinets beneath the sink, some also utilize open shelving, which could be a great place to store folded towels or baskets. 
6. Incorporate lighting in an open shelf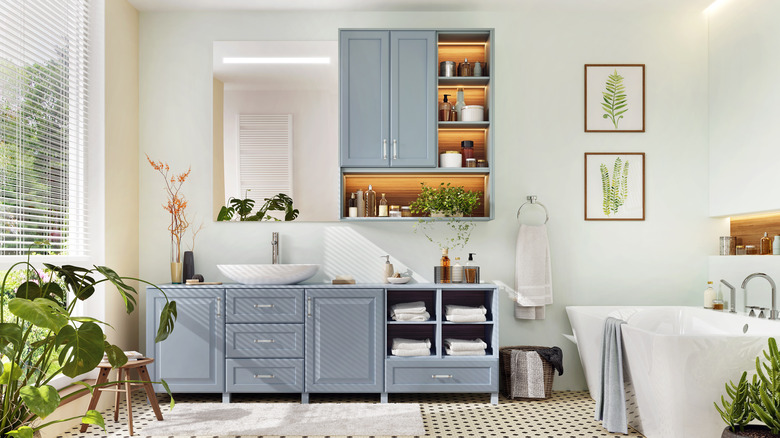 Sl-f/Getty Images
To maximize the usefulness of your shelves, install warm lighting strips behind them. The best ones are remote-controlled, making them easy to turn on and off. 
7. Replace closed cabinets with open storage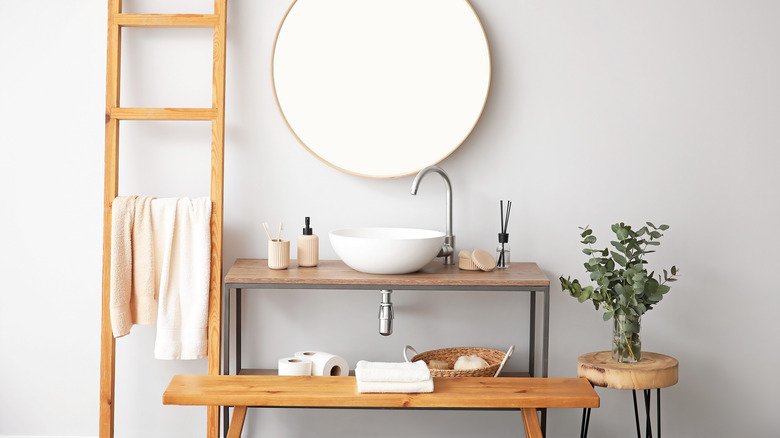 Pixel-Shot/Shutterstock
While most vanities have closed cabinetry beneath them, you could keep the space under the sink completely open and store items in the area. 
8. Install one above wall panels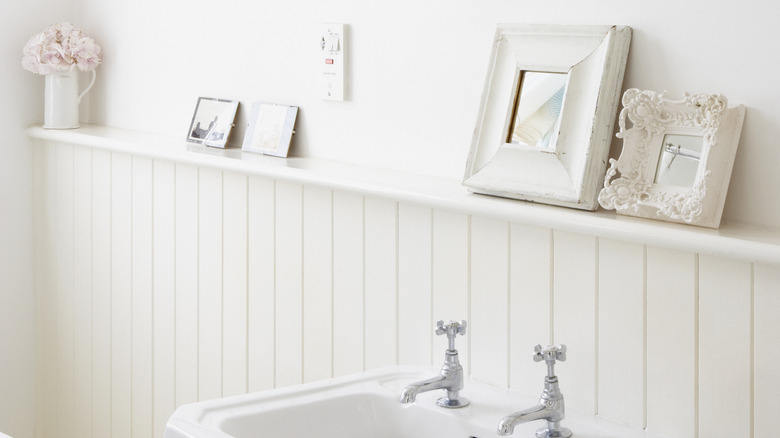 Martin Barraud/Getty Images
If your bathroom has some interesting wall paneling, try installing a shelf at the top of the panels.
9. Plan for an oversized look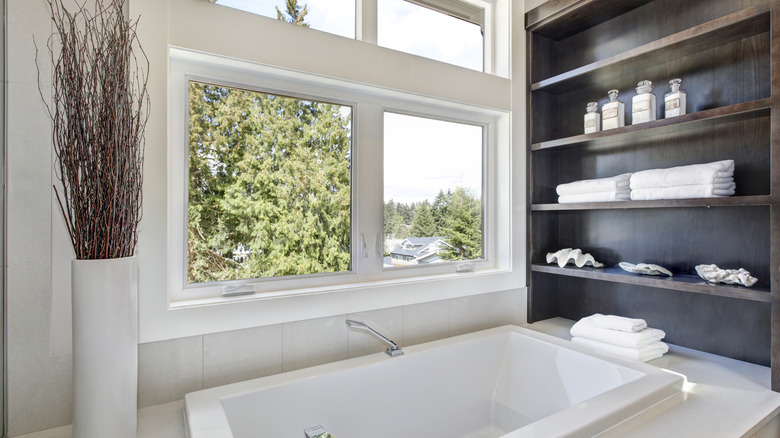 Artazum/Shutterstock
To add large shelves, you'll need to save one of your walls only for shelving, which is typically done above the bathtub. 
10. Pair different sizes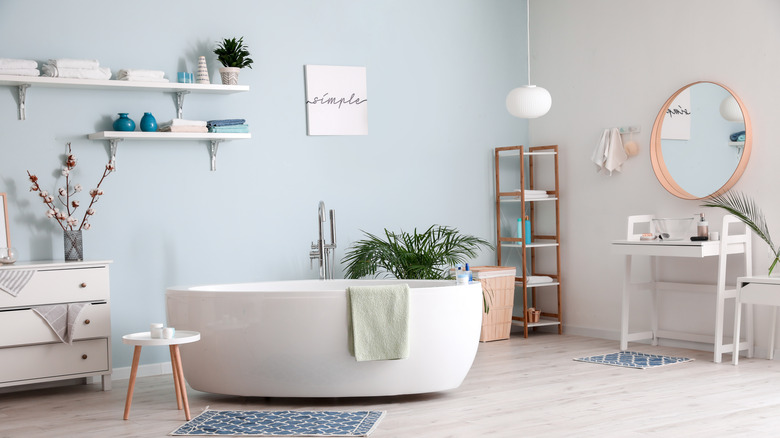 Pixel-Shot/Shutterstock
Using floating shelves of different lengths will provide subtle interest. For the best look, place the shorter one beneath the longer shelf. 
11. Position a matching shelf below the vanity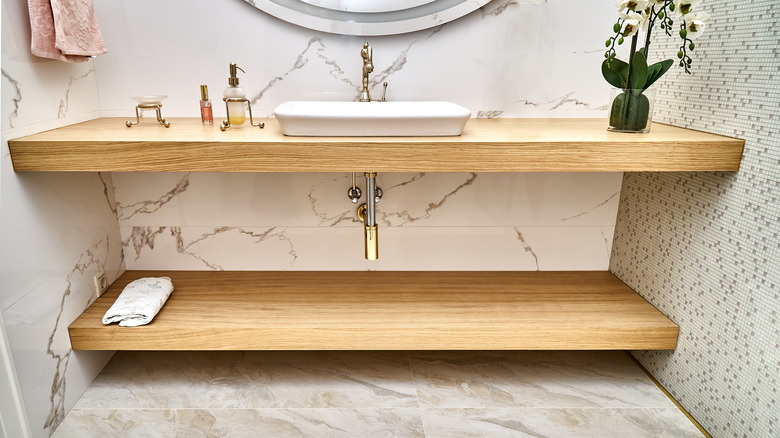 Timltv/Getty Images
If your vanity has no cabinets, place a matching shelf beneath it, which could be the perfect place to store clean, folded towels. 
12. Include one on a corner wall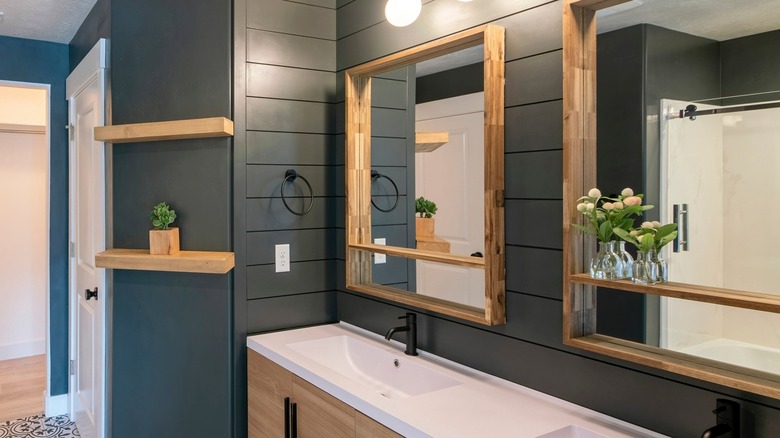 Jason Finn/Shutterstock
Some bathrooms have awkward corner walls, such as the one in the space above. If yours does, this is the ideal place to hang multiple floating shelves that perfectly fit on the wall. 
13. Place near the tub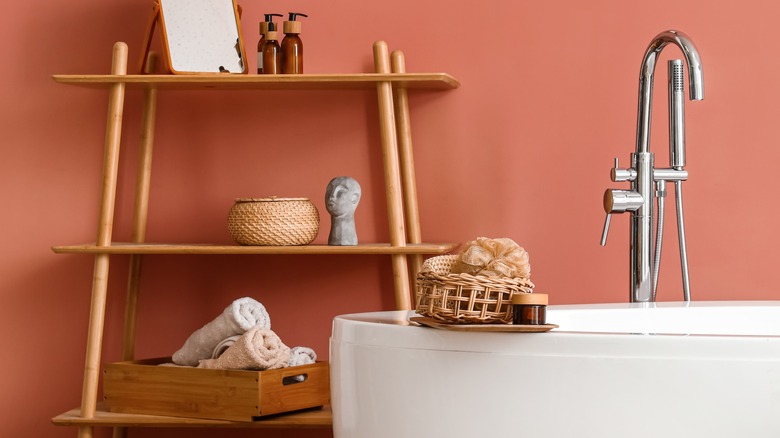 Pixel-Shot/Shutterstock
A short shelving unit filled with toiletries and towels could be placed right next to the bathtub, as you could reach the items while relaxing in the tub. 
14. Use vertical space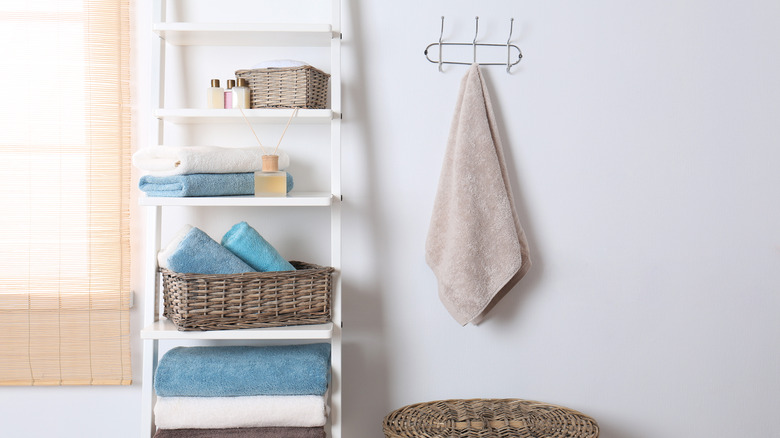 New Africa/Shutterstock
A tall shelving unit may be your best bet for those limited floor spaces. Further, even if you have ample room, take advantage of the area closest to the ceiling by hanging a high shelf.  
15. Go minimalistic with glass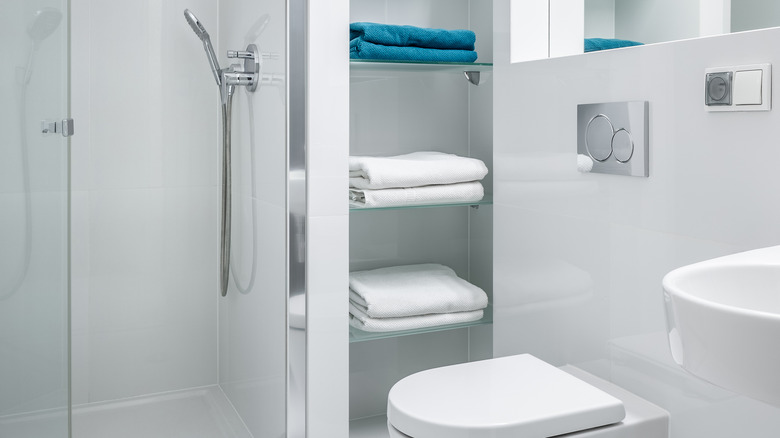 In4mal/Getty Images
Those who want a simplistic and modern look could opt for glass shelves installed on the wall or built into a cubby. 
16. Situate between two mirrors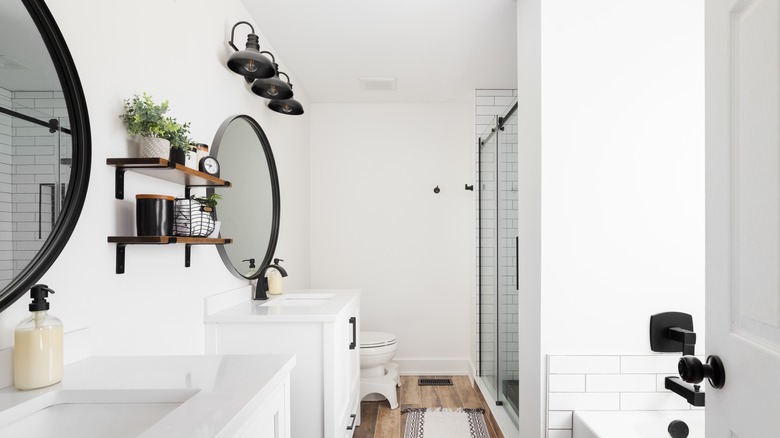 Hendrickson Photography/Shutterstock
Most bathrooms with two sinks have a large mirror hanging over the top. However, to add more storage space, replace this mirror with two smaller ones and add floating shelves between them. 
17. Select matching vanities with shelves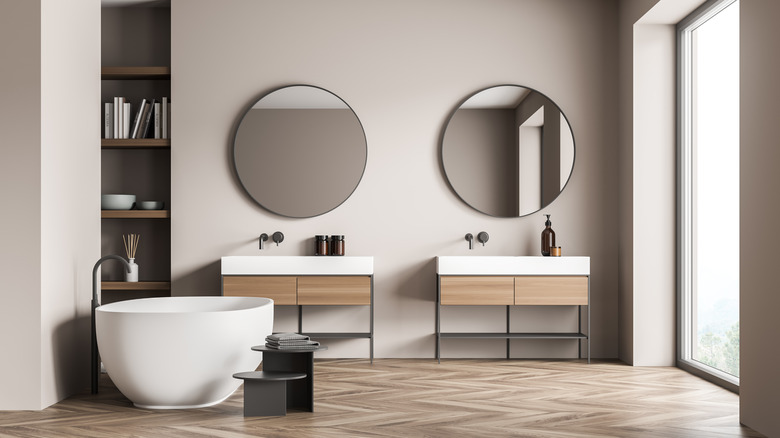 Ismagilov/Getty Images
Further, those who desire two sinks could separate their vanity into two, each with its own shelves. 
18. Add a shelf beneath a mirror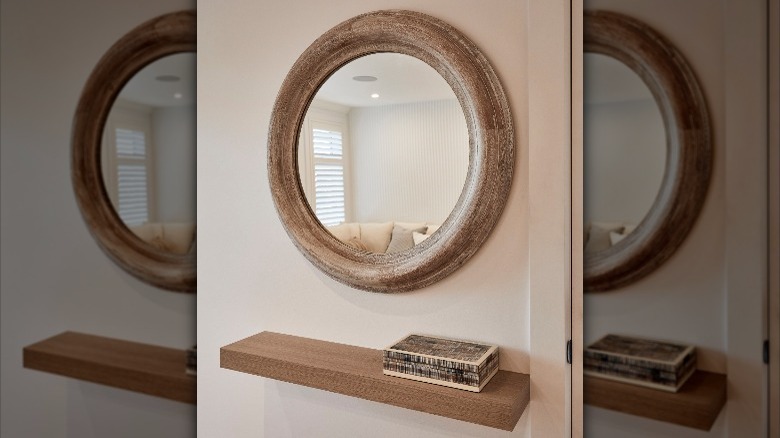 PhotoMavenStock/Shutterstock
A floating shelf beneath the mirror could be the perfect place to display a decorative item or store makeup and skincare products. 
19. Utilize a ladder shelf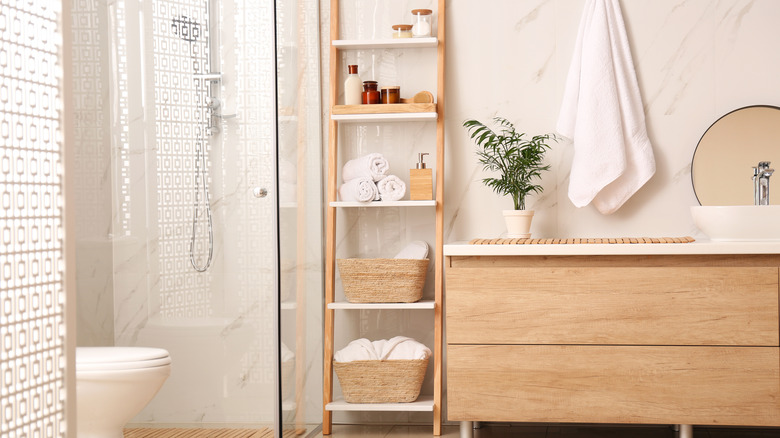 New Africa/Shutterstock
Ladder shelves typically lean against the wall and only use small space. These could easily be added to just about any bathroom. 
20. Employ the space above the toilet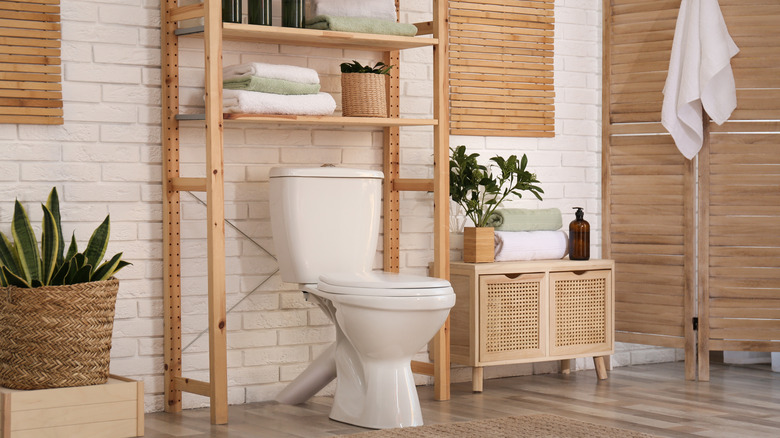 New Africa/Shutterstock
This wall space is usually unused unless a cabinet is placed above the toilet. Add storage by installing shelves on the wall or putting in a freestanding unit over the toilet to fix this issue.  
21. Match with the walls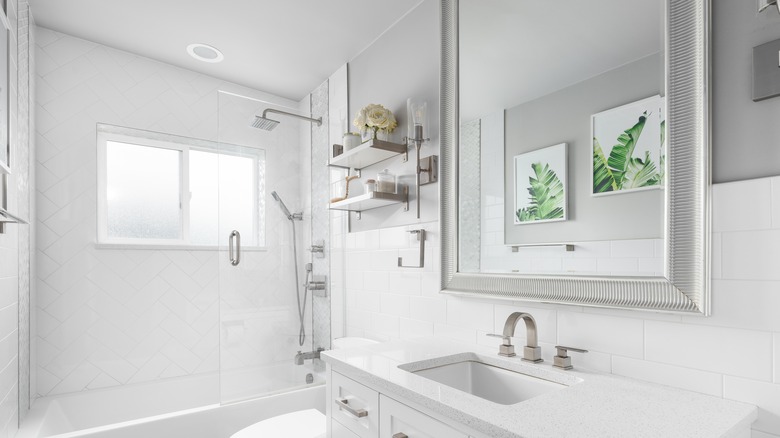 Hendrickson Photography/Shutterstock
If you're going for a minimalist look, choose shelves that match your walls and be thoughtful about the pieces you display on them. 
22. Make a shelf above the washer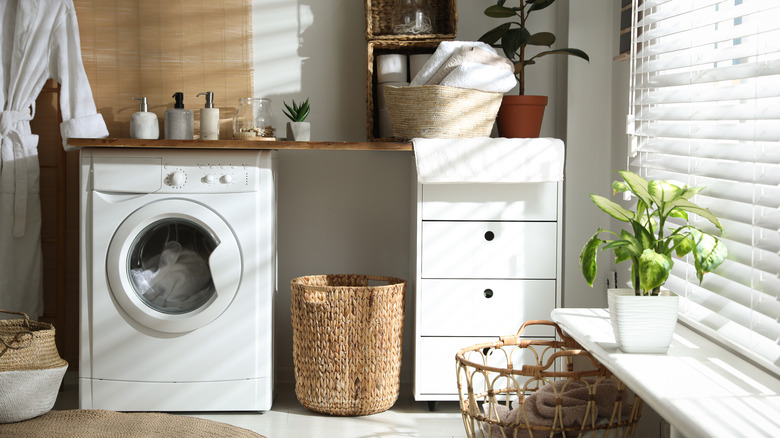 New Africa/Shutterstock
Those with a washer and dryer in their bathroom could install a long shelf above these machines, which could be used to store items and fold clothes. 
23. Repurpose a fireplace mantel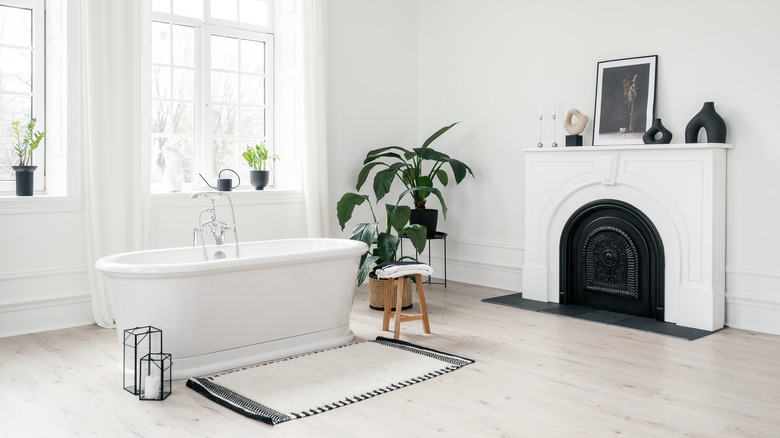 brizmaker/Shutterstock
Use the space on the mantel as a shelf if your bathroom is luxurious enough to have a fireplace. 
24. Maximize the use of a bench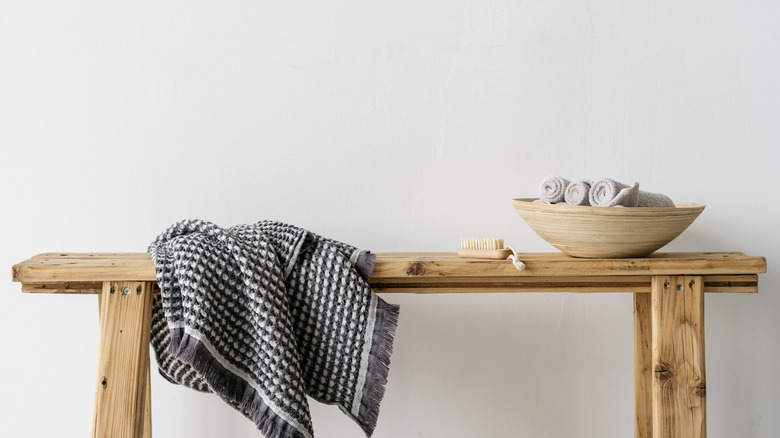 brizmaker/Shutterstock
A bench could be placed against an empty wall or added to the shower and easily used for extra storage. The best way to corral items on a bench is with a tray or a basket. 
25. Fill an empty corner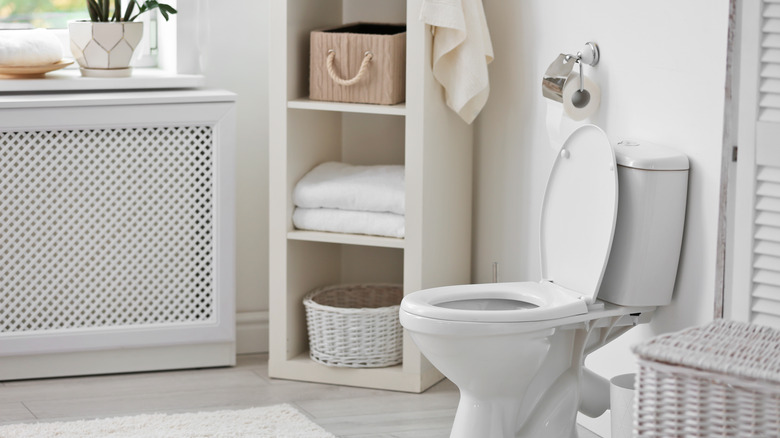 New Africa/Shutterstock
Make use of an empty corner by arranging a freestanding shelving unit in the space. You could use one made specifically for the corner or angle a piece to fit the area. 
26. Choose a shelf with a towel hanger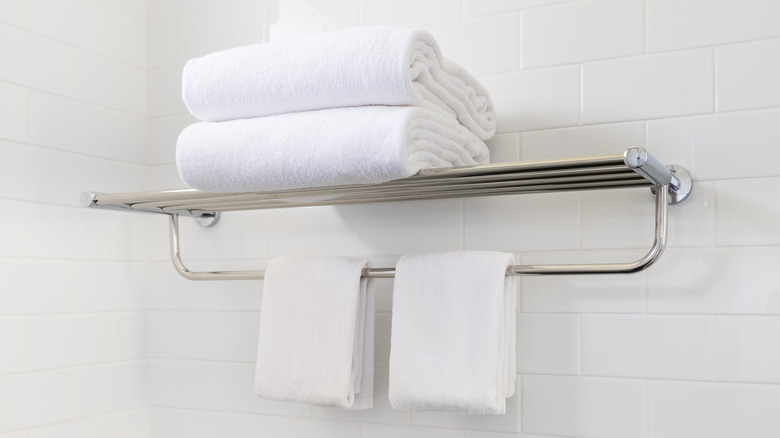 Casper1774 Studio/Shutterstock
Those who need some space-saving solutions could choose a floating shelf that also has a towel rack. 
27. Get creative with an asymmetrical design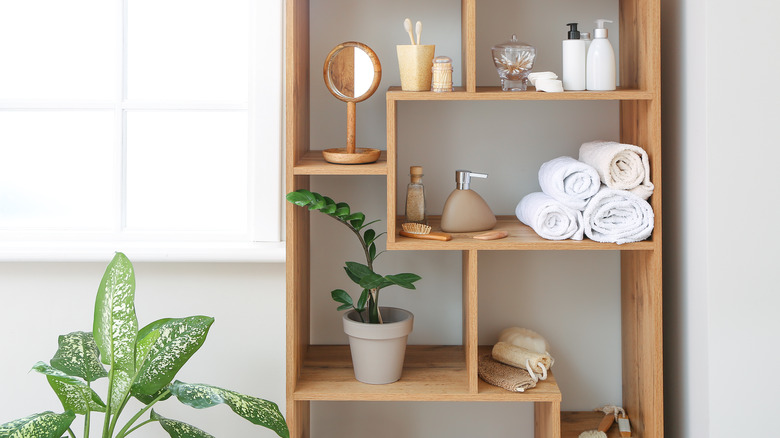 Pixel-Shot/Shutterstock
Asymmetrical shelving units are sure to add interest and make your bathroom design stand out. These pieces could even act as a focal point. 
28. Build into the wall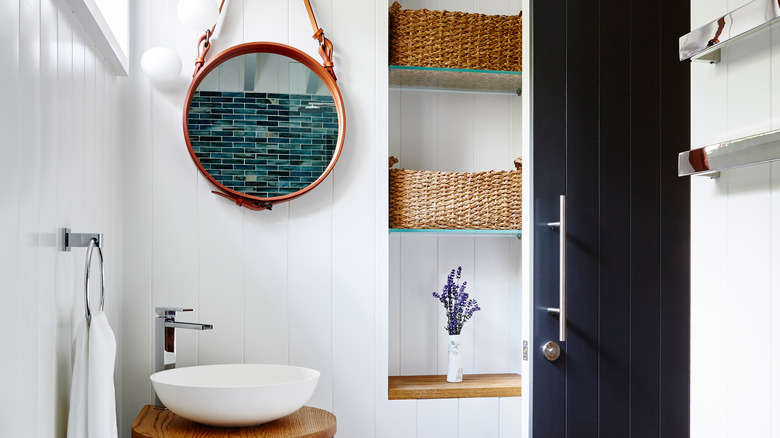 PhotoMavenStock/Shutterstock
To make your shelves appear extra intentional, choose built-ins. These could be added above the bathtub, inside the shower, or to any wall in your bathroom. 
29. Construct ones with soft arches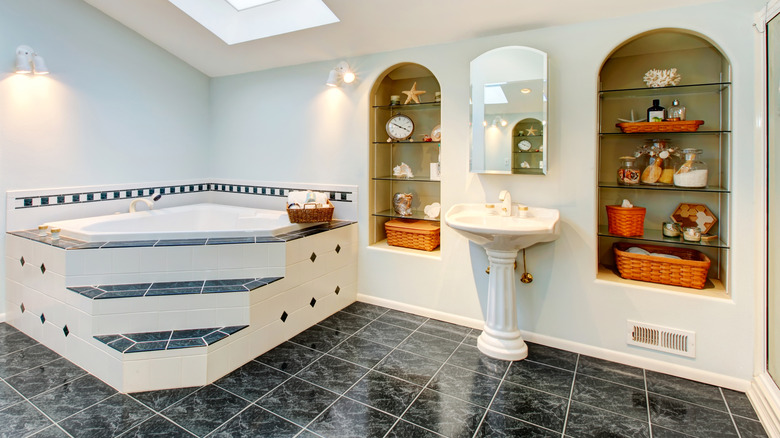 Artazum/Shutterstock
Those looking for a welcoming look may love the cubbies in the image above, which display soft arches at the top.