30 Best Swimming Pool Designs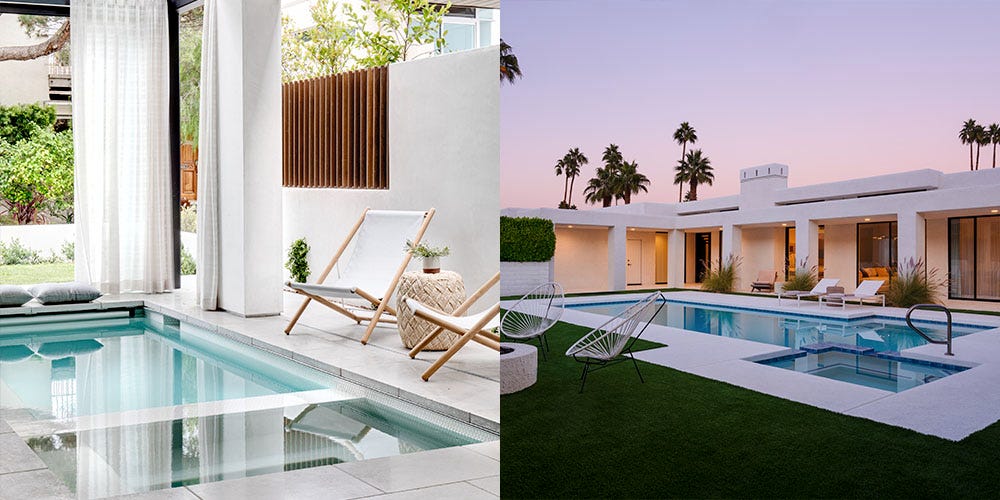 Chad Mellon/ Lance Gerber
Along with the warm weather and beauty of the outdoors, you can't forget the fun that comes along with diving into a pool. Think crystal clear water — conveniently featured in your backyard or indoor area for family and friends to enjoy. In light of the season, we're sharing beautiful swimming pool designs that can elevate your backyard or interior space.
Whether you want a minimalist look or a luxurious, statement-making setup, these popular swimming pool ideas are perfect for your home. We've included pictures of elaborate styles that enhance the views of a mountainous terrain or palm tree oasis. You can surround your pool area with cool and unique decking materials (such as pavers, brick or stone), and create a unique watering hole surrounded by trees and a stylish garden.
So if you're making plans to upgrade your home, consider these ideas for a backyard refresh. Your kids and guests will thank you.
1 of 30
A Cozy Indoor Oasis
With white round pendant lights and an overall white look, Leanne Ford Interiors gave this indoor pool a stylish and bright aesthetic.
2 of 30
Modern Farmhouse
This swimming pool by Maestri Studio blends in with the farmhouse style of this home's backyard.
3 of 30
R Shaped
With its unique R-shape design, this pool encompasses the beauty of the nature around it.
4 of 30
Vacation Nook
Looking for a design that gives you vacation vibes? Take a cue from this look by look by Lindye Galloway Studio + Shop and design an indoor swimming pool off of your backyard. There's nothing like basking in the beauty of your garden's florals while taking a dip.
5 of 30
Spa-like Spring
This pool features a relaxing spa-like experience, from the brick and stone elements to the surrounding trees and sky views.
6 of 30
The Feeling of Luxe
Joshua Smith Inc. designed this outdoor area with a luxurious and modern aesthetic. The pool's shape and white design blends in with the refined and midcentury modern look.
7 of 30
Water Park Fun
Installing a slide and brick waterfall only added to the natural elements surrounding this pool's structure.
8 of 30
T-Shape
A classic T-shaped pool is great for those with an artsy mind. The vertical stem in this design by David Turner Studio is smaller and lesser in width.
9 of 30
Multiple Pools
This freeform swimming pool gives the impression of multiple pools in one. It has an irregular shape that perfectly complements the surrounding trees.
10 of 30
Bar Area
While you'll usually find swim-up pool bars at resorts, this doesn't mean they have to be reserved for these spaces. They're perfect for entertaining guests at home, too.
12 of 30
Underground Plunge Pool
This underground pool is surrounded by a pebble and stone wall. Light gleams from the stairwell above offering a beautiful shade of light upon the pool's surface.
13 of 30
A Taste of the Tropics
Mediterranean influences are seen in this pool's eccentric shape and design. Among them are the bright colors and brick outline.
14 of 30
The Classic L Shape
An L-shaped appearance divides the shallow and deep ends, while helping to fill those empty spaces around the corner of the house.
15 of 30
Wooden Enclosure
This arched wooden enclosure provides the perfect cocoon for this pool, helping to evoke a warm and inviting atmosphere.
16 of 30
Crystal Blue Lagoon
Round pools are easier to assemble, making it great options for lounging and enjoying the sun.
17 of 30
A Rocky Landscape
The rectangular pool at the Red Mountain Spa in St. George Utah is great for swimming laps, while offering majestic views of the Rocky Mountains and rugged terrain.
18 of 30
Black Bottom Pool
Black bottom pools are trendy and brilliant for retaining heat. They're also incredibly dramatic and make a moody option, whether indoors or in the backyard.
19 of 30
European Influence
Classic white pillars surround this pool, while the glass structure above paves the way for light to seep through and reflect on its surface.
20 of 30
Floating Balcony Pool
Swim on the edge with a floating balcony pool that overlooks an alluring sky and landscape views.
21 of 30
Indoor Sky Views
This indoor pool by M. Lavender Interiors was built in a dome-like structure that offers a casual and relaxed experience.
22 of 30
Checkered Tile
Light and dark blue hues combine for a checkered look that resembles a natural feel of swimming in the tropics.
23 of 30
Modern In-Ground Pool
Designed by JL Design, this sleek and modern in-ground pool features clean lines and an outdoor portico for added privacy.
24 of 30
Midnight Swim
This modern swimming pool is illuminated to urge the owners and guests to take a midnight swim. The pool steps allow an easy transition from the pool to the deck.
25 of 30
Infinity Pool
This villa's infinity pool overlooks the Playa Grande Beach in Costa Rica. It features a vanishing pool edge and a picture-perfect geographical scene.
26 of 30
Long and Narrow
Long and narrow backyards are ideal fits for skinny rectangular pools, as they fill out the entire shape of the space.
27 of 30
Section Off Sauna
The perfect summer retreat includes diving into an in-ground pool with a sauna section. Stones and pebbles outline this circular sauna's base, while the surrounding water is meant for swimming.
28 of 30
Herringbone Pattern
The waterfall and herringbone patterned pool deck and paving gives this pool a classic and stylish appearance.
29 of 30
A Garden Escape
This domestic garden features a swimming pool surrounded by plants and chaise lounges. A stunning wood panel deck only adds to this enchanting garden escape.
30 of 30
Kidney Shaped Design
This holiday villa in Spain features a kidney-shaped pool design. This style has a naturalistic appeal, a functional design and retro charisma.
Advertisement – Continue Reading Below
This content is created and maintained by a third party, and imported onto this page to help users provide their email addresses. You may be able to find more information about this and similar content at piano.io