5 Interior Trends That Can Help You Get A Good Night's Sleep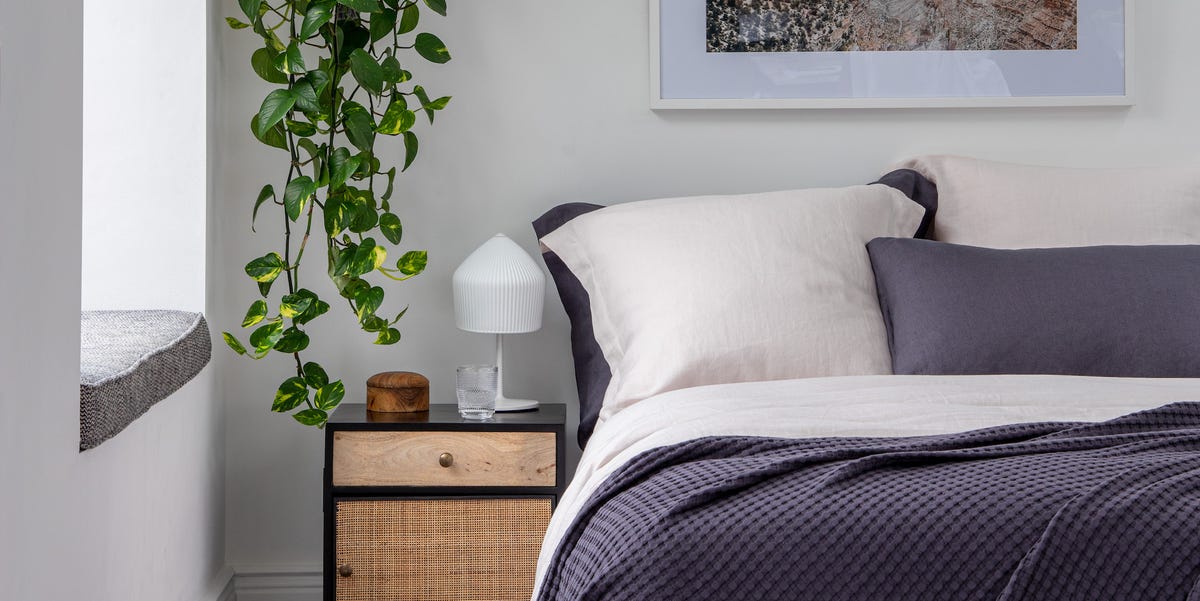 The interior of your home can make all the difference to your mood and general wellbeing, which can, of course, have a direct impact on the quality of your sleep. But there are some interior tweaks you can make which can have both a direct and indirect impact on your sleep satisfaction.
Interior experts at Stelrad looked at different Instagram hashtags to find the most popular interior-related sleep and wellbeing trends. Minimalism, a home gym, and indoor gardens are three of the biggest trends, followed by clean indoor air, bedroom plants, hobby rooms, a home sanctuary, organic interiors, calm colours and a space to meditate all rounding out the top 10.
And you shouldn't just make changes to your bedroom (though of course that is a key area of focus!), as every space in your home is a contributing factor, from the hallway to the living room.
So on the back of the most popular interior-related sleep and wellbeing trends, we've highlighted the ones you should definitely embrace (if you aren't already doing so) that will boost your mood and contribute to a calming home environment, ensuring you have the perfect surroundings to sleep well.
1. Minimalism
Are you a maximalist or a minimalist? Well if you're the latter, the idea of stripping decor down to its essentials is still ruling popular. Neutral, pared-back interiors are often found in a minimalist scheme but it doesn't mean your space has to be devoid of colour. To avoid a room feeling cold, layer tactile soft furnishings and introduce colourful accents through furniture and accessories.
Crucial to any minimalist home is an uncluttered space, which means having a good declutter is essential if you're dreaming of a calming, streamlined environment – and this is especially important in the bedroom, helping you switch off after a stressful day.
In a DUSK survey, more than half of respondents said a clean bedroom helps reduce their stress levels. Begin your day by making your bed, and before you get into bed each night, ensure the surrounding area has been cleared. Good storage helps with this – take a look at our nightstands, practical storage benches and storage baskets for smaller items.
2. Calming Colours
Colourful spaces are being embraced more than ever. A lick of paint can go a long way – and you don't have to go too daring either. Colour psychology is important here though because it's all about how a room makes us feel, and the colour of your walls play a big part in that.
For a bedroom scheme, green and blues work well. Soft blues have long been a popular choice to aid sleep and relaxation, while green is a colour of balance and harmony – sage green in particular is incredibly calming and refreshing, reflecting the beauty of nature. If you prefer moody, dark shades, try deep blues or berry tones for a luxurious, cocooning feel.
Do consider the atmosphere you'd like to create in each room of your home, and decorate accordingly, ensuring you maintain relaxation areas to help you unwind.
Planning to decorate a room in your home? We can help get you started. Enter our competition to win £250 worth of House Beautiful paint at Homebase!
3. Organic Interiors
As we seek areas of calm, away from the stresses of the outside world, incorporating woods, hemp, and stone materials into your interiors is a simple way to bring the outside in, say the team at Stelrad.
There are many benefits to reap. By decorating with raw, organic materials you can create a unique scheme with a subtle nod to the outdoors. Natural materials are also versatile enough to work in a variety of styles, and the neutral appearance can help you connect with nature and feel instantly calmer. It's a perfect way to decorate your bedroom if you're looking to produce a peaceful space to help you drift off.
4. Indoor Gardens & Bedroom Plants
A big Pinterest trend for 2022 is biophilic design, specifically tapping into plant-first design solutions to increase our connection to nature and enhance our wellbeing. Houseplants have been proven to reduce stress and anxiety, improve indoor air quality, and help contribute to a better night's sleep – and aesthetically speaking, it's a great way to add lush greenery to your bedroom interior and wider living space.
'We don't often think about how important air quality is to our homes. Paint, insulation and even the furniture can pollute our homes with toxins like formaldehyde and benzene,' explains James Folger, founder of The Stem. 'The right plants can absorb these harmful gasses through the pores of their leaves, a delicate filtering process that cleanses the air that we breathe everyday. For the best benefits possible, go for a plant that not only has these filtering benefits, but a plant that unusually goes through photosynthesis at night.'
For the best plants to help you sleep, James recommends Aloe Vera, Agave, Snake plant, Areca Palm, Moth Orchid, Jade plant, ZZ Plant, Peace Lily and Kentia Palm – plenty to choose from for your bedroom!
5. Home Sanctuary & Meditation Space
With the meditation hashtag having over 47 million views on TikTok, many of us are turning to meditation to increase self awareness, control negative emotions, and bring us back to the present. There's a link here to Pinterest's 'emotional escape rooms' trend. It's the idea that indoor escape rooms (from a library room to a massage room to a crystal room) are becoming increasingly considered in the design process when renovating a home.
Seek out a spot in your home where you feel the most comfortable and are away from distractions. Consider the lighting, as you want to be in bright and airy surroundings, and use this room or area to relax you before winding down for bed.
Follow House Beautiful on Instagram.
---
This content is created and maintained by a third party, and imported onto this page to help users provide their email addresses. You may be able to find more information about this and similar content at piano.io