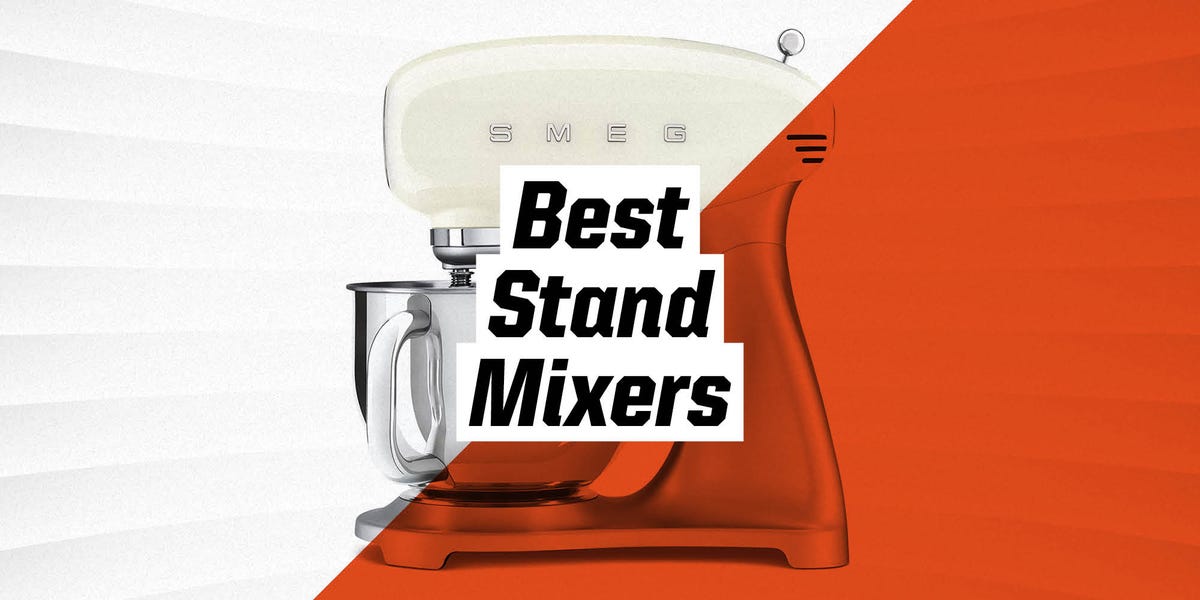 Whether you're an amateur baker or you just like whipping up desserts for special occasions, a stand mixer is a useful tool to have in your kitchen. Compared to the less-expensive hand mixer, a stand mixer is more powerful, it can tackle larger batches and heavier doughs, and it keeps your hands free to multitask while it does all the work. Today's stand mixers are also so aesthetically pleasing—both in terms of design and colors—you'll want to make space on your counter to show yours off. Stand mixers come in a wide range of price points—our list includes models from $50 up to $700—but if you're serious about your mixing, rest assured a good stand mixer is a worthwhile investment. Most stand mixers last decades, making them one of the longest-lasting kitchen appliances out there.
What to Look for in a Stand Mixer
Weight and Size
Before all else, if you plan to let your stand mixer sit out on your counter, make sure the one you have your eye on will fit in the space you have reserved for it. And if you have to store it, consider its weight, especially if you plan to use it often. The last thing you want to do is schlep a heavy mixer up and down the basement steps whenever you want to make cookies. Keep in mind, though, that the heavier the mixer the sturdier it typically is. So if you make more bread than Bundt cakes, go for something with some heft.
Power and Speed
Most stand mixers have anywhere from a 300- to 500-watt engine, which provides more than enough power to beat batters and whip egg whites. Some models have a motor with up to 1.3 horsepower (or about 1,000 watts), which is better for double batches and heavier doughs. You'll also see the number of speeds in the mixer's list of specs. High-end models usually have 10 and sometimes up to 12; budget models have 5 or 6. Some stand mixers offer a slow-start feature, which lets you gradually combine ingredients so you don't end up with flour on your floor or melted butter on your wall.
Capacity
Most of the stand mixers on our list have a bowl capacity of 5 quarts or more, which is generally large enough for most basic baking needs. If you frequently double your recipes or make heavier doughs, you may find that a 7-quart bowl is the better choice. Anything in the 3- to 4-quart capacity will limit how much you can mix at once, so consider your needs—and your kitchen space—before going that small. Keep in mind, too, that some brands sell bowls separately should you want an extra or two for times when you're whipping up multiple recipes at once, like during Christmas cookie baking season.
Other Features to Consider
Tilt Head vs. Bowl Lift
When it comes to how a mixer's bowl can be accessed, there are two types of stand mixers. A tilt-head mixer's head is on a hinge and can be tilted back and out of the way of the bowl. A bowl-lift mixer works by allowing the user to raise and lower the bowl without moving the stationary head at all. Bowl-lift mixers are generally more powerful and stable, and therefore able to handle larger batches. This also makes them more expensive. Tilt-head mixers are generally lighter, more compact, and less expensive, making them the more popular choice for recreational bakers. Both types provide access to the bowl while the mixer is mixing, but only the tilt-head type lets you switch out attachments without having to remove the bowl altogether.
Accessories and Attachments
Every stand mixer comes with three key attachments: a paddle (or flat-edge beater), a wire whisk, and a dough hook. But not every stand mixer has the power to put a dough hook through its paces. If you plan to use your mixer to make dough, especially if you do it often, invest in a mixer with a more powerful motor and larger-capacity bowl. Some mixers, such as the KitchenAid models on our list, can accommodate additional accessories that let you grate cheese, make fresh pasta, or even puree.
How We Chose These Mixers
To find the best options among the many stand mixers out there, we relied on Popular Mechanics's decades of experience testing and evaluating kitchen appliances. We took into account their wattage, size, versatility, appearance, and cost. Then we researched expert sources, such as The Spruce and Wirecutter, and more than 50,000 customer reviews on retail sites like Amazon and Walmart.
---
Best Overall
KitchenAid KSM150PSER
KitchenAid
walmart.com
$429.99
Weight: 23 lb.
Dimensions: 14.10×8.70×13.90 in.
Capacity: 5 qt. 
This KitchenAid is a favorite on wedding registries for a reason—it is as much an interior design decoration as it is a workhorse. It comes in just about every color imaginable and can handle everything from kneading bread to whipping cream. It comes with a 5-quart stainless steel bowl, flat beater, dough hook, and wire whip, and has 10 speed settings. It also has a "slow start" features, which lets you mix in flour or milk without the threat of it coating you and your kitchen. 
Affordable Tilt Back
Cuisinart SM-50 5.5-Quart Stand Mixer
Cuisinart
amazon.com
$199.95
Weight: 21 lb.
Dimensions: 14.17×7.87×14.13 in.
Capacity: 5.5 qt.
This Cuisinart model is a bit more affordable than the KitchenAid—and still comes in a wide array of colors. It has a tilt-back design and sturdy build as well as a powerful 500-watt motor. Accessories include a whisk, dough hook, flat mixing paddles, and splash guard with pouring spout—all of which is covered under a three-year warranty. Some reviewers noted that some of the attachments didn't quite reach the bottom of the bowl, so you will want to make sure that all of your ingredients are getting mixed. 
Most Powerful
KitchenAid KSM7586PCA
KitchenAid
amazon.com
$649.99
Weight: 31 lb.
Dimensions: 17x20x13 in.
Capacity: 7 qt. 
The priciest stand mixer on our list, this KitchenAid model has a massive 7-quart bowl ideal for larger batches. It has all metal fixtures and gears, too—unlike cheaper models that often use plastic—which makes it particularly strong and sturdy. Plus the 1.3-horsepower motor is incredibly powerful and handles dense doughs with ease. If you don't plan on baking in large batches, you would be fine with a smaller model, but if you have the cash to spend and are a prolific baker, this mixer will not disappoint. 
Budget Option
Hamilton Beach 6-Speed Stand Mixer
Hamilton Beach
amazon.com
$79.99
Weight: 11 lb.
Dimensions: 14×14.5×14.5 in.
Capacity: 3.5 qt. 
Most of us don't need the fanciest mixer on the market, but rather something that is slightly more powerful—and enduring—than our own arms. For only $80, this Hamilton Beach mixer will provide you with the assistance you need. It is on the smaller side, with only a 3.5-quart bowl, but it is large enough to make a cake, loaf of bread, or batch of cookies. It has nonslip feet to keep it from moving while mixing, and comes with the three typical attachments—paddle, dough hook, and whisk. The main complaint users make is that the bowl doesn't have a handle, which may or may not be a deal-breaker for you.
2-in-1
Hamilton Beach Classic Stand and Hand Mixer
Hamilton Beach
amazon.com
$44.99
Weight: 7 lb.
Dimensions: 13.25×8.2×14.25 in.
Capacity: 4 qt. 
Even more budget friendly, this Hamilton Beach mixer functions on the stand and in hand, making it a great choice for small spaces and tight budgets. It can't handle super heavy duty baking projects, but it does come with dough hooks, a whisk, and flat beaters, so you can make a variety of baked goods. Some customers noticed that they had to scrape the bowl a bit more frequently than with other mixers, but overall found the beaters mixed batters with ease. Plus, all of the attachments are dishwasher safe, which makes for easy cleanup. 
Most Aesthetic
Smeg 1950's Retro Style Aesthetic Stand Mixer
Weight: 25 lb.
Dimensions: 17.7×17.4×10.3 in.
Capacity: 5 qt.
Another retro looker from Italian home appliance manufacturer Smeg, this stunning mixer comes in seven colors and features a 500-watt motor and 5-quart bowl. You get the three usual attachments—paddle, whisk, and dough hook—but other accessories are available to purchase, such as a grinder, pasta cutter, even an ice cream maker. 
This content is created and maintained by a third party, and imported onto this page to help users provide their email addresses. You may be able to find more information about this and similar content at piano.io