Architects unveil schematic design for Pella's new indoor rec center | Local News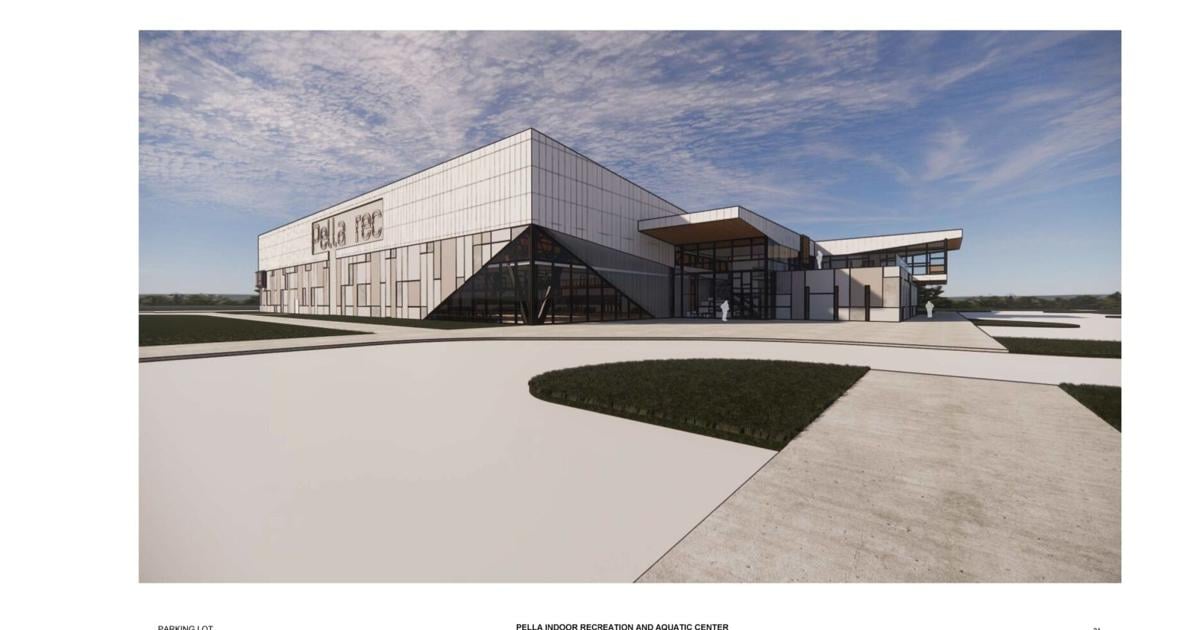 PELLA — After months of planning, a schematic design of Pella's new multi-million dollar indoor recreation center has been unveiled to the public.
Representatives with Shive-Hattery, a design firm in Des Moines, presented a schematic design concept for the new indoor recreation center to Pella City Council at a policy and planning meeting Tuesday night. The facility, estimated between $30-50 million, will be located northwest of Pella Sports Park.
The proposed design plan includes 78,000 square-feet of space with four full-size basketball courts, a recreation swimming pool, competition swimming pool, an indoor walking track, weightlifting and fitness equipment, a rock climbing wall and more.
Shive-Hattery's Brad Baker, sports market leader, and Ron Kinds, project manager, have been working with the city and an ad hoc committee — appointed by Mayor Don DeWaard — since council approved an architectural and engineering services agreement in July 2022. Architectural and engineering services will be 7.25% of construction costs, not to exceed $2.75 million, according to the agreement. These services will be funded by the city's existing local option sales and services tax, or LOSST.
Baker and Kinds were inspired by the de Stijl Movement, a modern art movement developed in the Netherlands in the early twentieth century, for the facility's design. The movement focused on universality with an emphasis on horizontal and vertical lines and the use of primary colors and planar geometry, Baker said.
"In Dutch history, the de Stijl Movement was instrumental in bridging the gap between traditional and modernist forms of artistic and architectural expression," he said. "The Pella recplex acts in a similar way, helping Pella continue to grow and thrive as a premiere destination community in the state of Iowa.
"Through colliding the deep-rooted Dutch tradition and cultural vibrancy of the area with timeless and contemporary architectural forms and program, the recplex has the unique opportunity to exist as a new touchpoint in the rich and ongoing history of Pella."
The final scope and cost of the project is dependent on funding sources, city administrator Mike Nardini said. The project would take about two years to complete, with an opening date tentatively slated for 2025.
Councilman Spencer Carlstone, who serves on the ad hoc committee for the indoor recreation center, said the facility is "an amazing step forward" and will draw attention to Pella "for the right reasons."
"I think we're at a season in our history where we have to decide to stay put or to move forward, and it's just an amazing step forward. I think this will attract people to Pella, not only for a weekend swim meet, or basketball tournament, or volleyball tournament, but to potentially move … to Pella to be that much closer to … our employers," he said.
The indoor recreation center is part of the city's $45 million long-term facilities plan, announced last April. The plan also includes the renovation of the Pella Community Center; extending University Street and Baseline Drive to include a walking trail that will connect to Caldwell Park; relocating the existing soccer complex to Pella Sports Park; and a dog park.
The city plans to invest $22 million in the projects, with $17 million coming from LOSST funds. The city's LOSST was extended for another 20 years after members of the community voted in favor of extending instead of ending it during a special election held in September last year. It has been collected since 2002, with the LOSST fund estimated at $985,000. The other estimated $23 million would come from private donations and other governmental entities, with $12 million already pledged from local businesses.
DeWaard stressed there is more work to be done before council can take any formal action on the indoor recreation center or the other proposed facility projects.
A public input session for the indoor recreation center will be held from 6-8 p.m. Wednesday, Jan. 11 in the Pella Safety Complex. The community is encouraged to attend to ask questions and provide feedback.