At home: Ferguson home mixes wild colors, geometry, nature | Home & Garden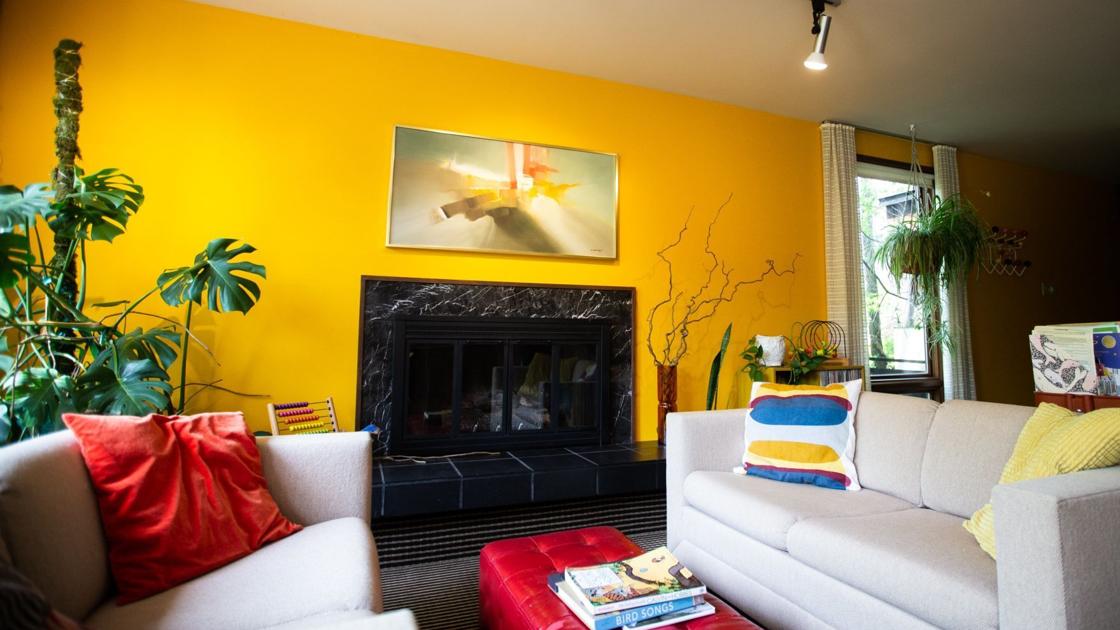 By Pat Eby Special to the Post-Dispatch

Five years ago when Michelle Wiegand was pregnant with their daughter, she and husband Ben Sever decided to look for a home.
One requirement was important to both: They wanted their daughter "to be in a place where she could get dirty and play with bugs."
The two took a studied approach. "We had a list of what we wanted in a house," Sever says. They never expected the wild geometry of the 1970s cedar-sided home they found in Ferguson. "It didn't match everything on our list, but we fell in love."
"I remember sitting opposite our real estate agent on the beige couches," Wiegand says. "She was talking to us, but we were looking out and I thought 'I really don't know what she's saying.'"
"She could have been one of those Charlie Brown adults — WAH-WAH-WAH-WAH-WAH. We were starry-eyed," Sever says. "We pretty quickly threw that list out the window."
They moved in and got to work — thoughtfully. They preserved the best, fixed what was needed, and put their personal stamp on it.
Wiegand and Sever didn't sweep away the 1970s design ethos that encompassed radical experimentation with form, materials, light and the back-to-nature integration of homes with the natural world.
The interiors of the period mirrored the playfulness of the era with Kool-Aid colors, interesting art and textiles, and an individualistic approach to designing a home to reflect its inhabitants, a concept the couple also adopted. Wiegand and Sever brought the 1970s house firmly into the future without losing its past.