Bathroom Wall Decor Ideas to Transform Your Home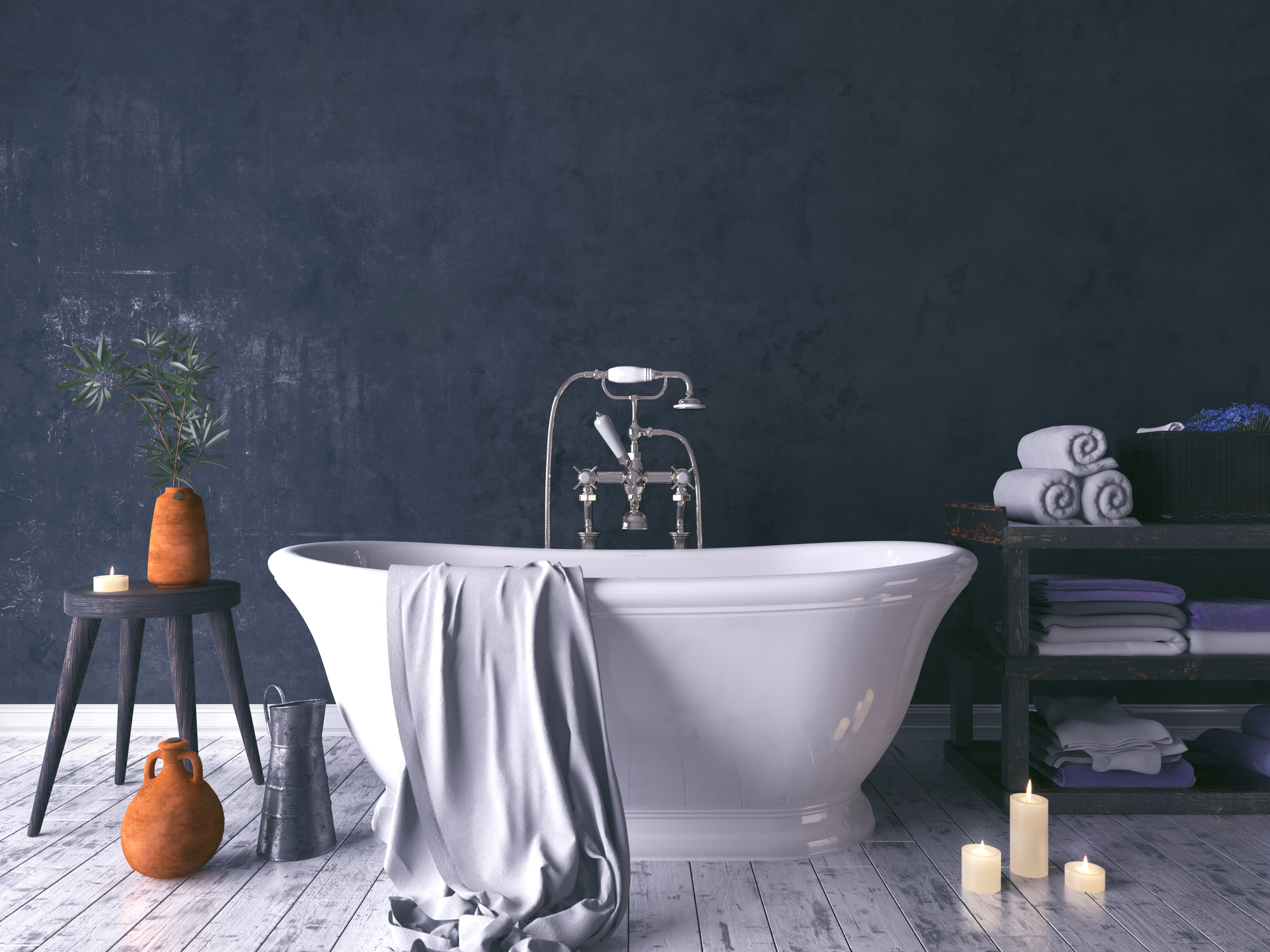 Tailoring your living space to your tastes is the best way to make your house feel like a home.
However, bathroom wall decor is all too commonly overlooked, with the area often left uninspired and bare.
But as a personal space where you can soak, relax and unwind, bathrooms deserve better.
So read on for some top tips to reinvigorate this room, no matter what your budget may be.
Bathroom Wall Decor Ideas
Selecting a certain color and sticking to it will make things a lot easier, and this tonal look is both on-trend and visually interesting.
Richard Roberts, Director of Sanctuary Bathrooms, describes gray as "the perfect color in a bathroom and works well in both sleek, modern spaces and traditional period properties."
He told Newsweek: "Gray is a great halfway point on the color monochromatic shade scale.
"It can be paired with white tones in the vanity units or tiles for a brighter look or try using it alongside striking black features, like taps and handles, to make the room look bolder, without feeling too dark.
"Using gray as a base color means you can add a pop of color with accessories such as towels, soap dispensers and plant pots, which can be updated as seasons and styles change without redecorating!"
Lucy Ackroyd Head of Design at Christy is of the same opinion, telling Newsweek: "A cool gray is an ideal color to have in the bathroom as it helps relax the mind, which is perfect when you want to unwind in the tub.
"Add gray accessories to your bathroom to pull the color scheme together in a harmonious and sophisticated way; this can be done by using calming candles, fluffy gray towels and cozy bathrobes into your design to complete that luxury spa feeling."
Lift Your Bathroom With The Right Lighting
Dining rooms and kitchens should not have a monopoly on a home's dramatic lighting.
Dusk Lighting interiors specialist Jamie Moxley believes, "the right kind of lighting will come a long way in helping you achieve your vision."
He told Newsweek: "Wall lights make for the perfect mirror frame, and depending on the motif and design of the room, wall mounted lights help achieve your decor goals.
"Sleek and shiny lights allow for a minimalist option, where bell-shaped lamps can inspire the country home decor."
Impress With Bathroom Paneling
Bathroom paneling can provide an easy way to instantly elevate your bathroom's design.
Helen Dennett, Marketing Manager at Mermaid Panels, dubs these components "the perfect alternative to ceramic tiles", because they provide "a cost-effective, visually appealing solution that is quick to install and low-maintenance."
She told Newsweek: "The bathroom should be a place to relax and unwind, so it's important to create an environment that not only looks appealing, but provides low-maintenance too.
"Wall paneling is therefore a great solution, as there are options to suit traditional, minimalist, and contemporary styles, while at the same time removing the need for unsightly grouting – making them easy to clean.
You can easily fit panels directly to existing surfaces, including plasterboard and tiling, which means you don't have to worry about preparing the wall beneath."
Celebrity Interior Designer Sanel Konyar and Founder of online interiors emporium Interior Kollection, appears to agree about paneling's importance.
He told Newsweek: "Bathroom wall decor doesn't have to exist between the realms of lashings of gloss paint and boring plain tiling. Even in the smallest of bathrooms, there is always the opportunity to create something special."
"Paneling is a big interior trend for 2022, and the most stylish bathroom walls are paying homage to this elegant trend.
"Use a quality matt bathroom paint to protect the wood and give you the option to add some welcome color or 'tie-in' with your existing wall tones."
Top Your Bathroom With Tiles
Tiles are synonymous with bathroom decor for good reason — just remember, shape, size and color are all important factors to consider should you decide to spruce up this space.
Katie Thomas, founder of interior design company KTM Design, suggests bathrooms can be transformed into a "fun, decorated room" with the right tiles.
She told Newsweek: "Bathrooms can be designed to make a statement to stand out from the rest of your home or be a welcoming oasis for relaxing.
"Floor to ceiling tiles create a dramatic impact if you choose a bold color.
"Don't forget to add a few styling pieces such as chic hanging rails, or some suitable artwork but make sure to not overwhelm the space.
Designer Sanel Konyar agrees, adding: "Floor to ceiling tiling can give the impression of grandeur and space to a small bathroom.
"Choose metro tiles for a strong clean geometric finish or tiles within a tonal color palette that allow you to add some color to your bathroom.
"Earthy colors are particularly big for 2022 and can look stunning in the right bathroom setting. A good tip is to keep your stronger color palette below eye level so that you retain a sense of relaxation and serenity."
Be Bold With Bathroom Decoration
Bathrooms are in many ways an excellent opportunity to make a big design statement.
Abbie Ireland, Director of Patrick Ireland Frames, believes while the downstairs restrooms can often be one of the smallest rooms in the house, "that doesn't mean you can't make a statement in them."
She told Newsweek: "In my opinion, they are an opportunity to have a bit of fun and play around with patterns and designs that you might not feel bold enough to use anywhere else in the house.
"A statement wallpaper with a beautiful mirror can be all you need, or alternatively, stick to single wall color and use the wall space for a photo gallery wall using different frame profiles to create more interest."
Ann Marie Cousins, Founder, AMC Design clearly concurs, adding: "Often, the downstairs bathroom is a place we can really express our personalities.
"Colored sanity ware is a great way to inject some color. If you're not sold on this trend, go for a patterned wallpaper or a vibrant colored tile instead.
"It is a great opportunity to be bold, so why not wallpaper half the room, then pick a color from the wallpaper and choose a tile in a similar shade.
"Some wallpapers are not suitable for bathrooms, so check your ventilation and the product specification for the wallpaper before buying. If it's just a loo and basin, this is no problem."
Consider Bathroom Storage
Bathrooms are often one of the smallest spaces in a home, meaning they can attract a lot of clutter
Fortunately, there are several clever bathroom storage ideas to help tidy up this room quickly and easily.
Abbie Ireland said: "If space allows, building recessed storage into the wall behind a mirror is a great way to save space in a small bathroom.
"Covering the storage with a beautiful framed mirror will not only make a feature of the hidden storage, but the reflective surface will bounce light around the room and make it feel larger.
"Choose a dark-framed design to draw the eye to the mirror as you walk in the room, or opt for a full-size mirror to cover an entire wall."
KTM Design's Katie Thomas agrees, adding: "Decorate your bathroom with shelves to add more storage and style with some decorative accent pieces as well."