Boho kitchen decor: 10 designs for a laid back scheme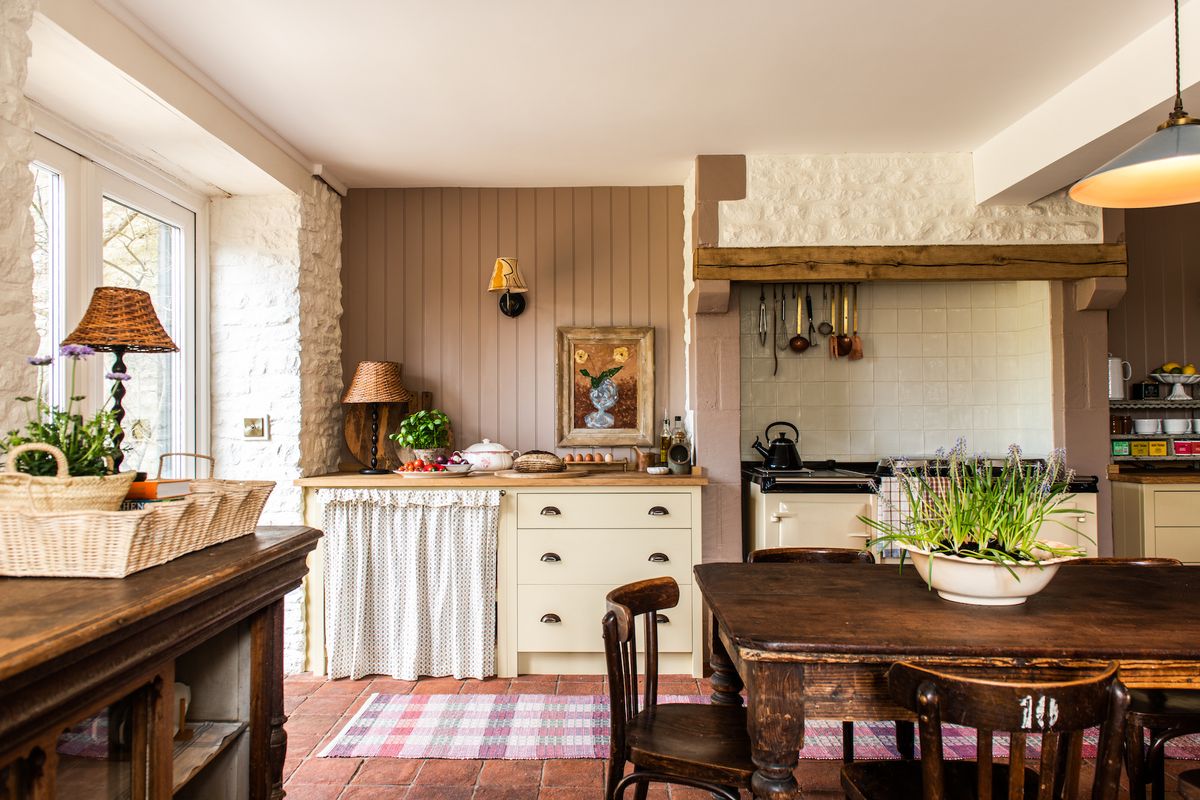 Boho kitchen décor creates a look that is abounding with color and texture and is sure to bring a burst of personality to your home. A foil to the sleek minimalist look that is seen in so many modern homes, Boho kitchen décor brings character and personality into your space.
Out of all the kitchen ideas, Boho kitchen decor gives you the opportunity to express yourself. 'Consider your kitchen to always be in flux: paintable materials can be updated on a whim, plug-in lamp lighting can be moved around, open storage with curtain fronts can feature an ever-changing rotation of textiles,' says Victoria Sass, principal designer at Prospect Refuge Studio. 'You might even go so far as to design a kitchen composed of a collection of repurposed furniture pieces that can be moved around the room. Be fearless and the space will feel decadent and wildly personal.'
10 Boho kitchen decor ideas
A key part of kitchen design is the cabinetry. However, traditional fitted designs can look out of place in a Bohemian scheme. Instead, embrace the laid-back, ever-changing nature of Boho design by incorporating freestanding kitchen ideas into your space; this could be a single pantry cupboard or a complete kitchen. Mix and match colors and styles to create a unique space and accessorise with pieces that mean something to you; childhood treasures, holiday mementos, family heirlooms and vintage finds all have their place as part of Boho kitchen decor.
'Boho kitchen decor is the reflection of your traveling memories, both around the world and around your own neighborhood; your passion for cooking; how you like to entertain and how you want to share your personal space with family and friends,' says Ana Maria Torres, interior designer and founder of At Architects. 'When designing a Boho kitchen, I'd recommend taking a moment to explore and discover your own color palette. Try mixing materials and shapes, combining both vintage and modern furniture and layering eclectic patterns.'
1. Add a vintage lighting to illuminate your scheme
Kitchen lighting ideas are one of the cornerstones of kitchen design – done well it can transform your room. In any space, the pendant will be the hero of your scheme and therefore should make a statement. 
When deciding on the right lighting component for your Boho kitchen decor, consider a vintage-style wall lamps that brings color as well as illumination. 
Opting for vintage-style lighting, rather than authentic vintage fittings, means you get the characterful aesthetics without the challenges of ensuring that the electrics and fittings meet with current safety regulations.
2. Opt for a bright and warm color scheme
One of the best things about Bohemian kitchen decor is the freedom that it offers, especially in terms of wall color. While earthy browns, greens and grays can set a calming backdrop to your Boho kitchen decor, there is also the opportunity to go for more vibrant paint ideas.  
'Boho style kitchens are a wonderful space to go bold and add a burst of warm and joyful color. An eclectic kitchen filled with vintage furniture, open shelves, patterned textiles and crockery are ideal for vibrant color. The bold 'Marigold' shade will work fantastically alongside natural wood finishes and accessories inspired by travel,' says Ruth Mottershead, creative director at Little Greene.
3. Channel a vintage look with your Boho kitchen décor
Of course, Boho kitchen decor doesn't have to be bold and bright. Instead, you can adopt vintage kitchen ideas that can equally channel Bohemian vibes – think frilled lampshades, lace table cloths and faded kilims.
'Choose freestanding pieces of furniture rather than a fitted kitchen. It makes it much easier to intermingle characterful accents with functional and beautiful kitchen cupboards,' says Helen Parker, Devol's creative director. 'Create spaces that inspire eclecticism and layers of interest but that are not so carefully curated that they feel like a hotel or a museum. It takes time and patience and isn't instant but it's definitely worth putting in the time.'
4. Set the backdrop with a checkerboard floor and wooden cabinetry
While not associated with a particular style or look, checkerboard kitchen flooring ideas are the perfect complement to Boho kitchen decor. Opt for a monochromatic scheme for a classic look that will let the other elements of your boho kitchen decor sing. 
If using a bold pattern on the floor, keep the pattern on cabinetry and walls to a minimum. In this Bohemian kitchen, the patterned floor is complemented by the warm grain of the wooden cabinetry and subtle veining of the stone worktops and backsplash. A hint of additional pattern is brought in through the wallpaper, though the color palette and scale is kept muted and minimum so as not to compete with the bolder palette and scale on the floor.
5. Add planting and vintage glassware to open shelves
Celebration of the natural world is a key tenant of Bohemian style, so bring the outside in by incorporating living plants into your scheme. Display hanging plants from the ceiling and place pots full of tumbling aromatic herbs on shelves to bring the boho look to life.
Join the recent trend of replacing fixed wall cabinetry with open-shelving for a brighter and more characterful space. In a Boho scheme, these open-shelves provide the perfect stage for showcasing favorite decorative features alongside practical pieces such as colorful glassware and vintage cups. 'Boho style is eclectic, collected, worldly and well traveled. Plan ahead for a bit of open wall space or a few shelves to display art and antiques,' explains Victoria Sass, principal designer at Prospect Refuge Studio. 
6. Don't overlook soft furnishings in your design
When designing a kitchen, the focus tends to be on cabinetry and flooring, however, soft furnishings should not be overlooked. Rugs can bring warmth, color and texture to a scheme, after all it is the finishing touches that truly make a space. However, when considering kitchen rug ideas, it is important that they are hard-wearing and machine washable as well as pretty. 
'To create the perfect Boho style kitchen, I use eclectic textiles such as a flat weave rug which I mix in with rustic style furniture for a "worn in look",' explains Peti Lau, trend expert at Kaiyo an online marketplace for pre-loved furniture. 'I don't use materials or furniture that are too new or shiny, instead I use materials that have an aged aesthetic. I used pops of color for lighting fixtures and vintage, antique or pattern tiles help curate a boho style.' 
7. Channel rustic vibes in your Bohemian kitchen 
Boho style is defined by color, texture and eccentricity. However, it can be a challenge to translate this laid-back look into the engine room of the home. Start with the backdrop to your space: the walls and floors – getting these right will set the stage for your Boho kitchen decor.
For walls, warm shades are a great choice, whether you go bold with a bright orange or select a more neutral tone, such as a soft cream hue, colors with a red, yellow or pink undertone will ensure a cozy welcome. Consider an exposed plaster finish –popular in rustic kitchen ideas –  to provide additional texture to the space.
Complement your walls by opting for a natural floor such as wooden flooring or one of the many stone flooring types. 
8. Opt for natural materials to channel rustic chic
When designing a Boho kitchen prioritize materials that create a warm and welcoming environment. Avoid too much metal and glass which can lend a more modern or clinical feel to the space and instead incorporate large areas of exposed wood. Layering different colors and textures of wood can create a warm and welcoming backdrop to your kitchen décor – for example, reclaimed wooden cabinetry with a deep patina and visible grain that balances perfectly against the lighter shades of hexagonal floor.
'Whatever timbers you use in the kitchen, the key to avoiding a heavy 'wall' of wood is to balance out the other finishes in the room – such as pale painted walls, simple handles and antique mirror backsplashes,' says Deborah Bass, director, Base Interior. 
9. Select bright colors in light spaces to bring character
Boho kitchen décor thrives on color and natural light. One of the best ways to add color into your design is to incorporate colorful kitchen island ideas – for example, this contrasting red island pops against the white cabinetry. 
'When I design a kitchen, I like to mix memories with colors that bring joy and happiness,' says Alison Kandler, founder of Alison Kandler Interior Design. 'This kitchen is my own kitchen and I wanted to bring in everything I love: painted floors, bright colors, gingerbread details, European lighting, whimsical hardware, and all of my favorite flea market collections. The French blue Lacanche range and Raoul Textiles pillow fabric inspired the color palette. What really makes this kitchen special is the volume ceiling with skylights. Natural light is the best way to show off bright colors.'
10. Consider Boho décor for an open-plan space
Due to its laid-back, lifestyle aesthetic, Bohemian décor is a great choice for open plan kitchen ideas. Offering a softer look than the more industrial or traditional kitchen ideas, Boho kitchen decor welcomes soft fabrics and decorative accents that can help to unite an open-plan kitchen with the living and dining areas. 
In this kitchen, a breakfast bar provides a physical separation between the kitchen and living areas. However, it has been paired with two bar stools in a soft, white boucle fabric which brings a softer, lifestyle edge to the Boho kitchen decor. This is continued by the row of antique candles on open-shelving and myriad houseplants which would sit equally well as part of your living room ideas.
What is Boho style kitchen?
A boho-style kitchen has a laid-back look that brings interest and character to the space. Painting walls and cabinetry in warm colors will bring personality to the room and then accessorise with soft furnishings, killim rugs, plants and sentimental decorations. 
'Boho kitchen decor offers the perfect antidote to the crazy world outside our homes. With all five senses residing in the kitchen, there are wonderful opportunities to foster a Bohemian vibe,' says Susan Serra, designer at Susan Serra Associates.
Can you mix Bohemian and farmhouse?
Yes, you can mix Bohemian and farmhouse styles to create a characterful kitchen. In fact, it is surprisingly easy to combine the warm, personal elements of Boho decor with the rustic charm of more functional farmhouse kitchen ideas. Both styles have natural materials, especially wood and stone, at their core and promote a similar ethos of welcoming, laid-back living. 
The main difference between the two styles are the color palettes. Boho kitchen décor tends to lean towards brighter and bolder shades while farmhouse kitchens embrace more neutral creams and whites. In order to balance the two opt for colorful accents such as rugs, light fittings or singular pieces of furniture within an otherwise more neutral scheme.