Christmas Room Decor Inspiration To Make Your Home Extra Festive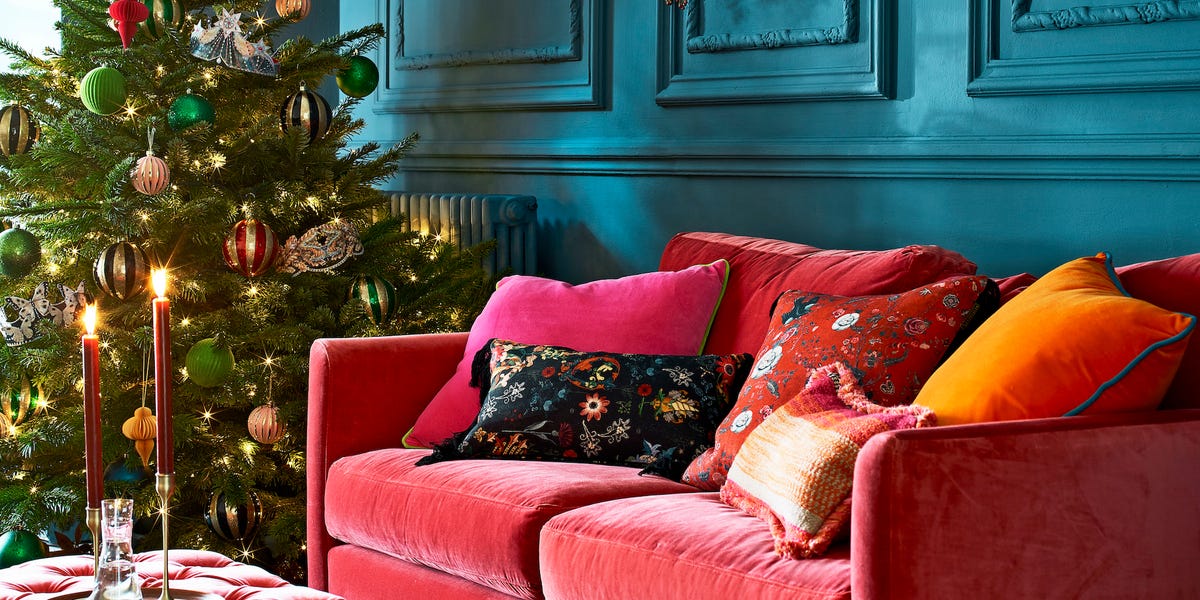 Photography: Polly Wreford / Styling: Marianne Cotterill / Direction: Sarah Keady
1
Christmas room decor: vibrant wreath
Before you even step inside, attach a Christmas wreath to your front door. This gorgeous red and green wreath perfectly complements the muted duck egg door colour.
Dix Blue No.82 in Exterior Eggshell, Farrow & Ball
2
Christmas room decor: blissful whites
Create a cosy Christmas setting with an elegant white table scheme. Include fine bone china, beautiful linens and vintage-inspired candlesticks, teamed with tactile cushions, faux greenery and a sparkle wreath.
Christmas decorations available from The White Company
3
Christmas room decor: dark and luxe
Sumptuous velvets and a frosted glass chandelier helps to create an elegant look is this dark blue living room.
Elysee Chandelier and Insignia double arm wall light, Pooky. Oscar sofa, armchair and coffee table, sofa.com
4
Christmas room decor: pink stripes
Muted pink works brilliantly in a bedroom. Play with different shapes and patterns (circular, stripes etc.) for interest.
Christmas bedroom wall paint in Piranesi Pin and Pointe Silk. Chest of drawers: Chalk paint in Olive and Emperor Silk, all Annie Sloan
5
Christmas room decor: evening glam
Nothing beats candles for ambience. Use tapered candles as a table centrepiece and bring out your best glassware for a truly worthy celebration.
Interior designer Sara Cosgrove
6
Christmas room decor: fireplace charm
As the evening draws in, get cosy by a roaring fire. Grab a blanket for when the flames die down.
7
Christmas room decor: Scandi tablescape
For a Scandi dining room look, layer the table with textiles, crumpled linen, foraged pine cones and eucalyptus. Make the most of the space above the table by using a rod to hang paper decorations or trailing foliage, or tack them to the ceiling.
READ MORE
8
Christmas room decor: cosy living room
For a minimalist Christmas living room, layer your sofa with festive cushions and faux fur throws. Drape a simple star garland along the wall and decorate the coffee table with dried flowers.
White Noel Cushion and blue Joyeux Noel Cushion, from the House Beautiful collection at Homebase
9
Christmas room decor: shelf styling
Even the smallest space can be transformed with some festive charm. Turn the functional into the ornamental by decorating your shelving. For a cosy but considered look, combine old favourites with contemporary pieces. Layer them together artfully by mixing heights and textures, but stick to a relatively tight colour palette so your display doesn't become chaotic.
Christmas accessories from Layered Lounge
10
Christmas room decor: bathroom brights
How do you decorate your bathroom for Christmas? String a garland along the wall and add candles (pillars or tapered) for ambience. Additionally, Christmas wreaths can be hung up on walls, doors, windows or above the toilet.
Walls: India Yellow No.66 in Modern Emulsion, Farrow & Ball
11
Christmas room decor: warm hallway
A warm, rich entrance really does set the scene at Christmas time. Revitalise your space with a rich and colourful carpet that will enhance your interior.
Residence Striped Carpet in Tabasco Stripes, from the House Beautiful collection at Carpetright
12
Christmas room decor: simply rustic
For a rustic Christmas look, keep it pared-back to highlight tactile textures on a wooden table. A simple evergreen garland, some white candles, and a Christmas swag tied to the back of each dining chair is all you need.
Automatic wine opener, Cuisinart
13
Christmas room decor: sensational dining
Neon candles, bright mini bottle trees, bold glass tumblers and vibrant decorations will all add some fun to the formalities at dinner time. Additionally, frame your table with a show-stopping garland threaded with twinkling lights.
14
Christmas room decor: warming fireplace
Fireplaces are great focal points at Christmas time. Add candles for extra ambience and decorate the mantel with small ornaments.
15
Christmas room decor: luxe bedroom
In the bedroom at Christmas, dress your headboard or the wall above with a garland or string lights. Your bedside table can easily be spruced up with a few festive decorations too, using dried flowers and paper Christmas decorations.
Neva Velvet-Finish Ottoman Bed Frame in Grey, from the House Beautiful collection at Dreams
16
Christmas room decor: subtle kitchen
17
Christmas room decor: festive jewels
Embrace jewel colours at Christmas, just like this gorgeous living room. Layers of soft velvet in rich, sumptuous colours will create a cosy space for you and your loved ones to gather.
Izzy sofa and Georgette footstool, both sofa.com
18
Christmas room decor: extravagant hallway
Bring magic and grown-up glamour to your home this Christmas. Illuminate your entrance hall for a festive glow – you can never have too much sparkle.
19
Christmas room decor: mantel display
Garlands are big news when it comes to decorating fireplace mantels, but you don't have to follow the majority. Embrace the mantelscaping trend by layering candles, small ornaments and vases filled with sprigs and branches.
Walls: Chinese Blue No.90 in Estate Emulsion. Ceiling: James White No.2010 also in Estate Emulsion, both Farrow & Ball
20
Christmas room decor: festive art
No room for a Christmas tree? This wallpaper panel can be hung like a work of art and a string of lights suspended from a hook will bring seasonal style to the smallest of spaces. It's ideal for a home office or study area.
21
Christmas room decor: oversized wreath
Greet your guests with a welcoming wreath and some twinkling hanging star lights. This abundant wreath is so easy to make – simply form hops and berries into a wreath shape and secure. Spray with glitter for a festive finish.
Door and surround painted in Inchyra Blue exterior eggshell, Farrow & Ball
22
Christmas room decor: timeless crimson
Give a traditionally laid red and gold table a few modern twists. Fabric crackers and tablecloths in crimson and gold will add a luxe feel. Bring extra bling to the table with gold-rimmed plates and glassware mixed in with foliage with a touch of sparkle.
READ MORE
23
Christmas room decor: kitchen glow
We love this deep blue-green kitchen. A Christmas tree is nestled on the side which makes for the most wonderful glow as you prep meals.
Somerton in baltic green and brushed brass by Kitchen Makers
24
Christmas room decor: paper shapes
Opt for an alternative stair garland for the festive season and inject some colour to your hallway with a vibrant paper garland.
25
Christmas room decor: joyful dining
If you keep your Christmas decorations quite pared-back throughout the home, the one place to really experiment with colour is your dining area. Play with shapes, patterns and textures and set up your table with Christmas crackers, floral arrangements, and candles for a glowing atmosphere.
Walls: Yeabridge Green No.287 & Bancha No.298 in Modern Emulsion. Ceiling: James White No.2010 also in Modern Emulsion, both Farrow & Ball.
Follow House Beautiful on Instagram.
This content is created and maintained by a third party, and imported onto this page to help users provide their email addresses. You may be able to find more information about this and similar content at piano.io