Colorado Springs high school football coach now the star of HGTV home improvement show | Arts & Entertainment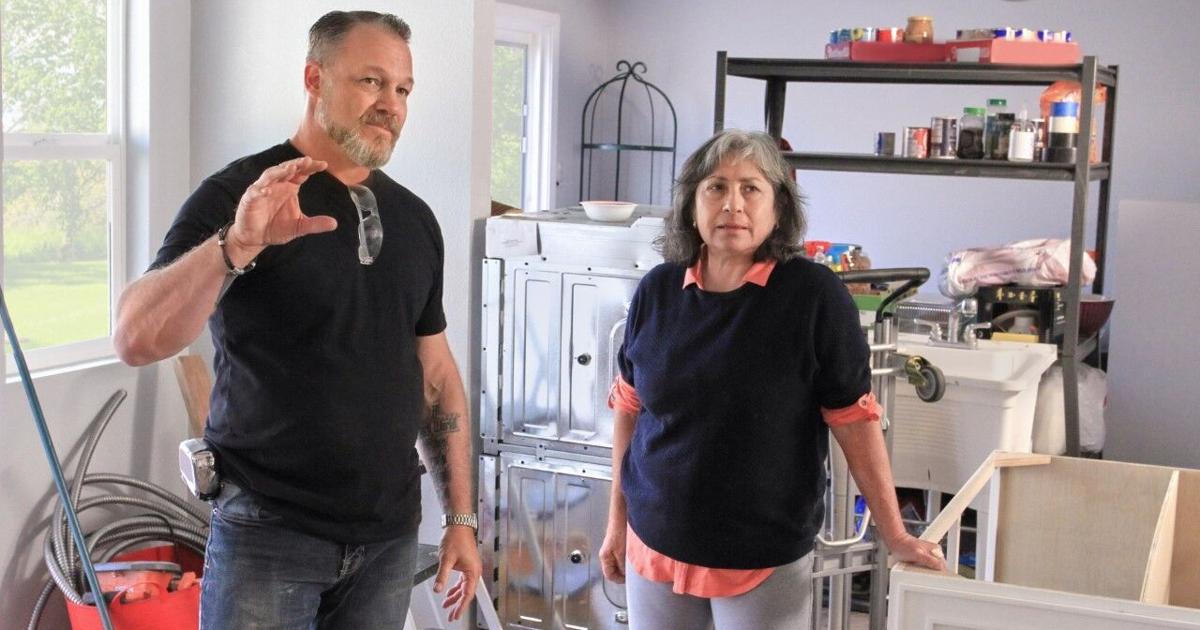 Just like the other offers to be a TV star, Tom Reber tried to ignore this one.
"I blew it off for months," he said.
He didn't even think it was legitimate. After gaining a sizable following on social media and through his podcasts and YouTube videos, the Colorado Springs-based home renovation coach is used to getting strange messages and offers that didn't feel right for him.
So when a representative from a production company found him on YouTube, Reber figured it was a scam.
"This guy reached out saying, 'We've got the idea for a new show,'" he said. "It was out of the blue."
Reber responded with silence. That guy didn't give up and eventually got Reber on the phone for 10 minutes. The pitch must've been convincing enough.
"Fast forward a few months," Reber said. "And we've got a new show."
He'll be the face of "Unfinished Business," an HGTV program that premieres Saturday. Each episode follows Reber as he helps families complete their failing home improvement projects. It's not just about fixing the problems you can see, the kind that keep homeowners from inviting people over. Reber also hopes to uncover obstacles that you can't see.
A description of the show on HGTV's website puts it this way: "Homeowners try tackling renovations themselves until they are forced to give up their DIY dreams. That's when home renovation coach Tom Reber arrives to offer the support, guidance and tough love they need to regain control of runaway projects."
This kind of approach has a special place in Reber's heart.
After serving in the Marine Corps, he launched a contracting company near his hometown in the Chicago area. He sold his business in 2012 and started The Contractor Fight, a home improvement coaching business.
It's just one thing on Reber's plate.
He's coached football, including a stint as coach at Palmer High School for a few years after his move to Colorado Springs in 2015.
In 2020, he started Live Unafraid Apparel, a clothing brand that seeks to encourage people to "step up and squeeze everything you can out of each day."
"The biggest thing to me is having an impact," Reber said. "I've always felt like I'm supposed to impact people for the better."
He does that with The Contractor Fight, as he trains contractors on how to run their businesses. He's seen how that can lead to personal improvements, such as mending marriages or paying off debt.
On "Unfinished Business," viewers will see how Reber makes an impact.
The first episode features a couple and their stalled bathroom and kitchen projects, which have been left unfinished for the past seven years.
"When a project is sitting there for a while, that causes stress, anxiety and chaos in the home," Reber said. "We try to get to the root of what's going on so we can get them back to normal."
Or, even better than normal.
"I believe that the way you do one thing is the way you do everything," he said. "It's not just about a project. It's about how you're going to live your life and show up each day."
He hopes his lessons will travel beyond the TV screen. He hopes to motivate viewers too.
After filming in late 2020 and early 2021 in California, four episodes are set to air. Reber said he hopes this is just the beginning.
"I'm excited to see what happens," he said. "I know we did a good job, and we're just getting started."