Feng Shui Bedroom Tips: Dos and Don'ts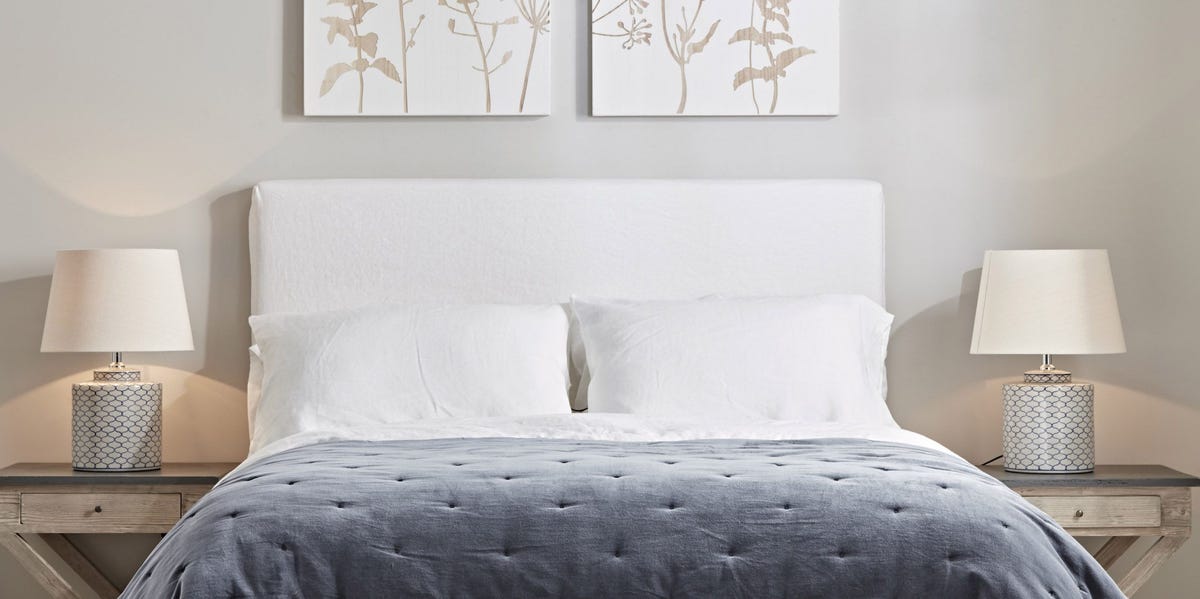 The ancient Chinese art of Feng Shui is all about achieving balance and creating a healthy environment. Adopted by the Western world in the 20th century, it's been enjoying a revival as we look for ways to make our homes meet our needs during the pandemic. Nowhere is this more important than in the bedroom, where we seek ultimate sanctuary from a demanding world.
'It's so important to create a sacred and safe space to reconnect with ourselves and rebuild our energy,' says Feng Shui expert Priya Sher, who advises bed specialists Bed SOS.
In simple terms, Feng Shui focuses on spatial arrangement and the flow of chi/qi (energy). 'It's about building a deeper relationship with our surroundings in order to be fully present in our space,' says Rosie Axford, co-founder of interiors company Wicklewood. 'This makes a huge amount of sense right now.'
The philosophy
There are many schools of Feng Shui, from simple interiors advice to complex full house assessments where everything from the age of the building to the birthdays of the occupants are taken into consideration. 'Put very simply it's about maximising your potential by balancing the energy of your space,' says Priya. 'The bedroom is a space that we spend around a third of our life in. Thus, it is vital to have the energy in this space balanced so that we can recharge our own energy.'
Before you start
In Feng Shui, the bedroom is a 'yin' or quiet space. Its primary purpose is to recharge our energy whilst we sleep. The bed is key. This should be placed with the head against the wall with space around both sides and the foot to allow energy to flow freely. 'Headboards should have softer edges, with no sharp edges to the bed base. If possible, it should be made of fabric as this provides a softer, inviting and relaxing feel,' says BIID (British Institute of Interior Design) interior designer Amalia Boier.
Amalia would always avoid placing a bed under the window or on the same wall as the entrance door as this can subconsciously create feelings of insecurity and could make you feel threatened or unsafe.
Symmetry is also vital. 'Opt for two beside tables, two lamps, two pillows, even if you're not in a partnership,' says Rosie.
For optimal balance, include aspects of all five elements – wood, metal, fire, air, water and earth in the bedroom. Wood symbolises growth and vitality. Furniture adds this element, but it's also associated with rectangular, columnar shapes. Metal, which supports knowledge, can be incorporated through picture frames, white, grey and metallic shapes and spherical objects.
Earth symbolises stability and balance. Bring this in through rocks, crystals and landscape artwork, plus flat or square shapes with soft edges, such as a rug in earthy tones of brown or orange. Water, representing wisdom and serenity, can be reflected in carefully-placed mirrors and curvaceous shapes. Fire, the passion element, also means energy; bring in candles and triangular shapes to create this.
Customise Feng Shui to your needs
• Encourage intimacy and good communication in a couples' bedroom
Placing two bedside tables either side of the bed provides support and balance for a couple, says Priya: 'A gently-fragranced candle on each table will encourage romance. Also, leave space on both sides of the bed so that you each can walk around, this helps to create space in the relationship to grow.'
If possible, place a romantic photograph or artwork on the south-west wall of the bedroom, but certainly hang a favourite snap in the room somewhere. A splash of red brings passion – artwork or an object such as a vase is good for this. But move out family photos and keep this space just for the two of you, says Rosie. Don't entertain a single memento of previous relationships. She recommends placing a small bowl of rice on a shelf to remove any lingering negative energy.
Nick Sunderland of NS Interiors, a British Institute of Interior Design (BIID) member who uses feng shui in his practice, likes to place a pair of objects – such as two mandarin ducks or love birds, animals that mate for life – in the far-right rear corner of a bedroom. These objects represent a successful partnership.
However, he removes or covers large mirrors, particularly if the occupants can see themselves in bed. This is thought to drain energy from the relationship.
• Focus on nurture and self-care
If you sleep alone, put the bed in what's called a 'supportive' position, ideally almost diagonally opposite the bedroom door, says Priya: 'Place two bedside tables to provide balance, then place an orchid plant on the bedside table in the diagonal corner to the door. This is a pulse point to support health. Place a rose quartz crystal on each table for self-care. Decor in earthy tones and dusky pink shades are good for nurturing energy if you sleep alone.'
Also, Rosie suggests avoiding photos or artwork with single people or objects – simply hang a pair of co-ordinating prints instead.
• Achieve balance in a bedroom also used as a home office
Too often our bedrooms end up as multi-functional spaces lacking in a sense of restorative calm. Working in your bedroom is not recommended from a Feng Shui perspective, but if you have no choice ensure you have a cupboard that you can lock all your work away in after your working hours, says Priya: 'If you have a desk in your bedroom you can place a screen to separate the two areas.'
Opt for neutral, natural tones, as these promote relaxation. Also, remove electronics and blue light devices such as televisions, laptops, tablets and mobile phones out of the bedroom well before sleep. 'And try to avoid books piling up which can keep your mind active and make it difficult to switch off.' adds Rosie. 'Make sure that the only books in your room are the ones which you are reading.'
• Promote restful sleep for a person who has difficulties with insomnia and sleep patterns
Again, remove all electronics, and clear the space under your bed. Priya says that storing items under your bed is a big no-no: 'Your own energy needs to flow through it while you sleep, which can't happen with lots of items stashed underneath.'
Invest in blinds rather than heavy curtains, advises Wayfair's resident style advisor, Nadia McCowan Hill, as you can adjust them with ease, creating a zen-ful atmosphere in seconds. And do cover windows, says Amalia, particularly at night: 'This prevents bad chi (energy) from entering the room during sleeping hours.'
• Best colours and textures
For a soothing bedroom that promotes relaxation and recalibration, decorate in calming shades of lilac and grey, says Nadia. 'Plump for tactile – ideally organic – fabrics and introduce sleep-promoting scents like lavender to promote healthy sleep patterns.'
Simon Tcherniak, senior designer at Neville Johnson, says he's seeing a move away from pure white in bedrooms as we seek more of a nurturing vibe: 'Muted, almost pastel, shades add a sense of maturity and calm to a space, and are a great alternative to cream, taupe and grey.'
Feng Shui bedroom: what to avoid
• Pure white throughout, it's too severe.
• Bright bold shades such as red or neon; Priya says these can over-activate energy and cause unrest.
• An abundance of plants; their energy is thought to be too strong and growth-oriented for the bedroom space and it can mess with relaxation, says Amalia.
• Heavy cast-iron or metal headboards as they disbalance the energy flow.
• Sharp corners – they're threatening, says Rosie.
• Anything oversized or looming, such as a huge wardrobe. Its presence can feel oppressive and dominating.
---
Like this article? Sign up to our newsletter to get more articles like this delivered straight to your inbox.
In need of some positivity or not able to make it to the shops? Subscribe to House Beautiful magazine today and get each issue delivered directly to your door.
This content is created and maintained by a third party, and imported onto this page to help users provide their email addresses. You may be able to find more information about this and similar content at piano.io