GARDENER COLUMN: Scouting for Japanese beetles | Home & Garden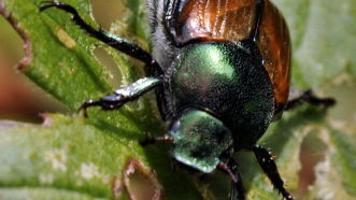 SAUK COUNTY GARDENER
Jeannie Manis
Sauk County Master Gardeners Association president

"Bugs are not going to inherit the earth. They own it now.
So we might as well make peace with the landlord."
May's weather has definitely been unpredictable. We had high temperatures and humidity a few weeks ago, cold and rain the next and then Memorial Day weekend – frost. I know I'm going to be "eating crow" the next time I see a couple of my fellow gardener friends as they both asked if I was sure that May 17 was the last expected frost date. Well, it was the last EXPECTD frost date, but it obviously was not the last date for 2021. If you just planted your tender annuals and newly planted tomatoes, peppers, and other warm weather crops, I hope you were able to protect them from the frost. I had planted my peppers and tomatoes and number of tender annuals the weekend before, so mine needed to be protected. Luckily, my husband and in-laws were able to get them covered and bring in most of my container plants.
With this unusual weather, it is important to pay attention to degree-days and indicators. When the lilacs are in full bloom, it is time plant beans, cucumber, and squash. It is time to plant tomatoes when lily-of-the-valley are in full bloom. My irises are also in full bloom and it is the time to transplant eggplant, melons, and peppers. Following these common plant phenological indicators, I knew the conditions were good for planting. However, it is still important to keep an eye on the weather – as our late frost was proof of that. Now I am starting to watch for insect pests. The closest growing degree-days monitoring location for me is Madison. On May 27, the growing degree-days were 551. Those are currently ideal conditions for the codling moth and European corn borer. Late May/early June is also the time when June beetles emerge and they can damage turfgrass, some ornamentals, various vegetable and field crops, and more. The grubs tend to be the most damaging life stage as the grubs feed on the roots of plants and disrupt the plant's ability to take up and use nutrients and water. These tend to be localized so don't be surprised if you don't see them. If you find them, use proper irrigation and fertilization to help minimize damage. It's important to note that June beetle grubs resemble the grubs of Japanese beetle so proper identification is important before doing any treatment.