Home addition ideas: 10 space-expanding designs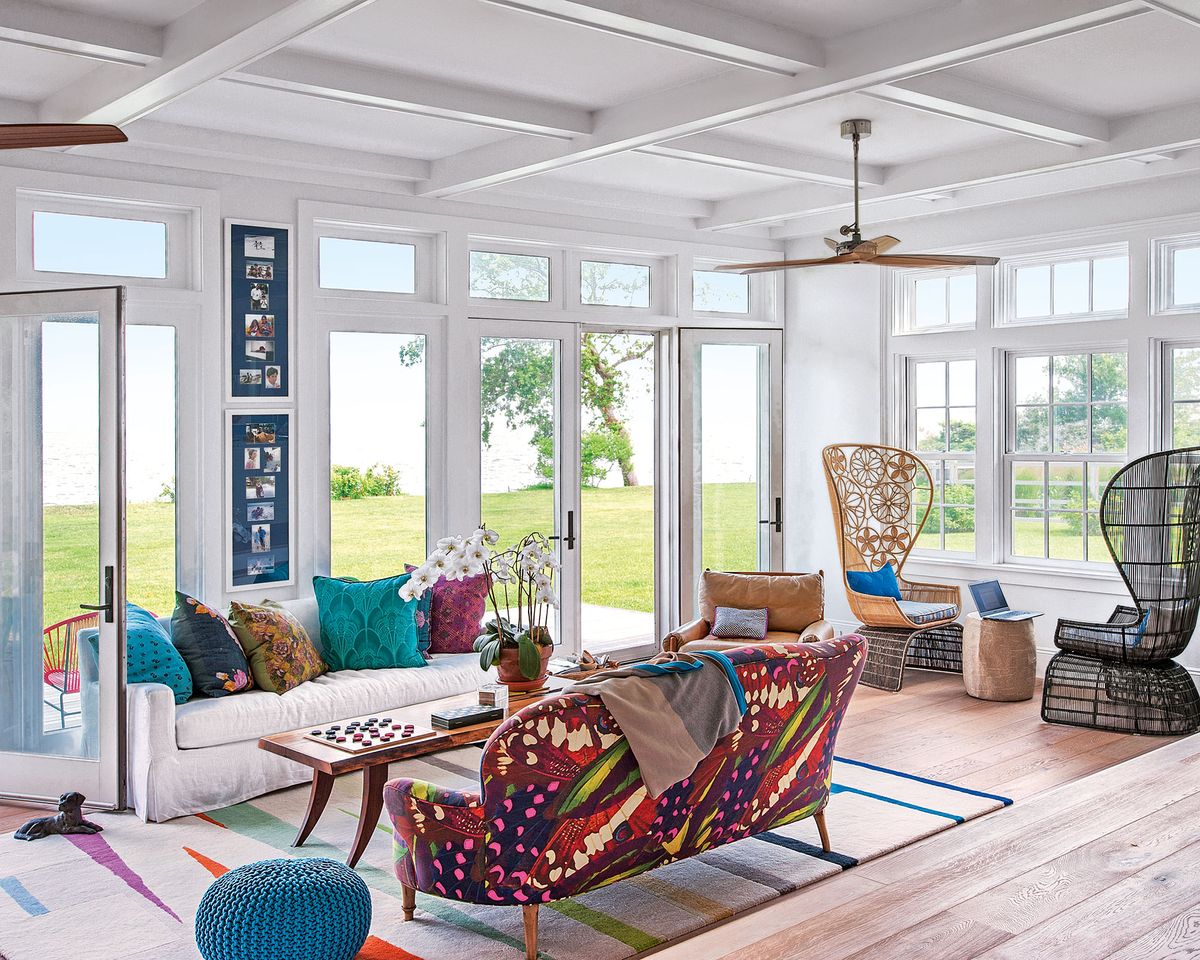 If you love where you live but your home doesn't meet your needs any longer, home addition ideas are what's required. They can spare you the search for a new property and the stress of uprooting the family to a new neighborhood.
Additions can transform a home in many ways. An addition could expand an existing kitchen perhaps, so there's space for an island, create an extra living room, or even add a new level to the house to meet changing needs.
To inspire your house design project we've put together a selection of fabulous additions that delivered both extra space and style for the homeowners.
Home addition ideas
Planning a home addition can be a fulfilling project. From smaller additions such as a sunroom to a whole new story, home addition ideas have the potential to vastly improve life at home. 
It is also important to know about home addition costs when you're planning to increase the size of your house. Whether it's a small or large addition, it's essential to have an adequate budget for the project from the start. Take a look at these examples to get you started.
1. Size up for a growing family
Consider more than one addition to adapt a home to family circumstances. Several additions were made to this 1920s Tudor to fit the lifestyle of a young family by Leslie Saul & Associates. 
'A primary bedroom and bath were added above the existing garage, the dining room was expanded to the front of the house, and a large family room was added to the back (seen above), styled to match the Tudor original, including a large craftsman stone and stucco fireplace,' says Leslie Saul.
2. Connect old and new
An addition can link the original house with a new area of the home. 'This addition was the conversion of a screen porch into a year-round sitting room,' explains Mark Lavender, principal designer of M Lavender Interiors. 'It provides the transitional connection between the existing historic home and the newly constructed kitchen and family room addition.  
'It is located immediately off the foyer and is viewed from the living room, foyer and kitchen areas of the home. Our client loves color and we have used vibrant primary and secondary colors throughout the home and felt this space deserved to be a quiet respite for the homeowner. Our client has claimed this room as her own in a house with five boys and her husband. She uses it for her needlepointing and for reading.   
'This room is one of my favorite rooms in the house. We love the filtered light that streams into the room from the large windows and the surrounding trees. It is such a light and airy space and we chose to enhance that feeling with the neutral sofa and window treatments. We enhanced this with pops of colors on the toss pillows – the fabric of the chinoiserie toss pillows matches the wallcovering in the adjacent foyer and the vibrant blue chair. The rug marries the main colors together in a handsome traditional way.'
3. Expand the kitchen
Popular home addition ideas include boosting the size of the kitchen to make it a space to share with family and friends.
'This kitchen was an essential renovation for our clients who craved a space for entertaining, while also making room for their growing family,' says Diana Pauro, founder of Rebel Builders. 'This professional kitchen island idea was designed with hydronic radiant floors, custom cabinets, and an enormous island perfect for food prep and gathering. 
'After studying the exterior and finding the best layout of the windows to align with the existing ones and with the interior requirements, we decided not to have upper cabinets in the main kitchen wall. By choosing open shelving the wall felt lighter and had a better flow connecting existing with the new footprint.
'Because the clients emphasized their need for natural light and connection to their backyard, a total of 11 new windows were also included. The clients' choice of dark stained wood detailing was influenced by the adjacent dining room wall paneling to help the spaces transition more smoothly. This high contrast color scheme was a must for the clients. We explored many options and decided to have the black windows create a picture frame that would show vignettes of the greenery outside.'
4. Create a spacious primary bedroom
If your main bedroom isn't living up to its name, home addition ideas might be on the agenda to boost its size. This bedroom addition from Maggie Griffin Design is a luxurious room that's light filled thanks to its French windows.
A white paneled ceiling also helps keep the addition bright by reflecting the natural light, while floral trail drapes and upholstery link indoors with out.
5. Complement original architecture
An addition inspired by the architecture of a home can be the perfect choice, as it was for this home located in a historic district in Massachusetts. 
'A great room addition fits into a saltbox shape, low in the front, so as not to overpower the original colonial house, and high in the back, to provide light and views to the beautiful site,' says Leslie Saul.
6. Work within the rules
Zoning regulations may affect home addition ideas, but that doesn't mean boosting a home's size is out of the question. 
'This was a home in a historic overlay that required we keep the existing 1940s front elevation,' says Jessica Davis, owner and principal designer at JL Design. 'We removed the entire back wall of the existing home and added approximately 2800 square foot to this modern home, in addition to this roughly 500 square foot screened porch. 
'Our clients wanted the ability to open the interior space to the exterior space which was achieved with an extra wide glass sliding door. The young couple wanted to be able to use the space year round so we added heaters in the ceiling as well as ceiling fans, screen and draperies to keep out the elements when needed. 
'This couple also loves to entertain so it was important that we provide seating for parties and events. The decor is reflective of the modern interior of the home and an extension of that.'
7. Retain a home's character
Additions can substantially increase a home's size while keeping its existing character. 
'This was a project for clients who loved the property that they owned,' explains Diana Pauro. 'They had access to a lake and they had a supportive community where they were. They didn't want to leave but their house was too small. So instead of moving out of the amazing property, they decided to build this addition. Ultimately, we ended up doubling the square footage of the house. 
'We had months of design where we asked ourselves, "how do we create an addition, that keeps the original character of the house, without making it look like we built on an addition?" We played a lot with volumes and proportions to make sure this addition was as smooth as possible. 
'We put the family room looking over their beautiful backyard to bring the outside in. We created the mudroom and the breakfast nook to alleviate the uses of the kitchen, which was used as an eat-in kitchen/living room previously. 
'There was no second floor so we created a new staircase with a new main suite. Their vision was a modern and luxurious suite with an office that could also be a guest room when needed. Although the bathroom for the office/guest room is a Jack and Jill style bathroom, this space would be primarily used by the clients, so this wasn't an issue for them. They also wanted a massive walk-in closet with a vanity for her to get ready at. 
'We were able to take this humble little house and turn it into this big family modern farmhouse with bold statements such as light flooring, vaulted ceilings, and a gorgeous en suite with crisp colors and textures.'
8. Make a porch all-season
A sunroom can prove a relatively low cost way to increase space in a home. Georgia Zikas of Georgia Zikas Design transformed this 15 x 20 screened-in porch into a four season room with baseboard heat and sliders to outside. The patio was expanded with new blue stone, too, while porcelain tile flooring looks like gray slate. There's a wood ceiling with sheetrock blue board for moisture, plus painted brick, and the fresh furnishings are all outdoor grade.
'A sunroom really expands the footprint and adds great square footage, increasing home value,' says Georgia. 'A vaulted ceiling (which we did here) is fantastic for adding height to the room.'
9. Add indoors and out
It's always worth thinking about improving outside space at the same time when planning an addition.
Murray Lampert Design, Build, Remodel added the left hand wing to this home, creating an en suite that boosts the home's square footage. But also added was a walking deck, creating useful extra outdoor space to enjoy. 
10. Get a lot from a little
An addition to a room doesn't have to be sizeable to improve a property by a large measure.
'In this living room, the wall originally ended where the fireplace wall ends,' explains Los Angeles-based Megan Dufresne, principal designer at MC Design. 'We added on to allow a natural flow from one room to another and add on to the living space.
Is it worth it to add on to your house?
It can be worth it to add on to your house, but it will depend on individual circumstances. 'The return on investment depends on size, comparables and what the market bears in the area,' says Gregg Cantor, president and CEO of Murray Lampert Design, Build, Remodel.
Keep in mind that adding on to your house will save the costs of moving home as well as the upheaval. It can also improve your quality of life, which can definitely make a well designed addition worthwhile.
Can you build an addition without a foundation?
Generally, you can't build an addition without a foundation. As an example, 'In California, the building code requires footings for all exterior walls,' says Gregg Cantor. Check the building code for your area or speak to a local architect or design and build contractor.
One way of avoiding having to construct a foundation could be to add a second story. There's a caveat here, though. 'If you are building up you need to make sure the existing structure beneath can hold the weight,' says Susan Taylor of Davis Taylor Design.
Another option could be an addition that's cantilevered off the existing foundation, and this could be an option if you only need to add a small amount of space.