Home Away from Home | Homes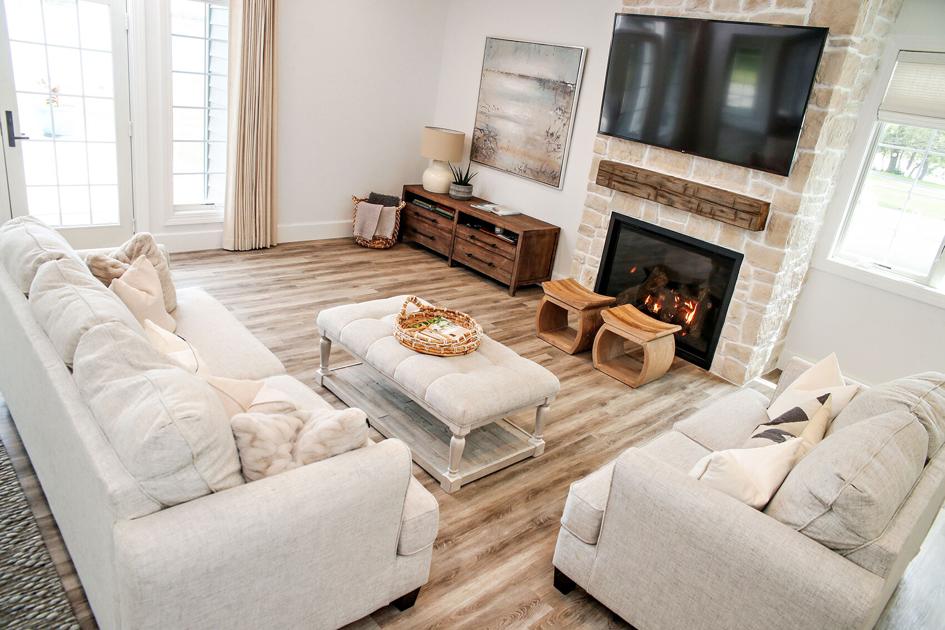 The Sadusky family doesn't have to travel far for an escape from the hustle and bustle of work and school.
They just completed work on their dream lakeside getaway on Loon Lake less than a dozen miles from their home in Jackson, MN.
Mike and Natane have plenty of experience building properties as they've constructed and own several rental office spaces, houses and duplexes.
Mike actually built his first office space at just 19 years old in downtown Jackson.
They were able to draw from that experience while Natane also drew inspiration from numerous designers through Instagram such as Studio McGee, A Well Dressed Home, The House of Silver Lining and many others to put together their new home.
"Instagram has created a platform where builders and designers can connect and share pictures of spaces and sources of items they've purchased. There are many who've created online Instagram stores to shop from," Natane said.
As they decided on their blueprint the main factors were wanting a slab foundation and bedrooms all on the second floor of the home.
They also made sure to take advantage of their location on a point with water on three sides of the home by including plenty of windows in their home design to maximize their views.
Other advantages of the location include being close to both home and the nearby Iowa Great Lakes, as well as just steps away from Loon Lake Golf Course.
"We've always wanted to be on the water and we wanted something peaceful. It's nice and really quiet out here and only two-and-a-half miles from the Iowa border," Mike said. "We liked the golf course being so close that we can just walk or drive a cart over and golf a round."
Construction began at the end of 2018 and with the coronavirus pandemic stretching work out longer than anticipated the family finally completed work this past May.
A grand staircase greets guests as they walk through the front door with an equally grand and unique light fixture hanging over the entryway.
Just off to the right is the study with another fun fixture that Natane found through one of her Instagram connections.
"I was searching for large light fixtures and had a lot of inspiration from Instagram. That one in the study is from Studio McGee," Natane said.
To the left is the dining room and a hallway through a butler's pantry leads to the kitchen while straight ahead is the main floor living space.
Large windows looking out on the lake and the white interior accented with gold and silver created the modern costal vibe that Natane was seeking while blending together several design styles.
"When looking at all the trends right now it's basically white. We wanted to keep it coastal, minimal and traditional," Natane said. "We wanted to be able to look outside at the beautiful view, so keeping it wide open was nice. The fun part about building is being able to plan it all out."
Perhaps the most striking feature in this space is the range hood in the kitchen.
"We wanted the kitchen to be a strong focal point. The range hood was custom made in Utah and they did a really nice job," Mike said.
Complemented by white Cambria countertops, the gold trim on the range hood along with the lights over the kitchen island create a stunning, clean and crisp look.
The living room features a cozy furniture situation around a Kozy Heat fireplace and a pair of hearth stools that Mike particularly enjoys.
Another highlight of the main floor will ensure nobody's toes get too chilly during the winter months, or any month for that matter.
"We've got heated floors throughout this level and the garage," Mike said. "That was a pleasant surprise that we weren't going to do originally — our plumber pushed for those and said we were going to love them."
And it turns out he was quite right.
Heading upstairs the Sadusky children, Sydney, 18, and Jack, 15, were able to design and decorate their bedrooms.
Sydney said she'd been planning it out for awhile and picked out a unique light fixture to anchor the room, one that fits nicely with the fun ones in place downstairs.
"I really like that light and just thought it looked really cool and I also wanted the bed to be in the middle of the window to have that light from outside," Sydney said.
Jack is a gaming enthusiast so his biggest decision centered around picking out the pieces for that particular setup while also deciding on the nightstand, bed and wall art.
Separating the siblings' rooms is a Jack and Jill bathroom which, like the kitchen downstairs and the master bath as well, features white quartz countertops.
A waterfall shower highlights the master suite, which like the home overall, sticks to an open, light and airy vibe.
Having just moved in they have a few projects yet to tackle, like finishing the walk-in closet in the master suite and stocking the pantry in the kitchen as well furnishing their backyard patio and completing the landscaping.
What figures to bring about the most family debate is the theater room upstairs.
Pre-rigged for a projector system, the main question that remains is whether to go with a large L-shaped sectional or rows of theater recliners, and the family is pretty evenly split at this point on which direction to go.
Until that one is settled, the Sadusky family spend their time settling in and filling out the rest of the rooms.
"We're really looking forward to making meals together and enjoying the outdoors," Natane said. "And our decision to build also stemmed from wanting a space to entertain and enjoy with our family and friends so we're really looking forward to those opportunities."
Plenty of opportunities to make long-lasting Sadusky family memories on the shores of Loon Lake.