How Much Kitchen Cabinets Cost, According to a Reno Pro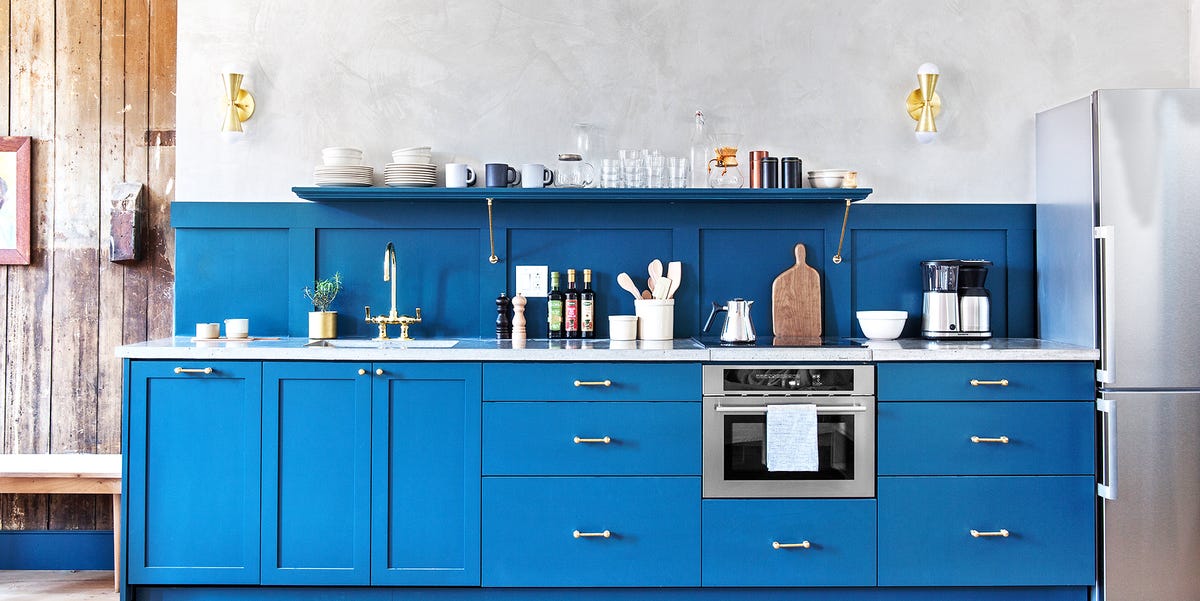 HEIDI'S BRIDGE, COURTESY OF JERSEY ICE CREAM CO
Considering how much visual real estate they take up, cabinets are the first thing you see when you enter a kitchen. They hold all your essentials, from canned goods and spices to plates, glasses, linens, utensils, and even small appliances, so they need to work hard on the inside and look good on the outside. Indeed, optimizing your kitchen starts with selecting one of the three most common cabinet types: factory-made stock cabinets, semi-custom cabinets, or custom-made cabinetry. The biggest difference between the three? Pricing. When it comes to determining your budget for a kitchen renovation that focuses on cabinets, the best place to start is by measuring the size of your kitchen, surveying the layout, and then, of course, deciding how big of an investment you want to make.
"Stock cabinets are budget-friendly and available in standard sizes, while semi-custom cabinets have more options for customization and decoration," advises Dina Averuk, customer relations specialist at Cabinetset.com LLC, a kitchen cabinet retailer. "Custom cabinets provide almost endless possibilities for cabinet construction, sizes, colors, and accessories. However, custom cabinets are often expensive and don't always provide a good return on investment," she says. For more details about the different types and what your kitchen cabinet will cost, read through the three biggest pieces of advice that will help you select everything from finishes to custom accessories.
Think About the Big Picture
Interior designers may argue that the kitchen is the most important room in the home, but estimating remodeling costs can be challenging, and you'll thank yourself later if you think about it holistically. When setting the budget, think about the rest of the home as well as other kitchen upgrades you'll be making in addition to cabinet design. The cost of a kitchen renovation depends on a few factors: the size of your kitchen, finishes, and appliances. "The average cost to renovate a mid-level kitchen is $35,000, kitchen cabinets are about 25 percent of the budget," says Averuk. For more specific advice you can apply to your own home, she adds, "I do not recommend spending more than 20 percent of your home value on the kitchen remodeling."
Know the Types and Adjust Accordingly
Consider your kitchen layout when determining if you choose to go with a custom-made cabinet order as opposed to ready-made cabinetry. Base cabinets, also known as lower cabinets, define a kitchen floorplan and provide support for countertops, and, as a result, as a little harder, and thus, more expensive, to add with stock options. Base cabinets are usually 24 inches deep and come with doors and drawers. Wall cabinets, also known as upper cabinets, are located above base cabinets and are usually 12 inches deep and come with doors or as open shelf cabinets. An easy way to give stock cabinets some personal character is by painting them or swapping out the hardware.
If you do go the custom route, don't forget to consider additional price influences, like the surface materials (natural stone is much more expensive than a composite like a quartzite or laminate option while wood falls somewhere in the middle), and whether you splurge on an inset design or choose the more affordable overlay construction option.
Consider Substitutes and Alternatives
Are you a cookbook fanatic with a ton of books that you'd like to be readily accessible in your kitchen? Or maybe you invested in a top-of-the-line coffee maker that ended up being larger than you expected? Depending on your cooking lifestyle, you may need some custom elements or substitutes for cabinets.
"Floating shelves can create a contemporary look and impression of a bigger kitchen, and sometimes people choose to go without upper cabinets at all as it helps to achieve a minimalist feel and open up the kitchen space," advises Averuk. "I also see skirted counters in some kitchens, while portable islands can provide additional storage and countertop space when needed." So, if cabinet replacements or custom builds aren't in the cards right now, there are plenty of other viable and more affordable options as far as creating practical kitchen storage.
Follow House Beautiful on Instagram.
This content is created and maintained by a third party, and imported onto this page to help users provide their email addresses. You may be able to find more information about this and similar content at piano.io