How to decorate a guest bedroom: 6 tips for stand out style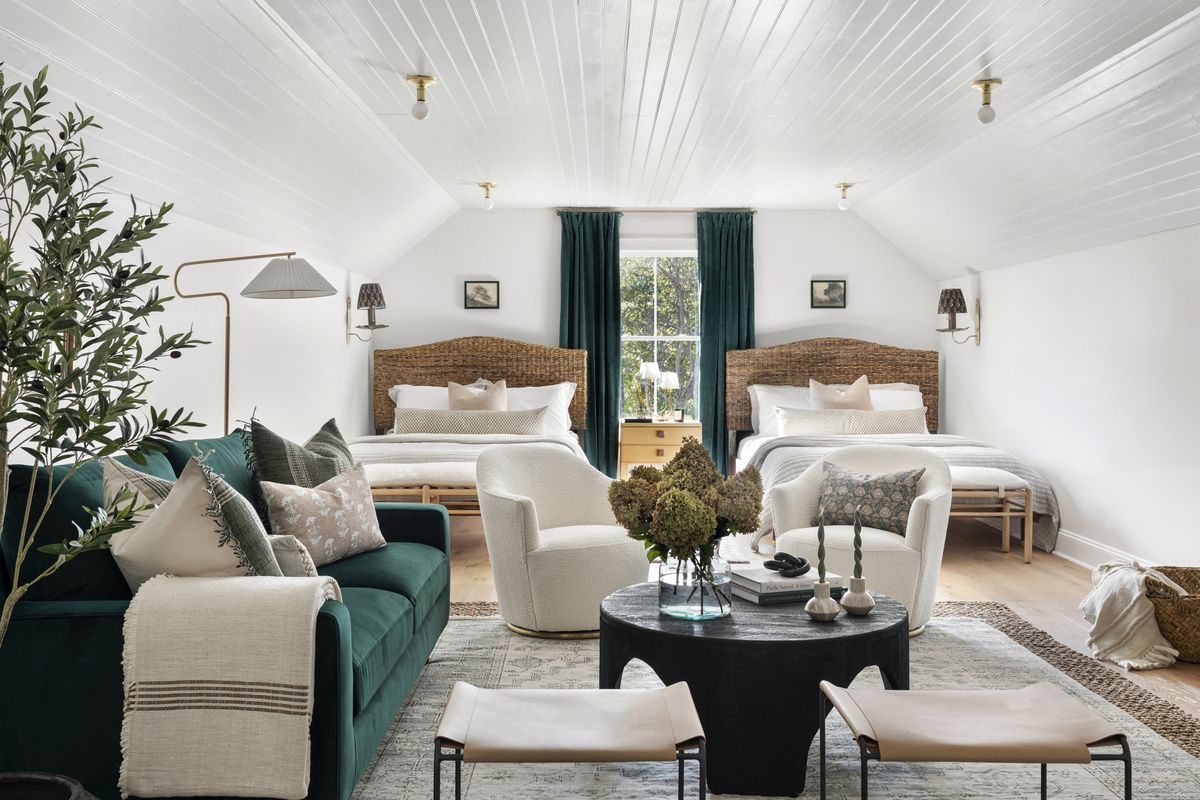 Learn how to decorate a guest bedroom with style and substance. By definition, a guest room is only used on occasion, but that doesn't mean your spare room should be an afterthought. After all, your guest suite is likely to host some of the most important people in your life, and the more comfortable they feel in your home, the more enjoyable visits will be for everyone.
Like a well-designed master bedroom, the best guest bedroom ideas feel comfortable and inviting, while also inducing a sense of relaxation. Unlike a main bedroom, though, the guest room isn't a full-time space, which opens it up to opportunity for fun and surprise.
How to decorate a guest bedroom
Creating a space where relaxation and intrigue co-exist takes considered effort, but that's precisely what designer Lauren Sullivan of WellXDesign set out to do in the spare room of her client's Virginia home. Here, she walks us through the finished space, and shares her tips on how to decorate a guest bedroom that's downright unforgettable.
1. Think in layers
'Layers create dimension and help bring a space to life. We layered everything from rugs and pillows, to bedding, accessories and lighting in this guest suite – resulting in a balanced and cohesive space,' says Sullivan. 'Without layers, a room will almost always fall flat.'
Details are key, too. 'If you're looking for ways to add layers to a space, don't forget to look for opportunities on what I like to call the fifth wall, better known as the ceiling. We added bead board to the ceiling to draw the eye upward and provide extra texture and depth. We also used a semi-gloss finish to differentiate the ceiling planes from the walls,' Sullivan says.
2. Incorporate vintage
'I'm a firm believer that every space should include at least one vintage piece, and this guest suite was no exception,' says Sullivan. 'Vintage items make a space feel unique, timeless and well-collected – not to mention sourcing vintage is a sustainable practice giving new life to these older pieces.'
Among the vintage items Sullivan sourced for the space are a vintage brass table lamp from 1stdibs and a midcentury European rattan armchair.
3. Make it luxurious, but livable
While guest room ideas should certainly be lovely, the room should also be inviting enough that guests aren't afraid they'll ruin it.
'We included a mix of high and low pieces for this space that would be utilized repeatedly by visiting friends and family. We wanted to create a curated, but ultimately comfortable space where nothing is so precious that it cannot be used,' explains Sullivan. 'I can't say it enough, but quality bedding is important for everyone, including your guests. We invested in luxurious bedding to give guests a truly elevated place of respite.'
4. Add a small living area, if space allows
'Because we had ample space in this large "bonus" room, we zoned the area into sleeping and living sections so the guest suite could serve multiple purposes. We also made sure to allow space for luggage racks and included swivel chairs that would give friends and family flexibility in whether they wanted to converse, watch television, or even read a book facing the window,' the designer explains.
A living area doesn't need to include a full-size sofa and coffee table, either. A chair placed in the corner of a room with a small ottoman can easily function as a reading nook, or a desk and chair can double as a spot for guests to get work done. 
5. Add texture (and then some more)
'In my opinion, nothing adds warmth and liveability to a space quite like texture,' says Sullivan. 'Varying textures and patterns is one of my favorite design tricks – they add dimension and keep your eye moving about a room.'
A few of the textures Sullivan incorporated into the guest suite include wood, marble, jute, velvet, brass, linen, wool, bouclé, woven cotton, leather, iron, and rattan. Mixed patterns also contribute to the sense of layered liveability. 
'And whatever you do – don't forget to add greenery to your guest space, nothing adds texture and welcomes guests more than fresh florals and greenery,' she says.
6. Give guests something to talk about
In a space that could easily be overlooked, look for ways to leave a lasting impression on your guests. 
The adjacent guest bath offers a luxe atmosphere that's reminiscent of a boutique hotel. And in the bedroom, the designer eschewed recessed lighting for handmade sconces and vintage-inspired fixtures. 
'We replaced builder-grade recessed lighting with bare-bulb flush mounts to give the space a bit of a nostalgic, cozy attic feel. Ultimately, we chose to splurge on lighting in this guest suite – because lighting is like the jewelry of a space – and in my opinion, good jewelry (and lighting) can either make or break you,' she says.