How To Decorate Your Mantelpiece For Christmas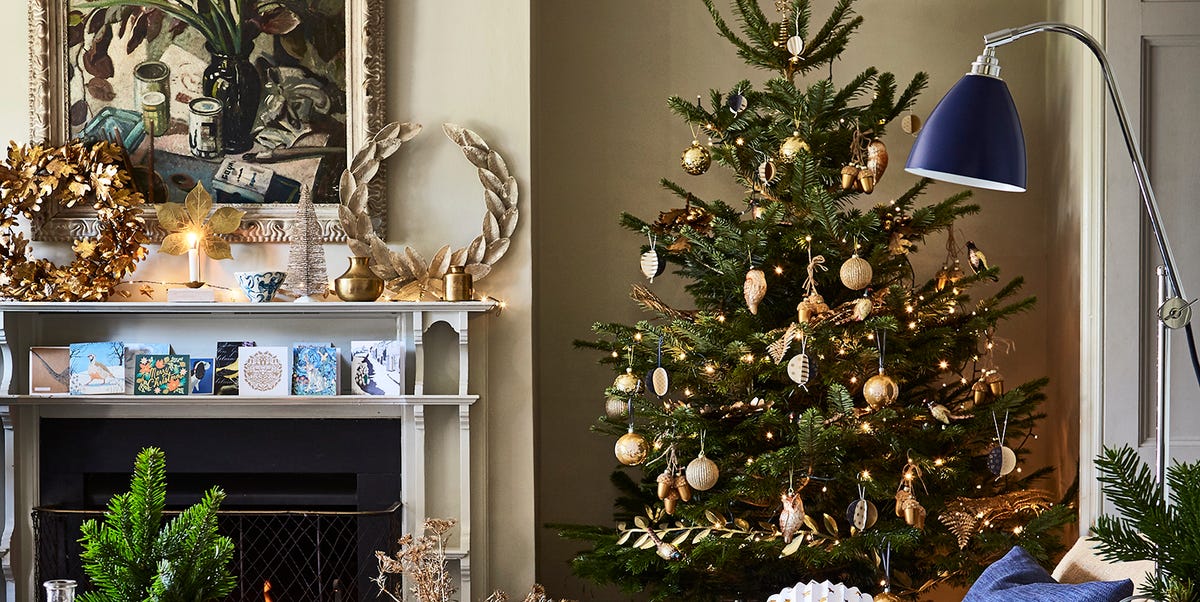 A well-decorated Christmas mantelpiece and fireplace can become a festive focal point of the living room and provide warmth, ambience and cheer. Whether you have an open fire, a log burner, or a purely decorative mantelpiece, why not make sure it captures the attention of your guests this winter.
Tinsel may seem like an obvious go-to option, but it's not the best material for the environment. Here, we've rounded up a range of ideas on how to decorate your mantelpiece for Christmas, including eco-friendly inspiration that can help you pack in plastic and wave goodbye to wasteful decorations this winter.
1. Brighten up your display
Adding lights to your mantelpiece creates a magical glow. You can weave a string of fairy lights through your garland or up the ante by using a combination of fairy lights, candles and mirrors to create a greater impact.
Christmas may have a reputation for being one of the most unsustainable times of the year given everyone's desire to keep their lights on 24/7, but there are ways of doing so without damaging the environment.
If you aren't already, try using LED lights throughout your house. LED lights are extremely efficient, using up to 90% less energy. These bulbs will also last twice as long.
Christmas LED lights typically come in cool or warm white, but you could go for something slightly more off-piste if you fancy. If so, try incorporating neon lights into your display to give your mantelpiece a unique hit of colour.
2. Walking in a winter wonderland
Winter wonderland decor consists of white and neutral colours with metallic touches. Additional extras can include faux fur pillows, soft white stockings and frozen fir branches.
When you're looking to create that frosty effect on your mantelpiece, try using some white lights. You can also incorporate silver and blue tones with baubles and paper decorations.
Look to include a touch of mercury glass and some white candles to your display, to add an additional shimmer and sparkle that will be suitable for both daytime and nightime.
3. Alpine delight
The use of wooden details will create a relaxed and effortless look inspired by nature – and smell great, too. Try adding wooden candles in varying heights and an accompanying garland to bring your fireplace to life.
To top off your alpine design, try including some nude stockings and a wooden reindeer to your display to create a beautiful backdrop for your winter lodge this Christmas.
4. Embrace your inner creative
Paper crafts are a budget-friendly alternative to regular decorations. Whether you consider yourself an expert in the craft department or not, creating honeycomb bells and statement stars will provide endless amounts of fun for the whole family.
Try using last year's Christmas cards or old wrapping paper, or if you buy new, make sure it's recyclable paper free from glitter and adornments.
Some of our favourite paper designs include stars, oversized holly and berry garlands, paper birds and folded fir trees.
5. Keep it traditional
When it comes to decorating your house this Christmas, you can't go wrong with a traditional red and green theme.
Try placing miniature Christmas trees around your fireplace and adding a red bow to each. If you're looking to add a bit of pizazz, hang some gold ornaments from their branches.
Alternatively, you could buy or make some wooden or cardboard Christmas trees that can be reused year after year. Glass and glitter-free red and green baubles also make an excellent accompaniment.
6. Have Berry Merry Christmas
A berry-inspired Christmas garland is worth putting centre stage in your living room this winter. Incorporating red berries, sprigs of greenery, and woodland pine cones strung together on a piece of jute rope will bring a luxe look to your setup this festive season.
Finally, make sure to include touches of red tartan fabric.
7. Keep it fruity
For something that smells amazing, try a dried orange, pinecone and cinnamon stick garland or wreath.
When it comes to adding the dried oranges, you can either buy ready-made packages or create your own. If you opt for the latter, all you need is two to three oranges, scissors, string, a needle and a baking sheet.
Once you have you have everything you need, you'll have to:
Preheat your oven to 75°C (170°F) and slice your oranges into four or five thick slices.
Place the sliced pieces of orange onto a baking tray covered in baking paper.
Bake the oranges for four to six hours on a low heat or until they are completely dry. Open the oven door every now and then to let the steam out. Turn the slices every hour.
Let the slices dry overnight to ensure all the moisture is out.
Use your needle and string to attach them to your garland.
8. Clean green and everything in between
Looking for something that will be suitable not only for Christmas but the New Year as well? Keeping things simple is the best way to decorate your house for both occasions.
Go for a foliage look this winter. You can use a range of shrubbery to cover your mantelpiece and include some candleholders with colourful tapers, a mirror, and trinkets to tie it all together.
You can add salt dough star decorations to your display for that added wow factor.
9. Think handmade stockings
Believe it or not, making a Christmas stocking is actually a lot easier than you might think.
Instead of using heavy stockings with an even heavier price tag, try sewings felt stockings for a cheap and cheerful way to make your mantel that little bit merrier this year. When getting down to it, use a strong, durable felt made from 100% recycled plastic.
10. Let the festive flowers flourish
There is no denying that poinsettias make the perfect Christmas decoration. Having originated from Mexico, over eight million poinsettias are sold in the UK every year. They make the perfect addition to your garland and can be placed in vintage glass jars for added effect.
Read our guide on 10 ways to style and care for your poinsettia.
11. Create your very over starry night
One option you have when it comes to creating a starry display is to hang oversized paper star lanterns above your mantelpiece to create a magical touch. However, you should avoid this option if you have an open fire, for safety reasons.
Another option is to include a range of wooden LED stars across your mantelpiece. This will give you an authentic and simple design that oozes Christmas spirit. Go for three different sized stars to make an impact.
Finally, you can try and create a star mobile to hang above your mantelpiece. This will require a bit more effort but the results will be worth it.
12. Keep it black and white for a classy affair
If you are looking to create a stylish theme that transcends the traditional Christmas boundaries, try using black and white.
Look at using non-traditional ornaments such as big, black oversized letters to spell out words such as 'joy'. You can also opt for a black garland with white stockings and sparkly baubles.
You can also make your own decorations using paper, twine and plant-based glitter for an eco-friendly design that will enhance your black and white ascetic.
13. Buck the trend
There are no rules when it comes to Christmas so why not buck the trend by using a bold colour scheme. Traditionally colours such as purple and teal are associated with mystery and magic, making them the perfect option for Christmas.
However, if you're going to choose a bold colour scheme, you will have to commit! Try adding a collection of colourful wooden trees to your mantelpiece. These can also be accompanied by coloured soy candles placed in vintage style glass holders.
This content is created and maintained by a third party, and imported onto this page to help users provide their email addresses. You may be able to find more information about this and similar content at piano.io