How To Prepare Your Guest Bedroom For Christmas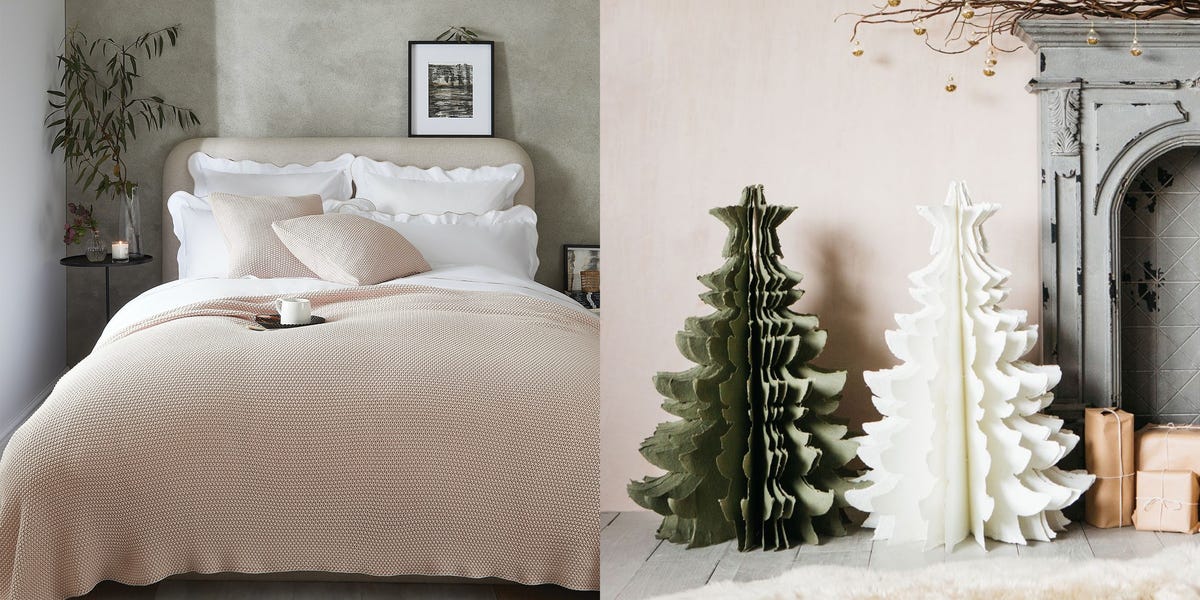 The White Company, Graham & Green, M&S
Christmas get togethers are back on the agenda for 2021, and we're sure you'll agree that the best part of the season is spending time with family and friends. Now that we can all open our homes to guests, it's time to think logistics.
Hosting guests over Christmas can be a fairly stressful undertaking, and admittedly we are all a little out of practice at this point. However, with a bit of forward planning, we can ensure our guests feel at home – and the best place to start is with the guest bedroom.
If your spare bedroom is currently being used as extra storage space, now is your chance to declutter and refresh. There is no need to totally redecorate – we've all got enough on our plates at Christmas – but a manageable update of your colour palette, some simple accessories, and a splash of festive extras will be enough to create a warm and inviting space for your loved ones. Read on for our tips on preparing your guest bedroom for Christmas…
---
Soft colours for better sleep

It's always more challenging to have a good night's sleep in an unfamiliar room, and so creating a design scheme that promotes relaxation can help your guests drift off.
The colours in a bedroom can affect mood and quality of sleep, and neutral shades have been proven to have a soothing effect. Centre your colour palette around softer colours like beige, ecru, or light pastel pink tones, and add touches of warmth like a knitted blanket on the bed, piles of cushions, and a sumptuous rug underfoot.
Add task lighting
Accommodate guests who enjoy reading or working at night with some task lighting such as a floor lamp with articulated hinges, or a softer overhead pendant light. Make sure any lamps close to the bed have a sleep-promoting warm yellow glow, rather than an invigorating blue or white light, and opt for a lampshade over exposed bulbs with a soft material to better filter light for a more relaxed bedroom.
Clever sleep solutions
Not every guest bedroom will have the space to accommodate family and friends, and so a well-designed sofa bed is a great extra. Gone are the days of the cumbersome fold-out, sofa beds have become far more versatile with various styles, mechanisms, and sizes.
Loaf's ingenious range of fold out upholstered boxes and stools have pull-out mattresses stashed away inside – and take up less than 140cm of floor space, making them an ideal solution in small homes. Whilst our very own House Beautiful Sophia Sofa Bed at DFS transforms from compact sofa (in nine upholstery options to suit a variety of tastes,) into a generously proportioned guest bed in seconds.
Invest in some thoughtful extras
Create the right atmosphere for your guests with some thoughtful extras. Plain pillar candles, a set of comfy slippers, an extra warm throw for the bed – these little details will help to create a warm and inviting bedroom to welcome friends and family.
Scented candles and diffusers are one of our favourite ways to set the right mood. One of the joys of scented candles is varying your fragrance with the seasons – if you currently have something fresh and floral, swap it out for a warm and spicy scent for cosier nights.
A hint of decoration
Your guest bedroom certainly doesn't need to be full of Christmas decorations like the rest of your home, but a hint of festive decoration will go a long way. Forgo Christmas lights, or anything too brightly decorated, and instead opt for some simple and sophisticated additions in soft colours, like this handmade paper Christmas tree at Graham and Green.
Follow House Beautiful on Instagram.
This content is created and maintained by a third party, and imported onto this page to help users provide their email addresses. You may be able to find more information about this and similar content at piano.io