How to safely and spookily decorate your room | Dining and Housing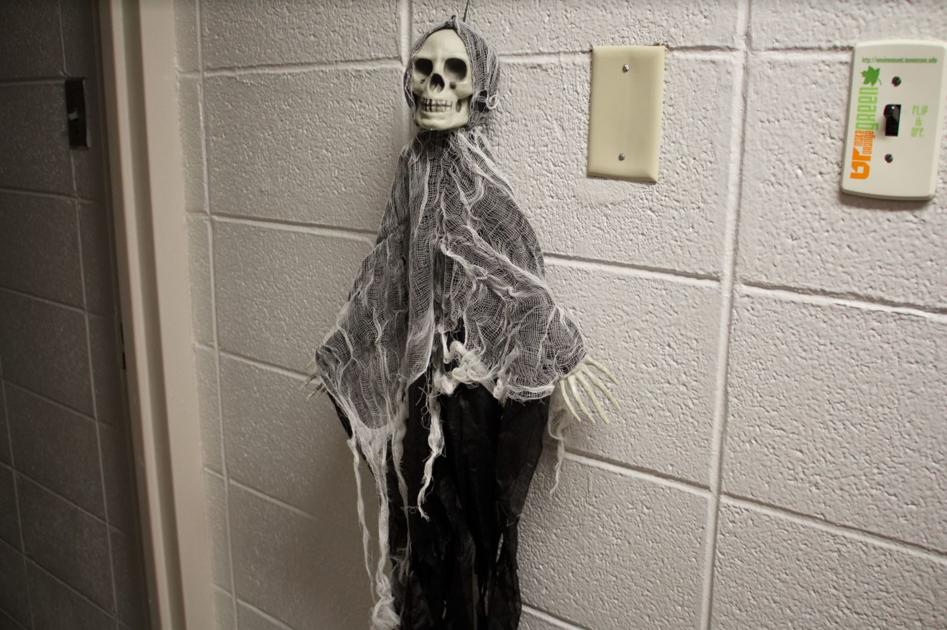 With Halloweekend less than a week away, we have officially entered spooky season. How better to celebrate this eerily wonderful time than by decorating your home away from home? Due to a number of factors, such as space and safety precautions, there are limitations as to how extensively you can decorate your dorm room.
Have no fear though, as this can serve as your guideline for how to properly decorate your room without bugging your RA.
Festive lights
I am a very simple guy, so my decorating style is simple too. My go-to decorations for pretty much any holiday season are easy: festive lights. Whether this means going out and buying skeleton lights to hang up or just leaving your preexisting LED lights on orange for the whole week, lights are a great way to set the blanket ambiance for your decorated room.
You can easily find some festive lights at your local dollar store, a department store such as Walmart or Target or online at Amazon, if you'd rather not venture into the physical shopping experience. Most lights are easy to hang up with either tape or command strip hooks, and they will always adhere to the safety restrictions set in place at on-campus residence halls.
Painting pumpkins
Another great way to get into the spooky mood is by painting pumpkins to display in your room. Small pumpkins are extremely cheap and accessible at most department stores and grocery stores nearby, so finding a moderately sized gourd for you to slather with paint should be very easy. Also, paint is not much more expensive than the pumpkins and can also be found at the same locations.
For those who are not super artistically inclined — like me — there are plenty of templates and ideas online on Pinterest that you can lean on extremely heavily as you paint. You could even print out a design and trace it onto the pumpkin before you paint if you want a more professional look to it. Painting pumpkins is a fun activity that you can do with a group of friends and will elevate your dorm decor to a new level this Halloweekend.
DIY decorations
For those not looking to spend any money but would still like to dress their room up for the holiday, you can easily make some DIY decorations with things around your room. If you have tissues, rubber bands/hair ties and small circular objects such as cotton balls or bottle caps, you can easily create some friendly ghosts to hang up around your room. You can even draw faces on them with a sharpie or a pen to bring them to life, and you can easily tape them to the wall around your room.
The Halloween season is a time to embrace the fall weather, to welcome the beginning of the holiday season with Thanksgiving following soon and also to partake in festivities through decorating your room. The spooky season aesthetic is one that can easily be replicated within the parameters set by UT Housing through these ideas and many more.
You can also buy one of those huge packs of candy from a grocery store nearby and put out a candy bowl, instantly turning your room into the most popular one on your floor.