interior swimming pool by blockstudio emerges as a geometric addition to residence in russia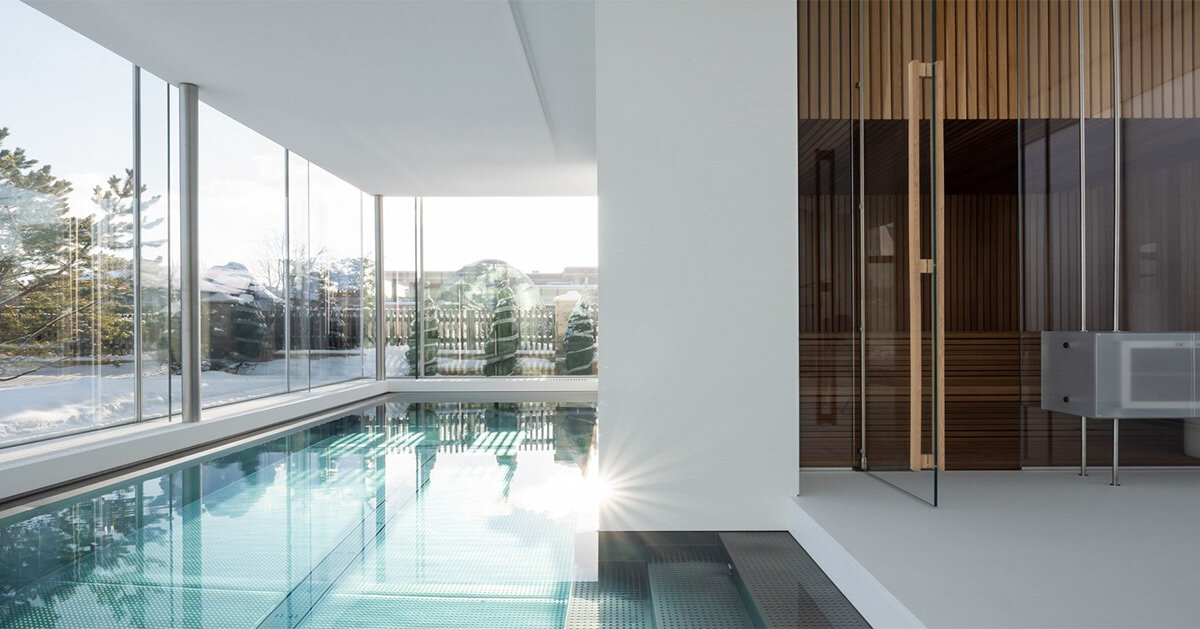 blockstudio builds minimalist interior swimming pool in russia
family run architecture firm blockstudio has built an indoor swimming pool as an addition to a private residence in russia. for this project, the design strives to satisfy the client's wish to have a clear and transparent outline of their property, while integrating contemporary materials  — glass and stainless steel. the resulting structure presents itself as a volume with clean, simple geometries, allowing residents to enjoy swimming all year round. 

the biggest benefit of having an indoor swimming pool is that you can enjoy it year-round
all images © ilya ivanov
clean architecture provides comfort & tranquility 
the newly completed building by blockstudio (find more here) takes shape as a clear rectangular glass shell, revealing the delicate stainless steel structure as well as wooden interior elements. the swimming pool's 18-meter long water basin and the modest sauna accommodates users' needs, while also providing minimalist aesthetics to the overall construction. the extensive glazing offers uninterrupted views towards the natural surroundings and the main house, which is a representative example of tsimailo lyashenko and partners' (find more here) work.
the interior decoration and individual objects have been designed so that, both in form and substance, they support the project's overarching purpose — creating a sense of clarity and simplicity.  the interior swimming pool is essentially a protected space where residents can go and leave their busy city life behind. the tranquility of water and the minimalist design helps users feel comfortable and at peace. 

the pool's exterior is a clear rectangular glass shell revealing a delicate stainless steel structure