Kitchen trends 2022: 9 design ideas set to be huge this year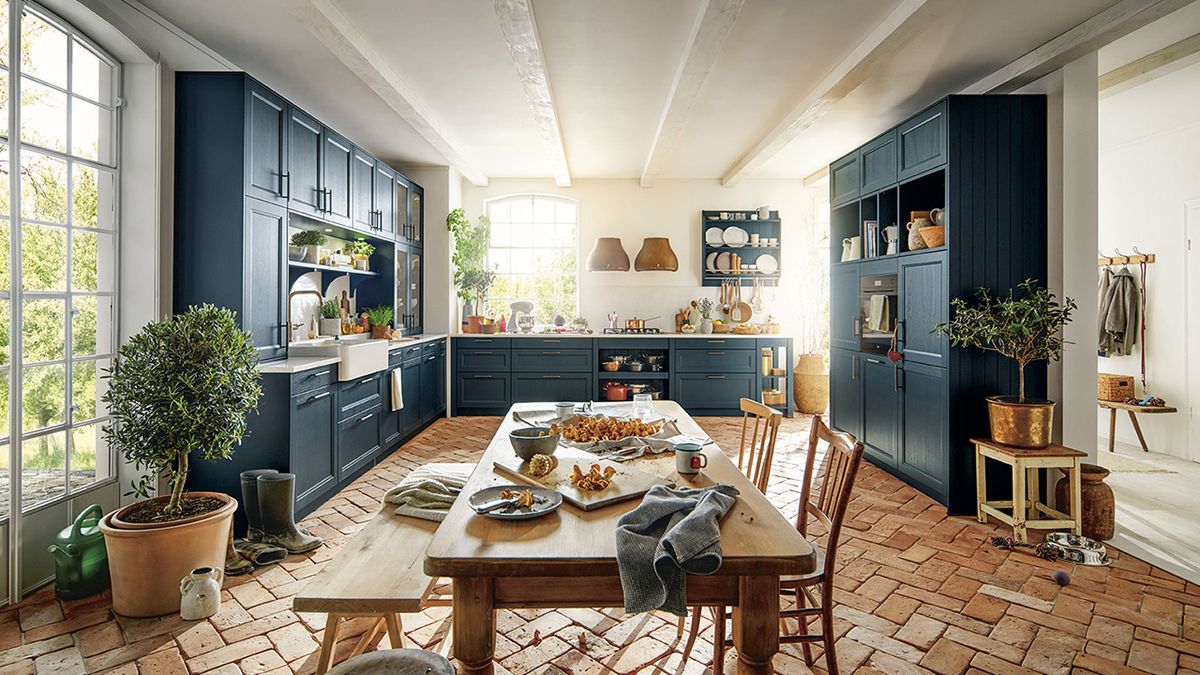 Discover the biggest kitchen trends 2022 has to offer and the kitchen design and decor ideas that interior designers reckon will prove most popular this year.
Interior design trends for 2022 show that sustainability and a greater connection with nature will be at the heart of many of the biggest decor ideas this year. 
This desire to be closer to the natural world and incorporate it into our homes is reflected in this year's interior paint color trends being unveiled by big names in the paint industry too. 
You will also see this theme, amongst others, in the top kitchen trends of 2022, as handpicked by interior designers and kitchen experts below. 
From bold cabinetry colors, to more functional ideas—such as concealed storage or the incorporation of smart-tech—there are plenty of options for every kitchen, no matter what the size or style.
Kitchen trends 2022
1. Back-to-nature color schemes
2022's kitchens will give a nod to Mother Earth, and not just through design and decor ideas. Sustainable living has never been more important and when it comes to kitchen cleaning, eco-friendly products will increasingly be making their way into our homes. 
We'll also be influenced by raw materials and natural color schemes, with dark greens, blues and earthy purples set to be huge and the popularity of sage green enduring into 2022, too. 
"Emerald green is going to be big this year, with the regality of the jewel tone easy to incorporate in a smaller way via a crockery collection, or via decorative artwork," says Dayna Isom Johnson, trend expert at Etsy. 
"Symbolizing harmony and growth, it's the perfect color to remind us to find balance this year. We're already seeing shoppers looking for ways to incorporate this hue, with searches for emerald green decor up 60% on Etsy over the last few months."
2. Kitchen zoning
With more of us working from home than ever before, creating zones within open-plan living spaces is not so much a want as a need for those who need to use their home as their office in 2022.
"Having areas for dedicated purposes maintains the seamless sense of flow that we all love in open-plan designs," says Chris Dance of InHouse Inspired Room Design. "However, it also allows a sense of mental separation between areas—whether designed for cooking, eating, working, or anything else." 
Even if a complete kitchen overhaul isn't on the cards, small changes, such as a simple built-in folding desk attached to a kitchen wall, can make all the difference.
"Invest the time and money into ensuring that your home is a relaxing—and functional—haven," recommends Dance. "Whether this is a built-in folding desk, or getting a dining table that turns into a standing desk—there are so many ways to ensure that your home can successfully do all the things you need it to."
And of course, creating multi-functional 'zones' in your kitchen is a concept that everyone can benefit from. If you host regularly, you might want to consider how you can better utilize your space to allow you to entertain guests whilst cooking, or help you shut away clutter and mess when guests arrive. 
3. Shades of blue
The last few years have seen rich shades of blue—ranging from indigo and royal to navy and jewel—become more and more popular. And 2022 will continue to see beautiful deep blues become even more prominent, working their way into the hearts of our homes via cabinetry, accessories, and paint colors.
"While a blue kitchen was unheard of five years ago, the color has proven itself to be incredibly easy to work with," says Neil McDonald, Design Manager at Moores. "Sales of dark blue kitchens surged amongst both house-builders and consumers last year. This will continue to dominate kitchen design in 2022."
"This is a trend for everyone, whether you're wanting a contemporary or traditional kitchen," says Dance of InHouse Inspired Room Design. "A rich burst of color will provide depth and interest to a modern kitchen with handleless, glass-fronted cabinets, while traditional shaker kitchens will be freshened up."
Dark blue also provides the perfect backdrop if you have metallic accents too—such as antique-style golds and coppers. And if you don't already have them, they too will make for a stylish finish to any kitchen in 2022. "Brass finishes are not going away anytime soon, from taps to door handles," says Jenni Greenwood of Greenwood Interior Design. 
4. Monochrome and two-tone design
Black-and-white is stepping back into the spotlight in 2022, with everything from kitchen splashback ideas to cabinetry. "We think 2022 will see a marked trend in monochrome and two-tone kitchens," says George Bond of the George Bond Interior Design Studio, "with more geometric notes and splashes of color for added drama."
Whether you opt to incorporate it via cabinetry, marble, tiles or via kitchen-friendly wallpaper, the key is to not go too over-the-top with this look. Be selective with where and how you use it. As shown in the kitchen above, incorporating a statement piece of black furniture in a kitchen with a white design is an effective way to make your kitchen pop.
Darker colors might be best avoided in smaller spaces, unless used as an accent tone. Don't be put off though: you can still look to incorporate statement accessories (such as prints, vases or some best cookware items) that give a nod to the trend.
5. Patterned tiles
If your kitchen floor has seen better days, it might be time to consider a revamp. Patterned tiles are tipped to be popular in 2022, having become a steady favorite in recent years.
"Many homeowners have found themselves looking for new ways to inject character into their homes," explains Jayne Adamson, marketing manager at Verona. "Floors no longer need to be plain and dull." 
"For homeowners who are boldly confident with their design choices, colored patterned tiles span a spectrum of trend-led shades, including inky blues and blush pinks," says Adamson. 
The Pantone Color of the Year for 2022 is a bright periwinkle blue that would look great in a patterned tile, but using colors is not for everyone, as Adamson points out: "But for those new to experimenting with pattern tiles, monochrome designs offer a comfortable middle-ground."
6. Integrated storage
Some of the best kitchen trends for 2022 are practical, rather than design-led, and smart new kitchen storage ideas are set to be a big theme this year.
With multi-generational living becoming increasingly popular—due to elderly parents moving in with their children, or grown-up kids returning home as a result of the pandemic, for example—many households will step into 2022 with more family members than ever living under the same roof.
"To accommodate for growing household numbers, wasted space is wasted potential within modern kitchen design," explains McDonald. "Kitchen design schemes need to adapt to the needs of this modern way of living as best they can."
"Clever storage solutions are undoubtedly most useful for smaller kitchens, as they utilize every inch of space to ensure every pot, pan, and utensil has its place," says McDonald. "However, they are also highly efficient in bigger spaces, for homeowners who want a systematic approach to kitchen design."
Not got much in the way of budget but still keen to up your storage? Organization expert Vicky Silverthorn has a few easy tips. She suggests:
"Add extra shelving if you see any dead, unused space within your cupboards." In fact, this is one of the most helpful pan storage ideas if you have deep cupboards. 
"Use storage containers that stack and are square; they're more space-efficient."
"With more people at home than usual, the need for labelling and ensuring everyone knows where things live is important."
7. Outdoor 'smart' kitchens
The rise of smart-tech in our homes has seen a steady increase in recent years. And 2022 might just be the year when kitchen smart-tech makes its way outdoors too, according to expert predictions:
"Outdoor smart kitchens are the natural progression from indoor smart kitchens," explains Duncan Aird, co-founder and designer at Outdoor Kitchen Expert. "Homeowners will be able to set up and control their outdoor kitchens from their smartphones with a whole host of Wi-Fi enabled appliances and equipment."
Aird suggests a few ways you can incorporate the smart outdoor kitchen trend into your garden. His ideas include:
Ambient LED lighting—which allows you to properly illuminate your outside space
HD weather-resistant smart TVs and projectors—that can be hidden away until required
Integrated surround-sound AV systems—connected to your chosen streaming service
WiFi-enabled BBQs, grills and smokers—allowing you to cook to your exact specifications from your phone
WiFi-controlled heating features—such as fire pits and wireless smart heaters
But above all else, Duncan Aird recommends considering a high-tech canopy. "Enabling use of your outside space year-round, the canopy blades can be adjusted at the touch of a button to track the sun or tilted to catch a breeze," he explains. "Rain sensors can also automatically close the roof to keep from a passing rain shower."
8. Veined marble
Marble in the kitchen is nothing new, but vein-centric slabs of the stunning stone are about to hit the big-time this year.
"Veined marbles will be a particularly big kitchen trend in 2022," Greenwood predicts, "especially when partnered with metallic finishes and detailing. Creamy and dark grey marble with dramatic veining so it's interesting to look at. Marble offers instant luxury and prolonged durability—the stone isn't porous so if you spill red wine it doesn't absorb or stain."
Marble can be expensive and if you're keen to achieve the look but on a budget, investigate laminate options. They might not have the same prestige as a classic marble kitchen counter, but you can get really good quality dupes these days that will look and sometimes even feel like the real thing. 
9. Open display shelves
2022 will see the continued rise of open display shelves, with this social-media-fuelled trend continuing to appear in kitchen designs.
"Floating shelves highlighted with hidden LED spotlights will become big, and are perfect for pieces of sculpture and different home accessories," says Greenwood. "Already seen in other parts of the home for years, it takes your kitchen from just a functional place to cook to more of a special place to entertain."
---
With thanks to the many experts who generously gave their time and insights to help us write this piece: Dayna Isom Johnson of Etsy; Jenni Greenwood of Greenwood Interior Design; Neil McDonald, Design Manager at Moores; George Bond of the George Bond Interior Design Studio; Jayne Adamson, marketing manager at Verona; Vicky Silverthorn of You Need A Vicky; Duncan Aird, co-founder and designer at Outdoor Kitchen Expert; and Chris Dance of InHouse Inspired Room Design.