Living Room Theatre opens 'Constellations' for new season | Arts And Culture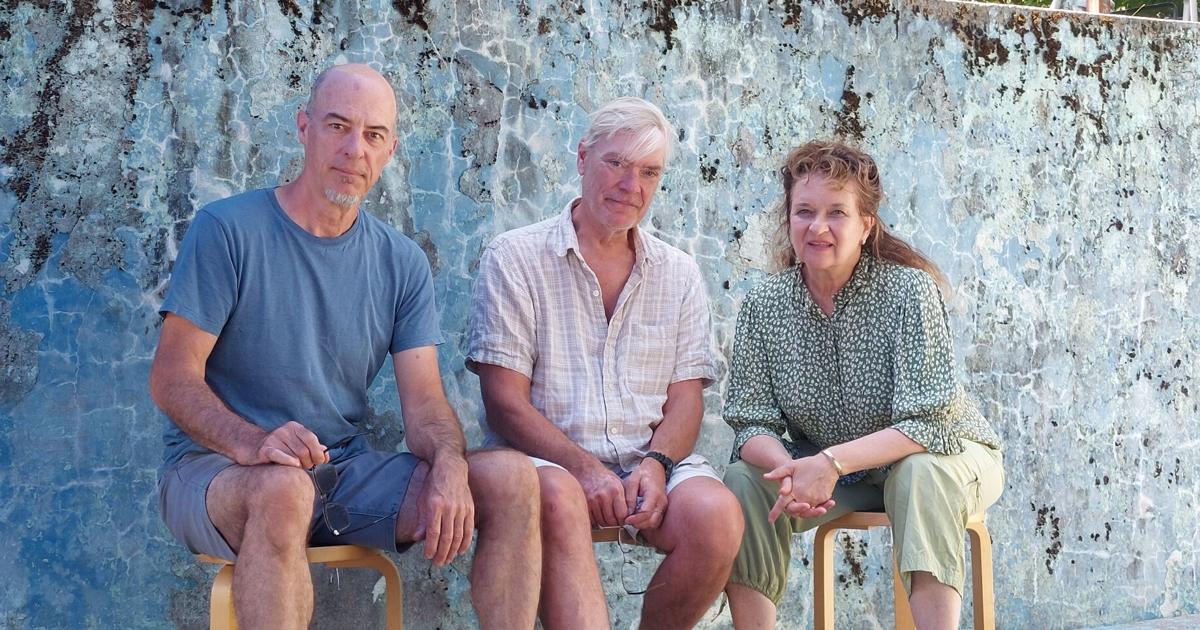 NORTH BENNINGTON — Living Room Theatre, the North Bennington professional acting troupe that has become known locally as "the little theater that never stops," is back for an 11th season after its highly successful and award-nominated 10th anniversary last summer.
Opening this week, Living Room Theatre will present a three-week run of Nicholas Payne's global hit, "Constellations," which will be directed by longtime stage veteran Kirk Jackson, also a drama professor at Bennington College. The production will take place on the grounds of the Park-McCullough Historic Governor's Mansion in North Bennington.
The storyline swirls around the romance between beekeeper Roland and physicist Marianne. Marianne harps on about cosmology, quantum mechanics, string theory and the belief that there are numerous universes that take humans on differing paths. This is reflected in the play's structure as brief scenes are repeated, often with different outcomes.
The two meet and sparks fly. After they've moved in together, an uncomfortable revelation causes them to break up. However, a future dancing class reunites them. Then illness descends upon the couple to the unfortunate extent that the subject of assisted suicide surfaces. The story continues in very much a temporal mode with back and forth flashbacks.
Taking a page out of the pandemic playbook, co-founders and co-artistic directors Randolyn Zinn and Allen McCollough said the company will return to staging this year's play on the estate's defunct swimming pool, a combination that affords creative challenges, as well as keeps audience members outdoors with masks optional according to one's comfort level.
Zinn explained further that so much about the pandemic and science came into the selection of "Constellations" for this year's offering.
"Like many of us in the past three years, we've been thinking about science, given the remarkable mRNA vaccine that has saved so many lives," Zinn said. "When I came across the work of British playwright Nick Payne last winter, it was thrilling to read how he weaves scientific theory into his characters' lives."
These characters, according to director Jackson, are reimagined by using three different actors to play each character for a total of six, to represent the time jumps and changes that occur.
"Written for two actors, 'Constellations' becomes a star vehicle, but adapted for six, it is an ensemble piece," Jackson said during a pause in a recent daily rehearsal. "Impressing the audience with the skillset of a couple of matinee idols, such as Ruth Wilson and Jake Gyllenhaal who performed the play on Broadway, seemed much less interesting than guiding the audience to think about the nature of time in a new way. It's also funnier and more universal with six people."
The subject of the pool, which originated last season from one of Jackson's suggestions in a production meeting, came up yet again while the director surveyed the venue before him.
"Yes, we wanted to use the pool again, partly due to COVID, but mostly because it's an inspiring space," Jackson said. "Of course, we wanted to use it differently. For 'Constellations,' the pool is a petri dish, a laboratory, a liminal space where a thought experiment about quantum cosmology is played out on a human scale: within a single relationship between theoretical physicist Marianne and beekeeper Roland."
The cast and crew is extensive, as with many Living Room Theatre productions. Marianne is played by Valeri Mudek, Nia Ragini and Zinn, who also choreographs. Roland is played by Michael Broadhurst, Oliver Wadsworth and McCullough. Pool design elements this year fall to Seancolin Hankins. The production will be stage managed by Florence Gill and Daniela Naranjo-Zarate. Luke Taylor will provide sound.
In all, Living Room Theatre yet again will provide an innovative professional production which, looking back on past seasons, continues to trace the never-ending theme of human emotions.
"All great writers — Shakespeare, Chekhov, Stoppard, Miller, Williams and our playwright this summer, Nick Payne — know that love is a bridge between life and death," Zinn said as she prepared to return to rehearsals. "The love story in 'Constellations' dramatizes how [our choices create] a multiverse of possibilities. We've all wondered what would have happened if I had never gone on that first date with my wife or husband. [Playwright] Payne goes further, posing tough questions about choice and the fragility of life, but with an abundant sense of humor."
"Constellations," by Nicholas Payne and directed by Kirk Jackson, will run at Living Room Theatre on the grounds of the Park-McCullough Historic Governor's Mansion from Wednesday to Aug. 6, with Wednesday though Saturday shows at 7 p.m., and Sunday shows at 5 p.m. Tickets are $30. To reserve, call 802-442-5322 or visit lrtvt.org. Park in the mansion lot, and you'll be directed to your seats. Outdoor seating is set around the swimming pool. Masks are optional.