Living room TV ideas: decorative looks for sets and stands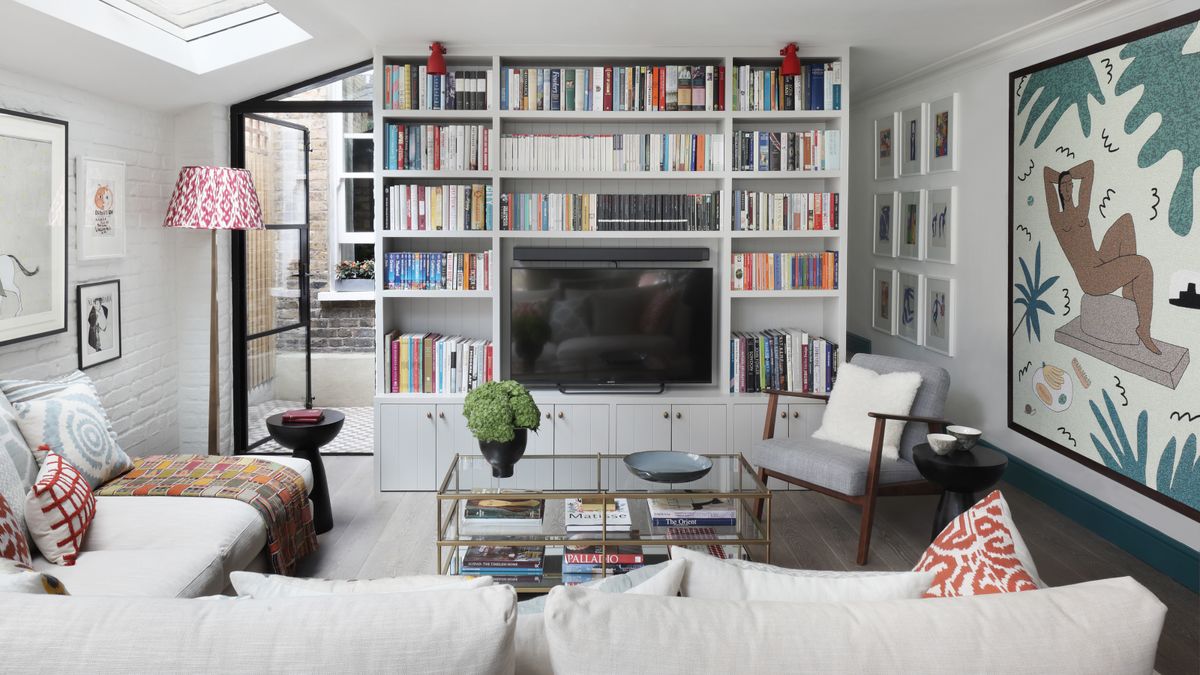 Want to transform your home with the most stylish living room TV ideas? That big black screen we rely on so much for the latest TV shows can often be tricky to incorporate into your living space without looking like an afterthought. Particularly if you've gone all out and decided to invest in a 65-inch and above. 
That's why we've pulled together some of our favourite ideas on how to include your TV into your modern living room scheme. So that your TV complements – and not complicates – the overall look. We've also included expert tips from designers on how to make your TV look good in your living room, too. 
Not only will having the TV in the optimum position add harmony to your decor scheme – even if you've gone for one of the best 85 inch TV screens, but it will make watching the next season of Selling Sunset far more enjoyable to watch. 
Top living room TV ideas – the options
1. Embrace your screen size and style
Unless you don't own a TV and sit around in the style of The Seventh Seal playing chess every night, there's no way of avoiding the fact that the TV is an essential part of life. So when it comes to choosing a TV for your space, there's no point shying away from a large screen – even if you have a relatively small living room. 
'Incorporating a TV into living room design is something that we can no longer avoid, especially with such an increase in the popularity of open-plan architecture,' says designer Jessica Hubner of Hübner Studio and a member of SBID. 'You will often see designers creating ways to conceal or hide them, but this isn't always feasible, particularly with smaller spaces. 
'I often think that the best thing to do in these cases is to make the TV feel as though it's an integral part of the design and embrace it. We have done this for clients in the past by incorporating the TV into a joinery unit that serves multiple uses such as this project in London. 
'Here, we designed a media unit that not only housed all of the cable management for the TV and computer equipment, but included a work space and storage for our client. This multi-use element then became a feature in the room, embracing the TV rather than something to hide.' 
2. Place your TV at the optimum height 
When positioning a TV, it's important to consider the height of it in relation to where you will be watching it from. This can vary depending on your seating arrangements, but typically your eyes should fall roughly one-third to halfway down your TV screen.
'The size of the TV in relation to the position is something that should be carefully thought through,' say architectural designer Jenny Allan of Jenny Allan Design. 
'An interior designer can draw out the sizing on a piece of paper to ensure the proportions of the proposed TV work in the space. If you are not working with an interior designer, it can be helpful to make a template in the dimensions and pin it up on the wall in order to visualise the proportions.'
3. Choose an eye-catching TV stand
If wall mounting or hiding your TV isn't an option, embrace its angular form and find fixtures and fittings to match it in style. You'll find a wide range of TV stands and media units online that will help you blend your TV into the décor – so that it looks like it was always meant to be part of the furniture, so to speak. 
'Choose a TV stand with the wow factor, which makes the TV a showcase,' says interior designer Andrew Dunning of London Contemporary. 
In this white living room scheme, 'the monochrome Chinoiserie-style TV stand balances out the plain black TV screen and white wall finishes,' says Andrew. 'These are then echoed around the room in the geometric rug, sofa and throw.' 
'Sticking to a monochrome scheme but embracing interesting shapes, textures and finishes really creates a dramatic and inviting look.'
4. Distract from the TV 
If guests are busy trying to find out what tomes have made the cut in your home library, they'll be less likely to notice a massive black TV screen staring them in the face when they enter your living room. 
Interior designers Studio Peake illustrate just how effective bookshelves lined with all your favourite reads can be at adding style to your room and lessening the hard visual impact of a black TV.
As the look can get quite busy, a tip is to ensure the backdrop is clean and streamlined – as shown here with a bookcase finished in off-white. This will help to showcase the books stylishly, and positioning the TV in the middle of the display will create balance. 
A striking piece of artwork and a gentle pop of colour – in cushions and a lamp, for example – will also add style and character to the overall look. 
5. Use sliding doors to hide and reveal your TV
As well as concealing all the cables that come with a TV, sliding doors come in handy to hide and reveal your TV as and when you like. Interior designer Andrew Dunning thinks this look works particularly well in homes where storage is tight and you want to create the appearance of more space. 
'An experienced joiner can create a bespoke piece of cabinetry in your living room that features a sliding panel to hide your TV,' says Andrew. 
'You can choose to have one that can be remotely opened or closed, or simply slide the doors manually. Not only does it keep your TV and all the media cables neatly out of sight, but it's an excellent way to create more storage for other fixtures and fittings that you'd rather keep hidden away.'
6. Hide your TV in a mirror or pop-up cabinet
If you would prefer not to see the TV on display when you're not using it, there are a number of ways to hide it, particularly in an open-plan living room. 
Options include a wall-mounted mirror that conceals a TV, which creates an interesting way to keep the room feeling like a more mindful space without the impact of a TV disturbing the décor. Try 'Picture Frame for bespoke mirror TVs. 
Another option to hide your TV is in a pop-up TV cabinet, which is motorised, as shown here in this open-plan living area by Future Automation – a company specialising in TV wall mounts and TV lifts. 
'Here the TV is on a mechanical lift within a piece of cabinetry and at the press of a button, it can be raised or hidden,' says James Ratcliffe, home technology expert at Homeplay. 'Positioning a TV within a cabinet is a great way to maximise the space in a living room, but it works equally well in a small bedroom.'
7. Balance out the look
When it comes to creating a room that is easy on the eye and is enjoyable to rest in, there's a lot to be said for balance. When designing an area that includes a TV in particular, it helps to balance out the proportions of the TV with either shelving, joinery or some form of artwork.
'By doing this you are creating a sense of harmony in the overall look,' says interior designer Jenny Allan. 'With interesting accessories on the shelves, you can really transform the overall space and make sure the TV doesn't dominate the overall scheme.'
8. Recess your TV into the wall 
Installing a flatscreen TV in the wall or into joinery can look stylish and create a minimalist feel that is clear and clutter free. 'By recessing it helps to make the TV feel less imposing and it gives a chic, sophisticated look,' says interior designer Jenny Allan.
'To mount your screen into a recess in the wall, you'll need the right bracket. You must make sure you aren't putting into an exterior or load bearing wall either, so it's best to call upon the help of a professional first. Try CEDIA – the global association for the home technology industry – to find a home tech specialist in your area.'
9. Lose your TV in the living room decor
One way to make your TV blend into the living room is to choose a deep wall color that disguises the big black screen. 
Whether you opt for deep Blue Hague matt emulsion by Farrow & Ball or jewel-like Miz Azure by Little Greene, dark living room ideas will soften the boxyness of the TV and add warmth to the room.
'One of the simplest living room TV ideas, painting the walls to complement the black screen can be done with ease,' says interior designer Andrew Dunning. 
'I love the combination of rose gold fixtures in the pendant lighting and spot lights, the tactile leather sofas and the moody blue paint colour used in this room. While the walls are dark, the look is kept bright and positive with use of a light oak floorboards throughout.'
When displaying your TV in your living room, a well-planned media unit can make a dramatic style statement if carefully chosen to work alongside the surrounding decor. 
'In this project, the television was integrated cohesively within bespoke cabinetry,' says Joanne Quinn, lead designer at LuxDeco. 'We used fabrics and colours that matched the finish on the woodwork, so that the entire look blends for a sophisticated yet welcoming finish.'
What is a normal size TV for a living room?
'Ideally you need to start by measuring the space between your TV and sofa to get the proportions right,' says Kevin Walmsley, TV expert at AO.com, who recommends that:
For 30 to 49 inch TVs, it's recommended to leave 3-5ft distance
For 50 inch TVs and above, a minimum of 6ft is best
'This will help avoid eyestrain but give you the best viewing of the screen,' Kevin explains. 'Also consider whether a larger screen would block natural light from windows or if the picture would catch the sun, and if so, it's better to reduce your TV size.'
What size TV should I buy?
When it comes to TVs, often the bigger the better viewing experience. But if you're stuck for space this may not always be possible. 
'We have found that our customers are moving towards bigger screens with 65", 70", 75" and even up to 85" screens are now becoming the new normal,' says Kevin. 
'We're also seeing that people are more willing to invest in better technology to replicate a cinema-like experience at home and this has driven the rise in popularity of soundbars and home cinema systems too.'