Lowe's introduces loyalty program for home improvement professionals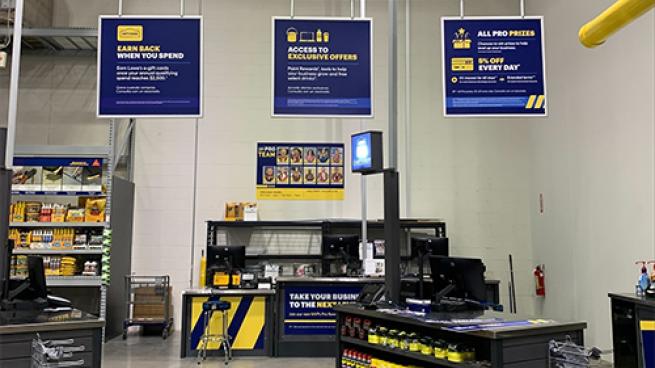 Lowe's Cos. is attempting to deepen its relationship with customers who work in the home improvement industry. 
The home improvement retail giant is launching a new loyalty offering called the Lowe's MVPs Pro Rewards and Partnership Program. Lowe's MVPs Pro Rewards, available Tuesday, Feb. 1 in select regions of the U.S. and nationwide on Monday, March 7, builds upon Lowe's existing credit offerings for professionals of 5% off every day on eligible purchases and 0% interest for 60 days for Lowe's Business Advantage accounts.
Lowe's MVPs Pro Rewards offers new and existing professional loyalty members benefits including:
Lowe's e-gift cards earned 

when participating professionals spend in-store and online on eligible purchases.

Access to

 business resources designed to help professionals tackle back-of-house operations.

Exclusive offers

 for rewards on eligible paint purchases and free select snacks or drinks at Lowe's stores.

A chance to win

prizes, including Ford F-Series trucks and custom-built local advertising packages.

A streamlined mobile and online user experience

 allowing professionals to track and claim rewards, even when sending a crew member into the store.

Lowe's also plans to soon offer bonus points that can be used for additional rewards.
Lowe's has been targeting its professional customer (Pro) base. In April 2021, the retailer rolled out an in-store shopping experience created specifically for them. Lowe's said its updated Pro customer experience is designed for speed and convenience, saving Pros time and money.
The company noted the Pro customer shops at Lowe's "significantly more" often than regular customers. Also, the pro product market is more than $400 billion and is expected to grow faster than the overall U.S. home improvement market in the coming years. The updated shopping experience includes a wide array of new offerings, starting with a dedicated area, called The Pro Zone, for grab-and-go products that include popular pro items, new products and value packs. The department is located at the pro entrance.  
In addition, Lowe's has been deploying new technology to help employees improve their relationship with Pro customers. A tool introduced last year provides insights that helps employees engage with Pros "unlike ever before and ultimately help them grow their businesses," the company said. 
These initiatives build on other efforts by Lowe's to enhance its Pro offerings. In 2020, the retailer launched its Lowe's For Pros Loyalty program, continued employee training to help with specific Pro needs, announced new services such as Lowe's tool rental, and redesigned the layout of stores to better serve Pro customers.
"We're deepening our partnership with Pro customers because when they succeed, we succeed," said Tony Hurst, senior VP pro, services and international. "Lowe's MVPs Pro Rewards is another big step in Lowe's continued Total Home strategy when it comes to the important Pro customer. We are committed to a true business partnership mindset to help Pros as they grow their businesses and their futures."
Based in Mooresville, N.C., Lowe's and its related businesses operate or service more than 2,200 home improvement and hardware stores.