People and Property: Real Estate and Construction News From Around NH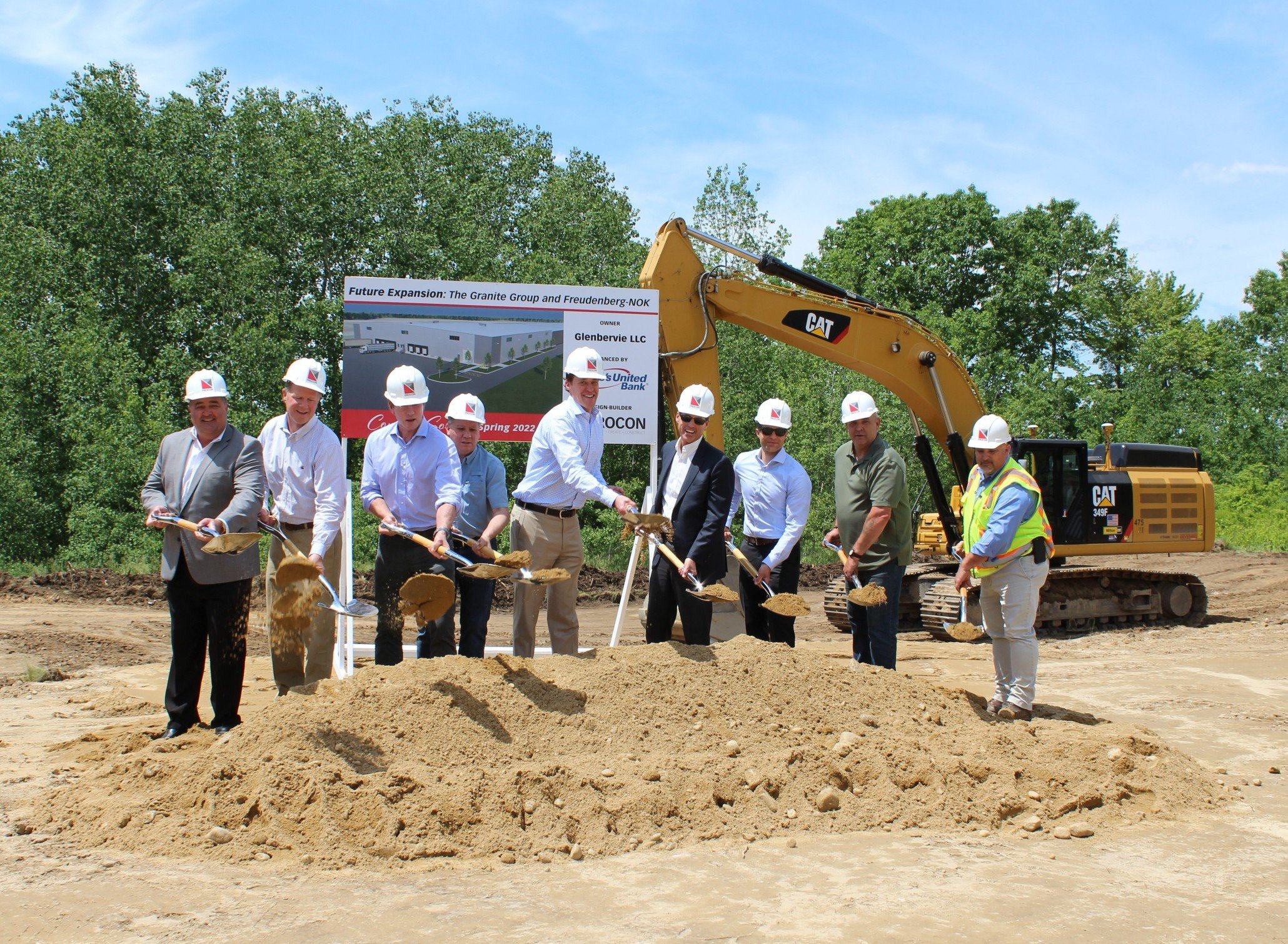 Freudenberg-NOK and The Granite Group officials held a groundbreaking ceremony of their future 64,000-square-foot facility in Londonderry. The warehouse addition will increase the overall size of the building to 305,624 square feet. Freudenberg-NOK will move into the new addition while The Granite Group, a wholesale distributor of plumbing, heating, cooling & water supplies, will take over the existing square footage. The buildings are adjacent to Manchester-Boston Regional Airport runway. Glenbervie Inc. selected Manchester-based PROCON as the designer and construction manager for the project.
Work begins June 17 on a renovation project at Exeter High School. Designed by architect Harriman Associates of Portsmouth, with Meridian Construction of Gilford as the general contractor, the $750,000 renovation project will take a 5,000-square-foot common area previously home to lockers and repurpose it into  a new two-floor area, including six offices, two conference rooms, two ADA-compliant bathrooms as well as individualized areas for learning life skills, quiet space, speech pathology, psychology and behavioral specialists. The renovation is expected to take 14 to 16 weeks. More than 50 workers are expected on the jobsite from 10 local subcontractors who are involved in the project.
Franklin Savings Bank announced that it has purchased $116,500 in Community Development Finance Authority (CDFA) tax credits to close the funding gap on the development of Mill City Park at Franklin Falls. Located in the heart of downtown Franklin, the 13-acre whitewater park will feature several whitewater features, a bike pump track, climbing walls, walking trails, an amphitheater, camping sites and more. Mill City Park received a total of $500,000 in tax credits awarded by the Community Development Finance Authority. The bank's purchase of $116,500 represents 23.3% of the allocation. Construction begins July 12.
The New Hampshire Good Roads Association, a state-wide nonprofit association founded in 1904 to represent individuals and businesses involved in the state's transportation infrastructure, announced the results of the election of officers and directors for 2021/22.
Officers elected were:
President — Larry Major, Pike Industries, Belmont
Vice President — Chris Mulleavey, Hoyle, Tanner & Associates, Manchester
Secretary/Treasurer — Jason Riley, Maine Drilling & Blasting, Auburn
Past President – Ryan Audley, R. S. Audley, Inc., Bow
Directors elected were:
Adam Bates, Weaver Brothers Construction Co., Bow
Richard Bushnell, Core & Main, Loudon
Ron Ciotti, Hinckley Allen, Manchester
Bill Dicey, Nortrax, Pembroke
Will Hess, Jeremy Hiltz Excavating, Inc., Ashland
Brett Merrill, Hews Co., Bow
Sue Merrill, F. L. Merrill Construction, Inc., Loudon
Mick Mounsey, McDevitt Trucks, Inc., Manchester
Chris Robert, E. D. Swett, Inc., Concord
Meghan Theriault, Town of Gilford, Gilford
Scott Knowles and Ron Talon of RE/MAX Bayside, and Steve Weeks, Jr. of RE/MAX Bayside Weeks Commercial have been named as top agents in New England for the first quarter of this year, out of more than 2,700 agents honored by RE/MAX International.
Scott Knowles has been recognized as being ranked No. 5 in the State of New Hampshire and No. 31 in New England for residential commission earnings. Scott is also ranked No. 4 for the month of March and No. 19 for the month of April in residential commission earnings. Knowles has been working in the real estate industry for more than eighteen years and has been with RE/MAX Bayside since 2009.
Ron Talon has been honored with the No. 2 ranking in commercial commissions in New England, for the first quarter of 2021. Ron has over 16 years of experience selling residential and commercial real estate in New Hampshire.
Steve Weeks, Jr. has been recognized as being ranked No. 5 in New England in commercial commission earnings for the first quarter of 2021. Steve is a 37-year veteran of the commercial real estate industry. He and his team recently joined RE/MAX Bayside, having previously owned and managed Weeks Commercial Associates in Laconia.
Tinkham Realty, Inc. completed the sale of 15 & 23 Londonderry Road, also known as the Commerce Center in Londonderry. The sale consists of two multi-unit office/warehouse buildings. Building #15 with 22,000 S/F has 11 units and Building #23 with 32,000 S/F has 16 units. The property has 148 parking spaces and is located within 1/4 mile of Rte 93 Exit 4. Jerry Hersch of the commercial division of Tinkham Realty, Inc represented the Seller Labonte Investment Realty, LLC and Christopher Goodnow represented the Buyer, KS Prime, LLC. The sales price according to the Rockingham Registry of Deeds was $5.2 million.
Pam Wiggin joins her son, Wayne Robinson, at the Dow Realty Group at Keller Williams. Wiggin has been in the real estate business for 47 years. She owned her own real estate company in Sanbornville until seven years ago when she joined Keller Williams. She is a Realtor Emeritus, was named Realtor of the Year for Strafford County and a Lifetime member of the NH Realtor Honor Society. She is licensed in both New Hampshire and Maine. She is also the chairman of the Wakefield Heritage Commission as well as a member for 28 years (since it was formed). Pam has written 5 grants that were funded by the Dept of Interior for the Town of Wakefield. She is responsible for five historic sites that are museums and open to the public.