Reason for the Season: Local women connects with parents through Christmas decorations | Journal-news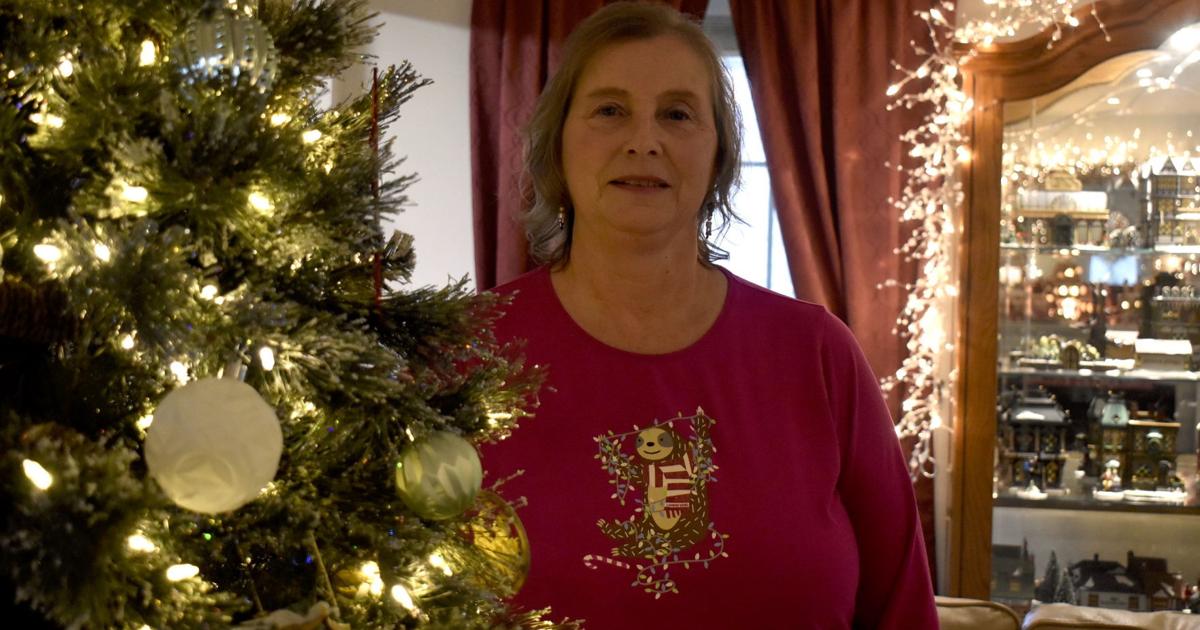 INWOOD — Kim Funk pointed to the picture on the wall behind her with a lump in her throat as she talked.
"That was probably their last dance together," she said.
The photo showed an older couple swaying together during a slow dance, the look of love clear in his eyes as he gazed upon his bride. That couple was Funk's parents, and the picture was taken in 2003 at her nephew's wedding.
"He's just looking at her with such admiration," she said.
They were married 62 years when her father passed.
While her parents are always in her heart — Funk laughing as she shared how she talks to her parents when she's in the kitchen — the daughter holds this time of year dear to her heart, using it as a way to remember and honor her parents, both of whom have passed.
The warm glow of Christmas lights brightened Funk's living room as a Hallmark Christmas movie played on the TV, almost like being in a winter wonderland. She shared stories of the different pieces, like the papier-mâché Santas her parents made, but turning into a bedroom, she paused in front of a small wooden tree.
"This is Mom," she said.
Her mom painted and decorated the tree when she was in assisted living, Funk placing a cardinal in front of the tree as a symbol of her guardian angel.
Funk then pointed to carolers placed in the window, a white cloth acting as snow to give the perfect holiday feel.
"I have been a Christmas-crazy person since I was a kid," Funk said. "I always decorated my room when I was a kid. My parents always made Christmas very special, and as I got older, my dad and I, it kind of went into a friendly competition as to who could have the best decorations."
She laughed and continued: "I would go to their house and be like, 'Where'd you get that?' He'd say, 'Big Lots,' and I'd go to Big Lots, and they wouldn't have any. 'See, you must have bought the last one.'"
Funk recalled being a child and always being the first one up Christmas morning. On one particular Christmas morning, she checked the tree in the wee hours only to find Santa had not yet arrived. She checked once more, seeing no presents yet again.
Funk went into the bedroom she shared with her older sister, who promptly told her to go to sleep.
So she did.
When she arose once more at 5 a.m., the room was filled with presents.
It's memories like those that keep Funk in the holiday spirit year in and year out as she carries on the traditions that her parents once started. On Christmas Eve, the extended family will be at Funk's house for dinner, just like her parents would cook once upon a time.
"My dad passed away in 2004. My mom had Alzheimer's, so I moved her in with me," Funk said. "They always had Christmas Eve with the extended family, cousins and everyone, at their house. When I moved Mom in here with me, I started having it.
"One year, I sent out emails to everybody and asked them to tell me their favorite recipe they had at my mom and dad's. Everybody gave me different things, so that was my meal that year. I made homemade cinnamon rolls to send home with everybody for Christmas morning. Those are the things my parents did."
Coming together in the spirit of the holidays, sharing the fun times and verbosity, is something her parents instilled in Funk, so much so that she now hosts open houses for her neighbors to come together and enjoy her decorations.
"I've had it here probably five or six times since we've lived in the development, but I just like sharing," she said. "My parents were the same way. They loved having people in, preparing food for them. They just loved it, so that's my connection to them."
She paused and motioned toward the houses of her neighbors: "To me, this is one of the best developments in Berkeley County. There's only 35 lots. We all know that if any of us need anything, we're there. It's just wonderful. The people here are just wonderful."
This year, in particular, the open house, which she held two weekends ago, was special, because her sister visited for the first time since their mom passed in 2008, as did her son, who she hadn't seen in two years due to the pandemic.
During that time, she got to know her niece better, a niece who's a whiz in the kitchen and had a love for the holidays in her heart.
"She's carrying on the tradition in Louisville," Funk said with a smile.