Regencycore Trend In The Home & Garden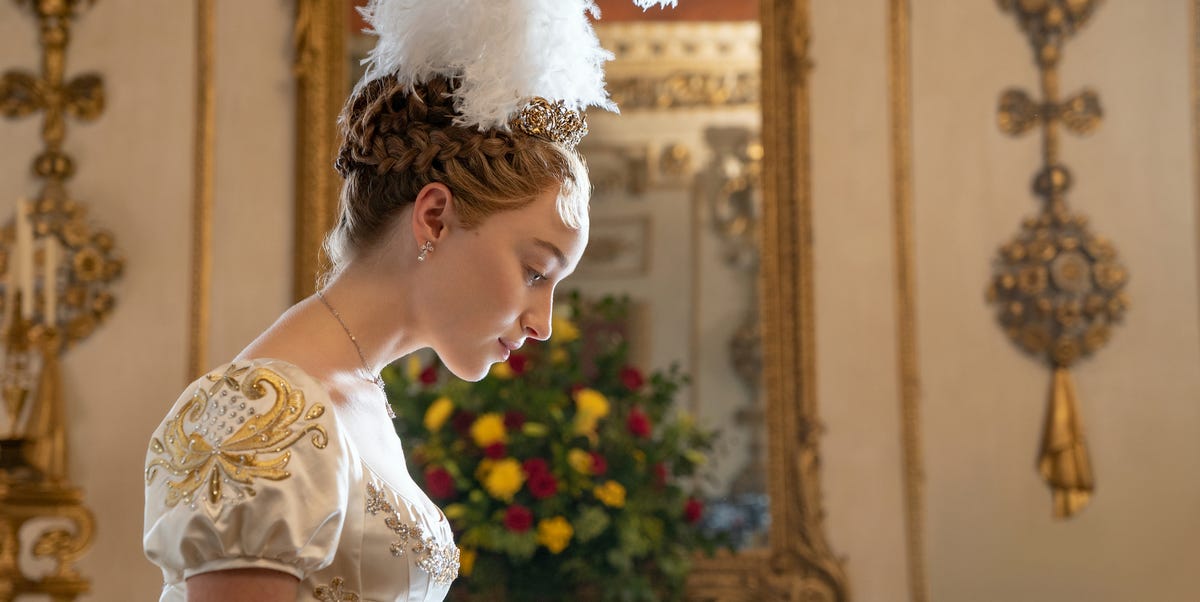 Bridgerton, the first series from Shondaland at Netflix, debuted on Christmas Day and has been breaking streaming records ever since (63 million households and counting). And now it's been confirmed that filming for season two will start in spring 2021, with Lord Anthony Bridgerton dominating the second season.

Inspired by Julia Quinn's bestselling novels, season one followed Daphne Bridgerton, the eldest daughter of the powerful Bridgerton family, as she made her debut onto Regency London's competitive marriage market. But beyond Daphne's romance with the Duke of Hastings, the Featheringtons family affairs, and Lady Whistledown's high society scandal sheet, it's the interiors that have got us talking.
Regency style décor
You don't have to be a period drama connoisseur to appreciate the Regency interiors – we're talking opulent and sophisticated furnishings, and sultry boudoirs, all of which are a visual feast for the eyes in Bridgerton.
In fact, vintage furniture is set to be a huge trend in 2021, with searches for secondhand homeware reaching a three-year high at the end of 2020. Alongside this is regencycore, the regal cousin of cottagecore, but less about a whimsical countryside aesthetic and more about reimagining the Regency era's extravagance, decadence and regal charm. As such trends are often interchangeable, the latest buzzword is all the rage on the fashion scene and is now trickling its way into interiors too.
'Early 19th Century interior styling includes rich, deep colours contrasted with layers of light, creamy champagnes and powder blues and greens,' explain the team at luxury bed specialists, And So To Bed. Interiors from this era include motifs to bring individuality and character, whilst decorative elements are carved into furniture or upholstered to highlight personality and glamour.
Get the Bridgerton look

To embrace the Regency period (from 1811 to 1820) and the Bridgerton aesthetic, decor and furnishings would include, but not be limited to: flowing drapery; classic chandeliers; caned furniture; a colour combination of blues and pinks and citrus hues of green, yellow and orange; regal patterns and fabrics; antique mirrors; brass handles; marquetry tables and chairs; damask wallpaper; and high society bed frames and four poster beds.
So whether you're lusting after interiors in the grand opulent houses of the Bridgertons or Featheringtons, or the abodes belonging to Queen Charlotte, Lady Danbury or the Duke of Hastings, here's how to bring a little Bridgerton into your home and garden with our roundup of Regency-inspired décor and styling tips. Trust us, these interiors will no doubt impress the Ton!
The Bridgerton family's signature colour is Wedgwood Blue (synonymous with the heritage colour derived from the classic 18th century Jasperware by Wedgwood pottery), which appears in gowns and home furnishings. The Bridgerton house has a pale blue, cream, and subdued gold colour scheme.
The Featheringtons, in comparison, have a green colour theme (from lime green to olive green) – the interiors in this house are more flamboyant.
Wedgwood Magnolia Blossom Jasperware Vase
selfridges.com
This Wedgwood Jasperware vase has been lovingly crafted by hand by skilled artisans – the blossoming magnolia flowers offer a beautiful contrast against the heritage hue, Wedgwood Blue.
Ballygannon Mirror – Antique Gold
oka.com
This fabulous antique gold mirror with a distressed metal frame is perfect in a living room.
Wedgwood Tonquin Rug – Blue
amara.com
This hand-tufted rug from Wedgwood is crafted from a blend of pure new wool and viscose. The bold and flamboyant floral pattern is exquisitely detailed and reflects the natural themes popular in the early 19th century.
Stonewashed Linen Cushion Cover With Fringing
oka.com
The lace-fringed border elevates the classic design of this linen cushion cover.
Dorma Remington 100% Cotton Duvet Cover
dunelm.com
Printed on luxurious 300 thread count satin and finished with piped edge styling, this duvet cover will elevate your bedroom.
Floral Dressing Table
And So To Bed
Inspired by Marie Antoinette's personal furniture collection, this elegant floral dressing table boasts curved lines, elaborate carvings and delicate hand-painted flowers.
Etched Vine, Fern – Roman Blind
247blinds.co.uk
'To pair perfectly with the muted, regal colour scheme, opt for window dressings in pastel colours such as pale blues, greens and yellows and consider a classic floral or botanical print to create a beautifully traditional window display,' says Jason Peterkin, director at 247 Blinds.
'Roman blinds are a great choice for the bedroom as they add an element of sophistication but are also very practical as they help to block out almost all light, leading to a better night's sleep.'
Bridgerton's production designer, Will Hughes-Jones, told Architectural Digest that almost all of the furniture and vast draperies were built from scratch for the 250-plus sets: 'We had our graphic designer create a vinyl print to use on top of the console tables, and it looks just like marble and marquetry.'
John Lewis & Partners Antique Pedestal Side Table, Brass
johnlewis.com
For a modern twist, invest in this antique pedestal side table with a traditional silhouette.
Latte Velvet Jacquard Curtains Tie Backs Pair
homescapesonline.com
These velvet jacquard pencil pleat lined curtains will bring a touch of luxury to your living room.
Chantal French-Style Linen Armchair
oka.com
This traditional upholstered armchair, modelled on French Regency-style furniture, is perfect for bringing a classic appeal to your interiors.
Hollywood Regency Style Gilded Corner Étagère
1stdibs.com
This étagère, a piece of furniture with open shelves for displaying ornaments, is pretty unique with a three-tier gilded iron rope and tassel.
Amelie Carver Chair Grey
dunelm.com
With elegant hand-carved arms and legs, update your dining table with this Parisian style chair.
Louis XV Bedside Chest
andsotobed.co.uk
Drawing inspiration from the French styles of the 18th century, this elegant bedside chest is crafted from hand-selected timber and embellished with elaborate design carvings.
Both families in Bridgerton have their own symbols – the Bridgerton symbol is a bee, while the Featheringtons have a butterfly motif.
Zhurie Pink Velvet Bee Embroidered Cushion
oliverbonas.com
One for a fellow Featherington, this bee embroidered cushion with white tassels is rather charming. And the pink velvet upholstery ticks all the style boxes.
Personalised Butterfly Hanging Garden Bird Feeder
notonthehighstreet.com
Adorned with charming butterfly motifs alongside botanical leaves and flowers, this decorative bird feeder doubles as a bird bath.
Bumble Bee Door Knocker – Solid Brass
very.co.uk
Make a great first impression on your front door with this charming bee door knocker.
'Vintage design is enjoying a resurgence,' says Nina Tarnowski, Founder of Woodchip & Magnolia. 'We have seen a rising demand for vintage design wallpaper and fabrics as customers look to add character and warmth to their living spaces.
'To incorporate this look into your own home, I'd recommend layering vintage homewares with modern elements in a complementary colour palette for a balanced and cohesive scheme.'
Odelia 3 Way Chandelier in White and Gold with Clear Droplets
iconiclights.co.uk
Nothing screams extravagance more than a chandelier, and this white and gold design is a modern update on the traditional light fitting. It's perfect for the living room, dining room or bedroom.
Sanderson Waterperry Magnolia Wallpaper
johnlewis.com
This panel wallpaper with a magnolia design has a quaint, ethereal feel.
Isabella Arched Mirror
johnlewis.com
This traditional style arched mirror is a must-buy. We love the arched top and distressed, vintage finish.
Rochester Bed Linen Pale Gold
christy.co.uk
'The bedroom style in Bridgerton adds a quirky modern twist on the traditional regal theme. To get the look, layer a subtle colour palette with standout patterns,' says Lucy Ackroyd, Head of Design at Christy. 'Start with a pale gold sheet topped with an elegant warm white or gold duvet set featuring a damask design, before adding accessories.
'Begin layering your accessories with a honeycomb cushion, finished with a delicate glitter thread to match the royal interior style of the Bridgertons.'
Vivaldi Tieback
dunelm.com
Perfect for traditional or vintage style decor, this tasselled curtain tieback is a fabulous finishing touch.
Palais de Versailles Sacré Coeur Pink Velvet Bed
frenchbedroomcompany.co.uk
This grand French bed is a showstopper thanks to its hand-finished gilt mahogany frame, and soft, plush velvet deep-buttoned upholstery.
Mix and Match Foliage Antique Brass Ball Finials
dunelm.com
Give your curtain rod a sophisticated finishing touch with a finial. This finial is finished in a classic antique brass and crafted with a pretty leaf patterned cage design.
While the exterior of Queen Charlotte's residence was filmed at Hampton Court Palace, both Lancaster House and Wilton House were used to film the interiors.
Bingley Brass Candlestick
notonthehighstreet.com
Set the scene at dinnertime with these antique-inspired candlesticks. With a beautifully-aged finish, these charming candlesticks work well as a solo but even better as a flickering constellation.
Floral Cake Stand
etsy.com
This floral cake stand is so beautiful and a table centrepiece in its own right – put your best baked treats on here.
Blue Regal Peacock Breakfast Set
burleigh.co.uk
Make mealtimes more chic with this breakfast set featuring Burleigh's Blue Regal Peacock pattern. Like all Burleighware, it's uniquely decorated by skilled craftsmen with Burleigh's centuries-old technique of tissue transfer printing.
Royal Scot Crystal Belgravia Champagne Flutes
davidshuttle.com
Dining in style? Snap up these lavish gold/amber champagne flutes. The collection of Jewel coloured hand cut lead crystal is synonymous with the regality and opulence of London's highly fashionable Belgravia district.
Wedgwood Butterfly Bloom teapot
johnlewis.com
From Wedgwood's Regency archive, this Butterfly Bloom teapot brings a wonderfully whimsical style to afternoon tea.
Whilst filming in the middle of December, the set designers had to improvise. They had only one tree with blossoms, as others were bare, and they used AstroTurf for grass as the women were all clad in silk pumps, reports AD.
Lady Daphne Bouquet
serenataflowers.com
Flowers can instantly brighten a room and research has shown it can also boost your mental wellbeing. Channel the vibrant colours of Bridgerton with the Lady Daphne Bouquet from Serenata Flowers. You'll find a stunning arrangement of sweet pink lilies, lisianthus and avalanche roses. Delicate lavender stocks, reminiscent of a romantic promenade, complete this regal arrangement.
Faux Poppy, Hydrangea & Tulip Bunch
oka.com
Prefer the faux look? This strikingly realistic bunch of faux flowers is perfect for a console table, sideboard or dining table.
Floral Umbrella
etsy.com
These floral umbrellas are great for wedding parties but work equally well for any summer soirees or birthday celebrations. For decoration, hang upside down to create a floral canopy.
Big Simone Cream Parasol
East London Parasol Company
East London Parasol Company do some of the most beautiful garden parasols. This particular design is hand painted with gold, featuring white threading inside and bamboo spokes. We love the fringing detail with the white tassels and gold beading.
Wisteria beautifully covers the facade of the Bridgerton family home in the Netflix series. Ranger's House, the art museum in Greenwich, London, was used for the exterior of the Bridgerton house. Meanwhile, RAF Halton, one of the UK's largest Royal Air Force stations, was used to film the interior.
Wisteria Wallpaper in Cornflower Blue
woodchipandmagnolia.co.uk
This gorgeous wisteria wallpaper design in Cornflower Blue will bring a tranquil and timeless elegance to any space in your home.
Designed by Pearl Lowe, the inspiration for the Wisteria design came from her own back garden: 'I only realised how beautiful wisteria was when we bought a house along a river. The wisteria came out in May and it was the most enchanting thing I ever saw.'
Chinese Wisteria Plant
crocus.co.uk
Get the real thing! A spring obsession, buy a Wisteria plant for your garden or the front of your house and you won't be disappointed by its beautiful burst of fragrant, pea-like, bluish-lilac flowers come spring. Train this climbing plant over a sunny wall or strong pergola.
Wisteria Oil Painting (2016)
artfinder.com
This delightful wisteria oil painting will make quite the centrepiece on a wall.
Bodiam Stone Effect Urn
primrose.co.uk
Similar to the planters perched on the plinths outside the Bridgerton family home, invest in this decorative urn planter for your garden or the entrance to your home.
This content is created and maintained by a third party, and imported onto this page to help users provide their email addresses. You may be able to find more information about this and similar content at piano.io