Sam Stewart Disguises Outdoor Table as Shed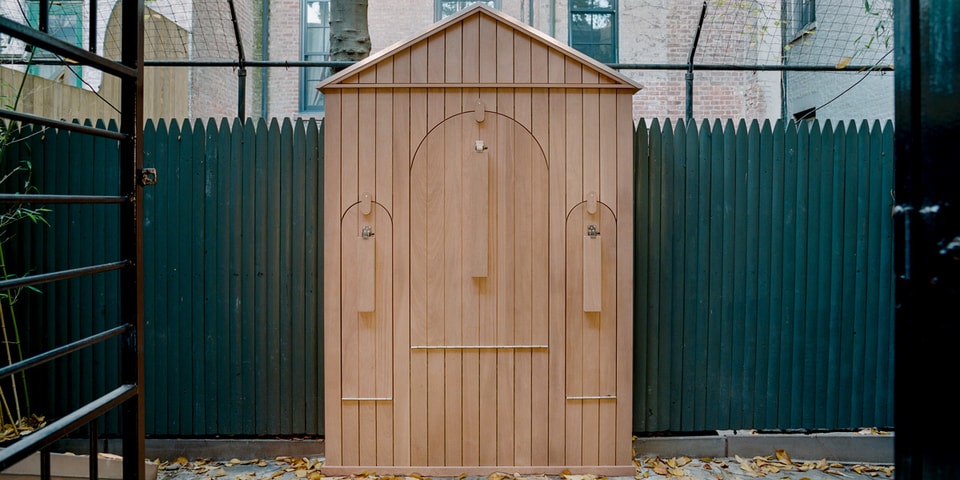 For his latest commission, designer Sam Stewart was tasked with creating a table for a client who wanted to make the most of their own outdoor space.
It's no secret that having your own garden in New York City is somewhat of a miracle. Even if you're blessed with some outdoor space, it's often on the tighter side – a slither of a balcony, or a tiny patch of grass. In the case of Stewart's client, their NOHO townhouse features a small patio out back. A key factor for the designer was to ensure space was saved so that guests didn't have to clumsily navigate it when heading outside.
"The idea came to me when I was trying to figure out how to design a table (and seating) that also doesn't permanently block access to the surrounding area when it's not in use," he says. "Like any other outdoor table, it also needed to withstand the elements." As such, the designer chose a combination of Sapele wood, treated pine, and aluminum.
The design, Stewart says, was partially inspired by the work of Italian design maestro Aldo Rossi, and in particular, some pieces that he'd seen at an exhibition in Milan earlier this year. "I was struck by his multifunctional 'Elba' cabinets, which are shaped like miniature houses or beach cabanas," he says. Rossi's Elba cabinets took on a simple form – typical of his work – and referenced early human dwellings with pitched roofs and wooden structures.
The second thread of inspiration, though, came from the so-called Murphy beds, which pull or fold down from against the wall. The name derives from its inventor, William Lawrence Murphy, who designed the solution in a bid to make space in his small New York apartment. "I've always been fond of the mechanical efficiency of the Murphy bed design, but find it to be aesthetically very ugly," Stewart says. "I suppose that the solution I came up with is a kind of hybrid between suburban America vernacular and Italian radical design."
Take a closer look at the Murphy Table above, and for more design, check out Ellen Pong's latest collection, which sees pieces inspired by the Middle Fork of the Snoqualmie river.