Uhlmann Home Improvement proud to be 'First Choice' | Mg Pride 2021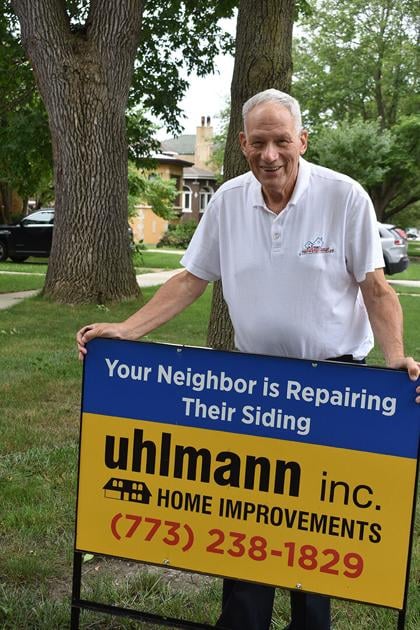 For over 76 years, Uhlmann Home Improvement, Inc., has proven time and time again that it is the First Choice for local homeowners.
Thousands of satisfied customers have chosen Uhlmann Home Improvement, 11636 S. Pulaski Rd., in Alsip, and the company is owned by George Uhlmann, whose father Kurt founded it in 1945.
Uhlmann Home Improvement and its products are known throughout the Chicago area for high-quality workmanship. People are even more impressed with Uhlmann Home Improvement after they learn why its 76 years of experience matter when it comes to customer satisfaction.
During his career, George has come to be known as a "hired perfectionist." He takes pride in continuing the tradition that his parents, Kurt and Anna Uhlmann, began in 1945 when they first started the business in their apartment at 47th Street and Woodlawn Avenue.
Throughout its history, Uhlmann Home Improvement has provided only the highest quality products from top manufacturers. Local homeowners rely on Uhlmann Home Improvement for replacement windows, storm doors and windows, gutters, awnings, siding, bow, bay and garden windows, custom shutters, patio doors, steel/fiberglass entry doors, glass block windows, and gutter guards.
With decades of experience, George is an expert in the home improvement industry, and many local homeowners have benefitted from his products and expert advice.
Such is the case when it comes to windows from other companies.
"Don't be fooled!" George said. "Most of my competitors are advertising 'Buy 2 Windows and Get 2 Free,' 'Buy 2 Windows and Get One Free,' or 'Free Installation,'" George said. "But, please note; nothing is free. You are paying above full price!
Uhlmann Home Improvement doesn't have to make excuses for its windows because it provides customers with quality.
"Many years ago, my father and I made a basic decision," George said. "We decided it would be easier to explain price one time than it would be to apologize for quality forever. And, you'll be very happy we made that decision!"
Uhlmann sells only products that give homeowners years of satisfaction, and one of those products is LP SmartSide siding.
LP SmartSide utilizes engineered wood-strand technology that offers superior protection against hail, wind, moisture, fungal decay and termites. LP SmartSide is made in the USA, and it is one of the most durable house siding solutions on the market.
Home Guard Industries manufactures steel security storm doors with a solid-steel frame and one-way screws to prevent break-ins, and its steel/ fiberglass entry doors are available in a wide selection of styles, painted colors, custom colors, and stains. Home Guard offers a storm door available in four different wood grains, a feature that no other manufacturer offers.
Made in the USA, Home Guard offers many colors to choose from, and the storm doors are fully welded for one-of-a-kind durability and protection.
The steel/ fiberglass entry doors from Home Guard have several interesting features that no other company offers: an 18-guage steel security plate inside the jamb, a jamb that is a timber frame that is either stained or painted, and a lifetime warranty.
"Whenever we install one of these fine Larson doors," George said, "the next-door neighbors want one."
Chicago Climate Solutions, a company in Franklin Park, manufactures excellent windows and doors. Standard colors are white and beige, but the bronze royal brown is a popular color in Mt. Greenwood. Two other colors, clay and sandstone, are also popular. Climate Solutions also offers four wood grains and many styles.
Since 1981, Uhlmann Home improvement been providing its customers with Larson storm doors, which are very affordable. Larson offers the best Screen Away storm doors. The company offer many colors and also provides Uhlmann with custom sizes for its customers.
Among the popular storm door and window designs that Uhlmann offers are round-top and arch-top storm doors in many styles and colors as well as arch-top storm windows.
Other products from Uhlmann include aluminum awnings and window and door canopies. Glass block windows for a basement add additional security and warmth. Replacement windows such as a slider offer glass for increased security and an available exit in case of fire.
Besides helping customer with new products, Uhlmann Home Improvement offers professional service and repairs.
People can have their gutters and leaking corners repaired instead of replacing them. Uhlmann also provide new gutters and over-sized downspouts.
Installing gutters is somewhat of an art, especially the downspouts and where to position them in order to direct water away from the home. George said that 87 percent of the gutters and downspouts that he repairs were installed incorrectly by contractors.
"When I arrive at the home," George said, "I walk around the property with the homeowners and ask questions. I then explain to them what's wrong with their gutter and downspouts and how I can correct it and solve their problems."
Uhlmann Home Improvement also repairs casement windows that won't crank open or closed, and double-hung windows that won't stay closed, won't open or have a broken seal. Instead of replacing windows, homeowners can save money by having Uhlmann repair them.
Services also include repairing leaking gutters, installing new miters or corners, changing out downspouts for a larger size, repairing sliding patio doors, steel fiberglass entry doors and storm doors, and repairing siding, soffit and facias.
Uhlmann Home Improvement has been named "Best Home Improvement in the Chicago Southland" for six years in a row. And, with all the Uhlmann Home Improvement signs in the front yard of homes in communities like Mt. Greenwood, Beverly and Morgan Park, it's apparent that people always expect the best with Uhlmann Home Improvement Inc.
For more information, contact George Uhlmann at (773) 238-1829 or [email protected].