Watch: Aging well at home could depend on home design
The video above comes from SDPB's arts & life program, Dakota Life.
When a realtor introduced Gail Cain and her husband, Sam Hasegawa to their 1910 house in Sioux Falls' Cathedral Historic District, Gail says she knew right away the historic home with its leaded-glass windows, pocket doors and wrap around porch was the home for them.
"I grew up in a house sort of like this. So, it always felt like home to me – the minute I walked in. And I don't want to ever give it up. We've done what we can to make sure that we can stay here for as long as we can," Gail Cain says.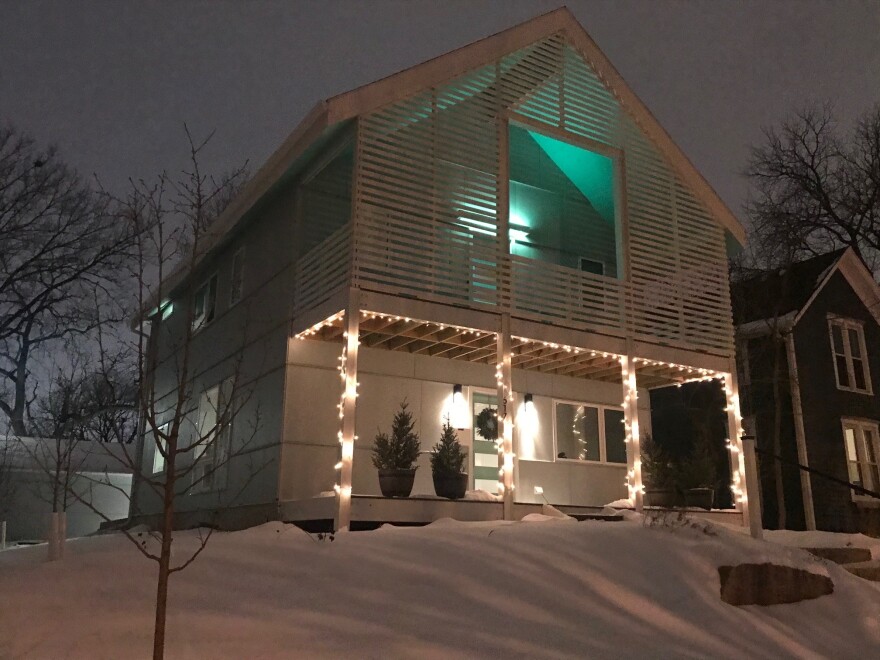 In retirement, the couple remains healthy and active. But they recognize they may not always be able to do stairs. With this in mind, they recently added a main floor shower room around the corner from an existing powder room.
"Essentially we have everything we need on the first floor," Cain says.
Like Cain, most South Dakotans would prefer to remain in their own homes as they grow old. Unfortunately, most homes are not designed with aging in mind, explains Leacey Brown. She is a Gerontology Field Specialist with South Dakota State University Extension.
"Many of our homes are not designed with older adults and the needs of end-of-life in mind. They typically are designed for this mythical, single family that is never going to grow old. They call it, "Peter Pan," housing. You know, housing for people who are never going to grow old," Leacey Brown says.
Brown says to age-well at home, there should be no-stair access to all essential areas and it is important that doorways and bathrooms are large enough to accommodate a walker and wheelchair.
An accessible home is not just for older folks. Architect Gene Fennell says even young people are susceptible to an accident that could impact their mobility.
"We're all an incident away from needing that accessibility. And maybe only temporarily, maybe for six weeks, maybe for six months, you know. The cost of renovation is so much more than the thought process and doing it right in the first place," Gene Fennell says.
The thought process Fennell references is universal design – or designing with accessibility for all in mind.
"I start with Universal Design, and that is design that does not leave people of different abilities behind. People have different abilities, in other words not segregation of entry. When I talk about segregation I'm not talking about racial, or anything like that. I'm talking about abilities, physical abilities … Design should take all of that into consideration and not be binary in choices that can be made," Fennell says.
To emphasize his point, Fennell shares an example of how he implemented universal design principles when he designed an addition to the Pennington County Courthouse. The original 1922 building had more than 30 steps leading to a grand entrance. In 2017, Fennell's addition welcomed the public with a no-step entrance.
"Instead of forcing people to make a choice of, "we go up these steps or we go in a wheelchair lift," we just tipped the entire floor so that everybody approached the interior of the building the same way. I take that thought process into residential design,'" Fennell says.
Universal design was top of mind when community health project manager and licensed contractor Shauna Batcheller, worked with architect Robert Arlt, to design her family's home. She and her husband chose to build their new home within a narrow lot between two turn of the century homes near a downtown Sioux Falls historic district. The Batchellers have two young sons.
"Our intention was to future-plan as much as we could…it is adaptable to our current family. But also adaptable to our future needs and plans and you know, our changing health situations over the years. So, we built in as many of those features as we could to make it a home that was friendly. So, things that we put in place are: zero-step entry, a bathroom and kitchen on the main floor. There's also a room that can easily convert to a bedroom on the main level. There's a large bathroom that could accommodate a wheelchair. There are also built-in laundry hookups on the main level, so we could easily convert our home to a single-floor living and we could access the outside and not have to use stairs in any way to go to any of the main functions of our home," Shauna Batcheller says.
Batcheller says she did not have to give up on design elements she wanted to build a home following universal design principles.
"I think that's a concern for people. They think it's going to be more expensive to make a home universally designed or that they are going to have to make trade-offs, and their house is going to look like a hospital room. But I hope to share some pictures of what we've been able to do, just to demonstrate how it can be done and that it can be done in a beautiful way," Batcheller says.
During their home's construction, Batcheller broke her foot and had to be non-weight bearing for two months
"It was such an unexpected circumstance that reinforced our decision to make our home easy to get in and out of, easy to get around in," Batcheller says.
Locating their home within walking distance of entertainment, dining and essential services like a grocery store and post office was also intentional because losing the ability to drive is often part of the aging process. For South Dakota Public Broadcasting, I'm Lura Roti.
RESOURCES:
Leacey Brown, SDSU Extension Gerontology Field Specialist 605-394-1722 or [email protected]
Dakota At Home: https://dakotaathome.org/ 1-833-663-9673
The Dakota Link Assistive Technology Loan Fund offers low-interest, extended term loans to enable individuals with disabilities in South Dakota a financing option specifically designed to purchase assistive technology equipment and devices, home access improvements or vehicle access modifications. For more information, please visit: https://www.dakotalink.net/at-funding
The Home & Community-Based Options and Person Centered Excellence (HOPE) Waiver operated by the Division of Long Term Services and Supports, allows the Department to use Title XIX Medicaid to provide home and community-based services to individuals that are risk for institutionalization. To learn more, please visit: https://dhs.sd.gov/ltss/titlexix.aspx or call 1-833-663-9673
The Community Home Improvement Program (CHIP) provides low interest loans for eligible borrowers to improve or repair the borrower's present single family home. To learn more, please visit the South Dakota Housing Development Authority website: https://www.sdhda.org/homeownership/home-improvement
Single Family Housing Guarantee Loan program assists approved lenders in providing low- and moderate-income households the opportunity to own adequate, modest, decent, safe and sanitary dwellings as their primary residence in eligible rural areas. Eligible applicants may build, rehabilitate, improve or relocate a dwelling in an eligible rural area. The program provides a 90% loan note guarantee to approved lenders in order to reduce the risk of extending 100% loans to eligible rural homebuyers. To learn more, please visit: https://www.rd.usda.gov/programs-services/single-family-housing-guaranteed-loan-program/sd
Single Family Housing Repair Loans & Grants, also known as the Section 504 Home Repair program, this provides loans to very-low-income homeowners to repair, improve or modernize their homes or grants to elderly very-low-income homeowners to remove health and safety hazards. To learn more, please visit: https://www.rd.usda.gov/programs-services/single-family-housing-repair-loans-grants/sd
General Resources
The AARP HomeFit Guide was created to help people stay in the home they love by turning where they live into a "lifelong home," suitable for themselves and anyone in their household. The guide offers solutions that range from simple do-it-yourself fixes to improvements that require skilled expertise. Available online: https://www.aarp.org/livable-communities/info-2014/aarp-home-fit-guide-aging-in-place.html
The Department of Veterans Affairs provides grants to Service members and Veterans with certain permanent and total service-connected disabilities to help purchase or construct an adapted home, or modify an existing home to accommodate a disability. To learn more, please visit: https://benefits.va.gov/homeloans/adaptedhousing.asp
window.fbAsyncInit = function() { FB.init({
appId : 'SoDakPB',
xfbml : true, version : 'v2.9' }); };
(function(d, s, id){ var js, fjs = d.getElementsByTagName(s)[0]; if (d.getElementById(id)) {return;} js = d.createElement(s); js.id = id; js.src = "https://connect.facebook.net/en_US/sdk.js"; fjs.parentNode.insertBefore(js, fjs); }(document, 'script', 'facebook-jssdk'));