What's the secret to a perfectly decorated room? Ask Rubaiya Nasim '23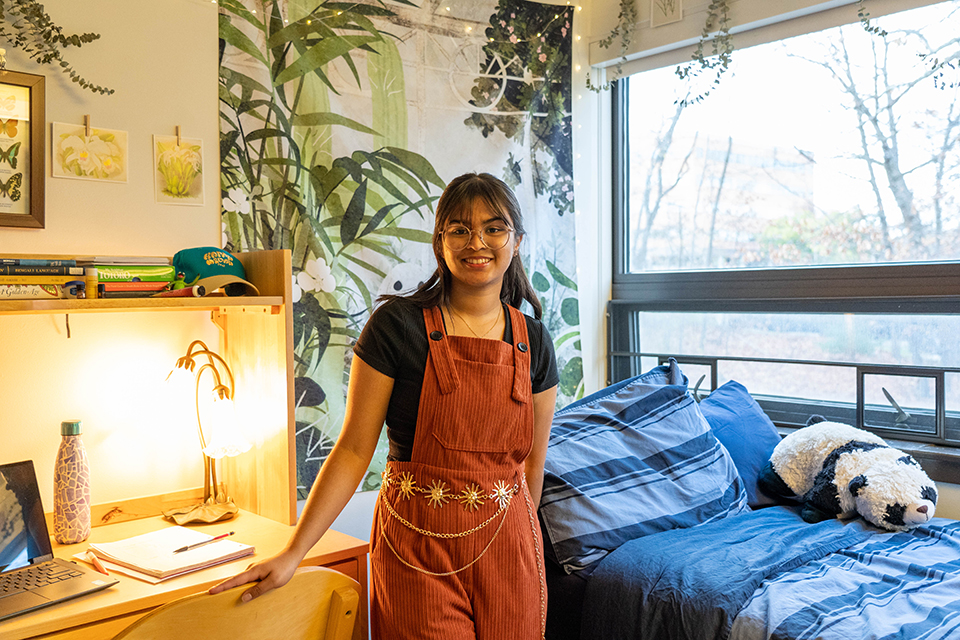 What's the secret to a perfectly decorated room? Ask Rubaiya Nasim '23
By Kennedy RyanNov. 30, 2022
Nestled away in the quiet of the Charles River apartments you'll find the room of Rubaiya Nasim '23, a peaceful sanctuary of books, postcards, and greenery.
This fall the Office of Community Living partnered with the Office of Communications to sponsor a room decorating competition. Students from across the Brandeis community submitted photos of their creative rooms complete with signs, lights, and other unique decorations.
Nasim, a linguistics major from Long Island, New York, was selected as the grand prize winner. She shared her inspiration for decorating her room, tips for setting up a relaxing space, and favorite memories with roommates.
Tell us a bit about the Charles River Apartments. What made you pick this residence hall?

During the housing selection period people can request which residence hall they want to live in. Sometimes you get lucky and get your first choice. My roommates and I knew we wanted to live in Charles River because we were here last year. We're actually living in the same suite that our best friends were living in last year.
Charles River is the perfect spot. It's one of the furthest from campus, but provides this really nice secluded space. It's a very calming environment with the woods right there.
How do you create a relaxing space in your room?
I often find myself not able to relax unless my room is reasonably neat, or else it becomes distracting. Generally, I think it's important for students to find a way to make their spaces feel less cramped. That could mean cleaning up clutter, moving around furniture, or cracking open a window. Even in my first-year double room, my roommate and I were able to make the space feel pretty big by keeping the middle area and entrance of our room clean.
Can you share the story behind your unique decor?
One of my favorite items is my panda, Zamboni. I think I received him as a birthday gift in 3rd grade. PillowPets were extremely popular when I was a kid, so of course I made sure to strategically ask my parents for one, and thus Zamboni entered my life.
I love my postcards featured throughout my room. I bought them in the gift shop of a greenhouse that is on the Lyman Estate, located just about 10 minutes away from campus. Last year I was quite fond of going on adventures by myself, so one warm day during the spring semester I decided to take a visit. The greenhouse is most well known for its camellias and orchids, hence the book of orchid postcards. Admission is free, so I'd definitely recommend visiting if you're in need of some nature.
How do you make your dorm feel like home?

A lot of the decor I have up in my room is what I already had beforehand. I like finding ways to reuse what I already have because it's a creative challenge and more cost effective.
Making your room your own means bringing in whatever brings you joy. You don't have to stick to a theme. As long as you feel proud, you've done your job. It's also okay to start out small.
I didn't decorate my room to this extent until this year, and it's my last year at Brandeis. During my first year the only thing I had to offer was a string of orange LED lights around the windows in my Reitman double. I've been fortunate enough to buy some of the items I have in my room today, but a lot of it has been collected or gifted to me over the years.
I think it's important to make do with what you have and be creative about it. Think of the key spaces in your room that you and your guests would be looking at, like walls that have little against them, and fill them in. I like to create 'regions' in my room, because it's easier for me to think in smaller fragments. I have my mirror area, the wall at the foot of my bed, the space above my window, and the wall with my desk against it. If it feels empty, I like to think of ways to fill in the space.
What is your favorite way to spend your time in Charles River?

My room is definitely more of a recreational area. I do most of my work on campus in the library because otherwise I will want to spend time talking to my roommates. If I am doing work in my room, it's because I'm pulling an all-nighter and the library is closed.
I like to use my room as a ritual area for getting ready for the day and winding down when I come back, which also helps make it a more relaxing space.
Watching movies or shows on my projector in the common room is my favorite way to spend my time in Charles River. My roommates and I always spend time together doing this and often invite people to join.
I would characterize myself as a social butterfly when I'm in circles I'm already comfortable with. I love when our suite is lively. Last year I would make s'mores almost every night and offer them to my roommates while we had our late night kitchen hallway talks. I think I'll miss this sense of community the most once I leave Brandeis.